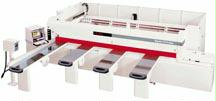 CNC Panel Saw
Designed for the plastics industry, the new modular design SCMI Sigma 115 PLM panel saw is SCM GROUP USA's newest offering for advanced fabricators and manufacturers seeking power, flexibility, and accuracy.
The saw features the following standard equipment: a Dell PC controller, 4" cutting height, inverter to control blade rpm, blade cooling, 25 HP main motor, automatic side alignment with THK guide, magnetic strip for pusher positioning, quick blade change, rack and pinion variable speed saw carriage with speeds of 377 fpm, AC Yaskawa brushless motors and much more.
The PC provides tremendous flexibility and allows the leading optimizers to be downloaded via a floppy disk or network, to improve yields. The Sigma 115 PLM also has the ability to print barcode labels online in order to link other machines and manage material flow with increased production.
For more information, contact Aaron Biddar, SCM GROUP USA INC., 2475-B Satellite Blvd, Duluth, GA 30096, 770-813-8818, Fax: 770-813-8819, E-mail: webmaster@scmgroup-usa.com, Web: www.scmgroup-usa.com.