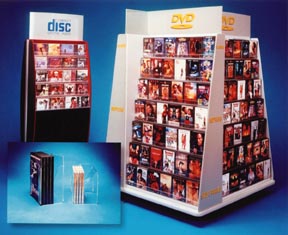 Tough Displays
Pushing more products is the name of the game in today's highly competitive retail outlets. No one knows this better than retailers who discovered a display design that keeps bins neatly stocked and minimizes theft. Acrylic Design Associates' new push-pocket technology offers appealing displays without the maintenance and product loss associated with other bin displays.
"The retailer was looking for an eye-catching display for its DVDs sold in their own stores as well as in major retail outlets," says Bill McNeely, Jr., Vice President of Sales for Acrylic Design Associates. "The display had to keep the DVDs neatly organized, giving the appearance of a fully stocked display. So the real challenge was in meeting the requirements with a design that could also withstand the daily rigors of a retail environment."
Acrylic Design Associates selected Sheffield Plastics' VIVAK® sheet for its durability, clarity and fabricating ease. The sheet is made from Eastman¨ specialty plastics. "We worked with VIVAK sheet in the past and found that it fit very well in our die-cutting and line-bending operation," McNeely says. "We could easily cut and bend the sheet while maintaining crystal clear edges."
"VIVAK sheet meets the tough design and fabrication requirements of the retail display and store fixtures industry because of its combination of strength and clarity," explains Robert McLean, Eastman's business market manager for heavy-gauge sheet. "Designers are attracted by the artistic freedom to create innovative designs, and fabricators appreciate the fact that the sheet can easily achieve even the most challenging designs."
For more information, contact D. J. Jantz, VIVAK Marketing, Sheffield Plastics, Inc., 119 Salisbury Road, Sheffield, MA 01257, 800-628-5084, Fax: 800-457-3553, E-mail: dj.jantzb@bayer.com, Web: www.sheffieldplastics.com.