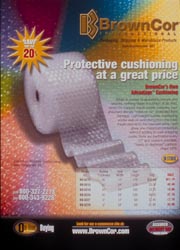 Packaging and Supplies
Browncor® International announced the availability of their new Buyers Guide Catalog. It contains pages of packaging, shipping and warehouse products. This full color catalog makes product selection fast and easy by grouping products under eight categories including: Tape & Dispensers, Corrugated Cartons & Mailers, Mailing Envelopes, Protective Cushioning, Poly Bags, Stretch Wrap & Strapping Materials, Shipping Supplies, and Material Handling. Most of the items are in stock for immediate shipping from their 5 nationwide distribution centers.
For more information, contact BrownCor® International, 770 S. 70th Street, Milwaukee, WI 53214, 800-327-2278, 414-443-9700, Fax: 800-343-9228, Web: www.browncor.com.