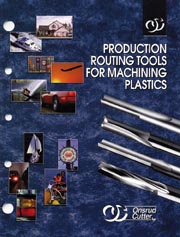 Production Routing Tools for Plastics
Onsrud Cutter has published the sixth edition of its Production Routing Tools for Plastics catalog. It contains over 600 products (router bits, drills, saws extenders, shapers and adapters) specifically designed to machine plastics. Cutters for acrylics, hard plastics, soft plastics, foam and composites are included along with specialty tools and accessories. Send for your copy today. Also check out their Router Bit Selection Guide on the web at www.onsrud.com or log on to www.plasticrouting.com for the latest in plastic routing developments and technology.
For more information, contact Joanne Smith, Onsrud Cutter, 800 Liberty Drive, Libertyville, IL 60048, 800-234-1560, 847-362-1560, Fax: 847-362-5028, E-mail: info@onsrud.com, Web: www.onsrud.com.