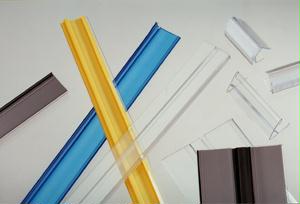 P.O.P. Company Discovers the Secret to Versatile Designs and Cost Effective Manufacturing
SemaSys, a designer and manufacturer of retail store fixtures and P.O.P. materials, found the right combination in a single copolymer that addresses a wide variety of display applications and optimizes manufacturing throughput and part quality. Using Eastman Chemical Company's Provista™ copolymer, SemaSys was able to offer its retail customers products that exhibit those beneficial characteristics deemed important by the retail industry and still improve the performance-to-price ratio.
Profile extrusions made from Provista copolymer have excellent clarity and meet shoppers' needs for easy-to-read pricing and product information. Whether freestanding displays or snap-on channels, parts require strength to withstand the rigors of dynamically changing displays found in a busy retail environment. Provista copolymer excelled in its ability to snap back without hazing or losing its shape. "In addition to memory retention and strength, its clarity made our printed pricing signs appear very clear and legible," said Mark Hensley, SemaSys engineering manager.
Jimmy Dickerson, Eastman business market manager said: "It's been an incredible year for Provista copolymer, and we're seeing significant penetration into the pricing channel markets with advances into other P.O.P. profile extrusion markets. The copolymer has the right balance of properties to meet the P.O.P. market's need for strength, clarity and price."
SemaSys was looking for a clear material that would complement and enhance its line of butyrate parts. They found that Provista copolymer does that. Additionally, the copolymer is replacing certain PVC applications where clarity and FDA approval are issues.
According to Hensley, "The grocery display business is virtually untapped because of the need for unique material properties. Provista copolymer allows SemaSys to meet these unique needs with specially designed products that are suited to the grocery display business. And with the large discount retailers beginning to offer grocery items, we now have new and better solutions for their specific display needs."
For more information, contact Kathy Brumley, Eastman Chemical Company, P.O. Box 431, Kingsport. TN 37662-5371, 423-229-1624, Fax: 423-229-8595, E-mail: kbrumley@eastman.com.