Acetal - Compression Molded Sheet vs. Extruded Sheet
When talking about commodity plastics, Acetal will always be part of the conversation. There is also the eternal debate between homopolymer and copolymer resins and which one exhibits the best properties. But the biggest debate, however, is between compression molded vs. extruded.
The greatest difference between the two forms concerns the amount of movement the material will have during and after the machining or fabrication process. An extruded material will inherently have stress caused by the extrusion process and requires annealing prior to fabrication whereas a compression molded sheet does not. Compression molded sheets will display extremely low or no stress levels at all. The compression molding process closely simulates the process of stress relieving via annealing after extrusion thus providing more dependable, stable thermoplastics for the machining of close tolerance parts.
The various sizes of compression molded sheets now offered to the market can also be a great benefit. Compression molded sheets are commonly produced in 48" x 96", 48" x 120", 60" x 120", and 72" x 144" allowing fabricators to achieve excellent yields, and lower per piece costs. Thicker sheets can also be run very cost effectively and be produced in less time than extruded materials. Extruded sheets are basically offered in the 24" x 48" sheet size with an occasional 48" x 96" sheet available in selected thickness.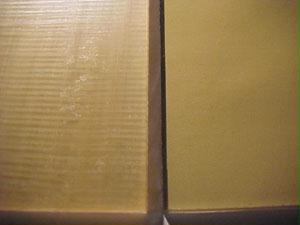 The photo illustrates the smooth surface that can be achieved by compression molding material, as shown on the right, versus extruding it, as shown on the left.
Surface quality is another plus you will find for compression molding. Compression molded sheets will have a much smoother surface. Additionally, extruded sheets usually require planning to smooth out the rough surface left by extrusion but this still is not as smooth as a compression molded surface. Compression molding also offers the option of selecting a surface finish including a standard smooth surface, press polished, haircell and other custom textures.
Compression molding does have some disadvantages such as sheet sizes are limited to the size of molds available and sheet thickness tolerances are not as tight as extruded materials after planning. However, when material is being machined into parts, this second disadvantage is usually not an issue.
For more information, contact Tony Caballero, Business Manager, Westlake Plastics Company, manufacturers of compression and extruded Acetal and nylon stock shapes. He can be reached at 610-459-1000, Fax: 610-459-1084, E-mail: tony.caballero@westlakeplastics.com, Web: www.westlakeplastics.com.