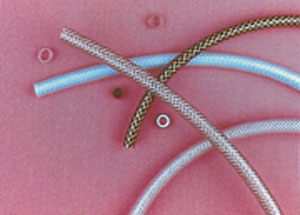 PVC TUBING

REHAU Incorporated`s RAUFILAM PVC and RAUFLEX braid-reinforced PVC tubing withstand up to four times the pressure of conventional non-reinforced PVC tubing. The tubing features a smooth inner bore that provides maximum flow rates. They have superior kink resistance, excellent flame resistance, and chemical resistance to a variety of substances. An abrasion-resistant jacket provides additional durability and longevity.
They are also produced from compounds sanctioned for food contact according to FDA Title 21. Used in both industrial and food/beverage venues, the tubing are found in: food processing equipment, plumbing applications, potable water lines, marine applications, ice making equipment, chemical transfer lines, pneumatic lines, beverage dispensing lines, detergent solution lines, and coolant lines.
RAUFILAM PVC is available in 15 standard sizes, and RAUFLEX is available in seven standard sizes. Custom solutions in NSF-Certified formulations are available upon request.
For more information, contact the tubing products manager, REHAU Incorporated, P.O. Box 1706, Leesburg, VA 20177, 800-247-9445, Fax: 800-627-3428, Web: www.rehau-na.com.