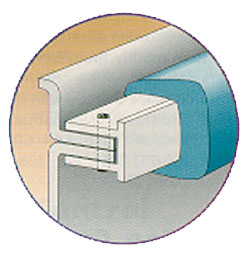 EXTRUDED "U" MOULDINGS

Barbour Plastics, Inc. offers over 25 different styles of extruded rigid and flexible "U" mouldings or channels to fit a variety of applications. These profiles are produced from a strong high impact grade PVC thermoplastic material. Typically these extrusions are used as sharp edge protectors, banner frames for signs, finish off raw edges or utilized to join two plastic sheet materials together to create a tight continuous seam. The flexible channels are great in tight radius applications and are most economical.
Barbour will run minimums as low as 250 ft. to 500 ft. per style number. Customers can choose from over 150 house colors or request a color match to suit their particular requirement. Barbour also specializes in manufacturing custom profiles in rigid and flexible PVC.
For more information, contact Mike Casey, Barbour Plastics, Inc., 1001 N. Montello Street, Brockton, MA 02305, 508-583-8200, Fax: 508-583-4113, E-mail: sales@barbourplastics.com, Web: www.barbourplastics.com.