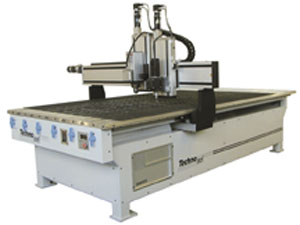 AUTOMATIC TOOL CHANGER FOR CNC ROUTER LINE

New CNC Servo Routers from Techno-lsel are now available with an automatic tool changer. Spindles are offered in 4, 5 and 7.5 hp. The tool changing system includes: the spindle, speed control, tool holders, collets, dust shroud, safety sensor and G-code interface with job supervisor. They are designed for routing, milling, drilling, and even engraving of control panels all with the same machine.
The routers are ideal for rapid production of 2-D or 3-D prototypes. Techno routers are available in 12-sizes ranging from 8" x 8" to 59" x 96". All machines are constructed with zero-backlash ball screws for high accuracy and low maintenance. The system accepts industry standard G-code commands and is available with several CAD/CAM software packages which cover a broad range of industry applications.
For more information, contact Herb Arum, Techno-lsel, 2101 Jericho Turnpike, Box 5416, New Hyde Park, New York 11042-5416, 800-948-3246, 518-328-3970, Fax: 800-737-7436, 516-326-8827, Web: www.techno-isel.com.