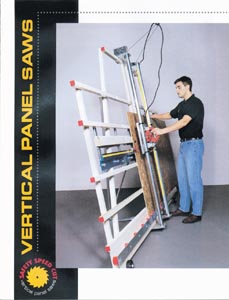 VERTICAL PANEL SAWS

Safety Speed Cut offers a line of vertical panel saws and routers that will cut a broad range of materials including plastic sheet. Their saws offer a special backer board which helps prevent plastic material from falling back in the saw when cutting.
Saws range from the economical C-4 which packs all the features of a full size saw into a 5' frame, to the 7400 Series de signed for continuos production and tight tolerances. Their SR-5 was designed to give you the ability to saw and route on one vertical frame. It can be changed from a saw to a router in less than one minute.
Machines are offered in a variety of cutting lengths and depths, motors, and options. Accessories include wheels and stands, a mid-way fence, hold down bars, stops, and dust collection systems.
For more information, or a copy of their brochure, contact Brian Donahue, Safety Speed Cut Mfg. Co., 13460 Hwy. 65, Anoka, MN 55304, 763-755-1600, Fax: 763-755-6080, E-mail: ssc.mail@ safetyspeedcut.com, Web: www.panelsaw.com.