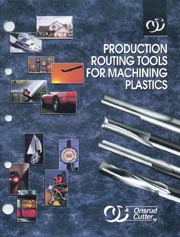 ROUTING TOOLS FOR PLASTIC

Onsrud Cutter has published the fifth edition of its Production Routing Tools for Plastics catalog. This catalog contains over 500 products (router bits, drills, saws extenders, shapers and adapters) specifically designed to machine plastics. Cutters for acrylics, hard plastics, soft plastics, foam and composites are included along with specialty tools and accessories.
Also, their web site now features their Ultimate Router Bit Selection Guide. The web site walks visitors through over 50 potential materials and 9 router types to find the best tool for the job. Each selection can be tailored for material thickness, cutting edge and shank diameters, flute geometry and imperial or metric sizes.
For more information, or a copy of their catalog, write to Onsrud Cutter, 800 Liberty Drive, Libertyville, IL 60048 USA - 800-234-1560, 847-362-1560. Also see their Ultimate Router Bit Selection Guide on the web at www.onsrud.com.