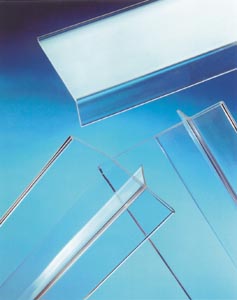 TOUGHNESS, CLARITY AND PROCESSABILITY

Choosing between toughness, clarity or processability can be daunting-even for the most experienced extruder. Nowhere is this more apparent than in the point-of-purchase display market where unique-shaped and eye- catching displays are essential for eliciting consumer response.
Spartech Profiles (El Monte, CA), a custom profile extruder and supplier of point-of-purchase displays, has found the solution in Eastman Chemical Company's Provista™ copolymer. Spartech Profiles extrudes around 3,000 different shapes.
"We selected Provista copolymer over clear PVC because of its clarity," said Bill Olsen, general manager at Spartech Profiles. "PVC tends to have a bluish tint, and other materials have an odor that can be a problem when you have a large amount of displays in one store." According to Olsen, the copolymer's sparkling clarity lends itself well to his current application, which includes clear channels for pricing and bar code information.
"Provista copolymer is focused on the specific needs of one industry-profile extrusion," says Jimmy Dickerson, business market manager at Eastman. "It is specially designed to meet extruders' needs for a higher-melt-strength copolymer." Dickerson notes that the higher melt strength creates an easier-to-process material with the right balance of physical properties. In addition, Provista copolymer is FDA and NSF Sl approved.
The copolymer's UV and chemical resistance properties offer additional benefits. Olsen remarked that this is important in the retail setting where certain lighting and environmental conditions can cause yellowing and other adverse effects.
For more information, for Provista-Copolymer, contact Fern Hamilton, Eastman Chemical Company, P.O. Box 431, Kingsport, TN 37662-5371, 423-229-4853, Fax: 423-229-8595, E-mail: hamilton@eastman.com. For Spartech Profiles, contact Bill Olsen, 4466 North Baldwin Avenue, El Monte, CA 91731, 626-579-5401, Fax: 626-575-8927, E-mail: bill.olsen@spartech.com.