Onsrud Wins Sequoia Award

A judging panel of 16 leading woodworkers with extensive industry knowledge and experience selected the 13 Sequoia New Product Award winners at the 2007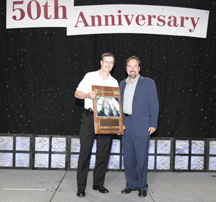 AWFS®Fair held July 18 -21 at the Las Vegas Convention Center.
Leslie Banduch, Onsrud Sr. VP Sales & Marketing, accepted the award from acclaimed actor Richard Karn, best known for his role as Al Borland, the lovable sidekick of Tim Allen's character on the nineties hit sitcom Home Improvement.
Onsrud Cutter's Tuff Core Compression was selected as a winner from a field of more than 120 new product submissions in the productivity category.
For more information, contact Diane Sullivan, Onsrud Cutter LP, 800 Liberty Drive, Libertyville, IL 60048, 847-362-1560, Fax: 847-362-5028, E-mail: dsullivan@onsrud.com, Web: www.onsrud.com.