New Stocking Levels for Fractional Fluoropolymer Tubing

DelStar Technologies, Inc. announced they have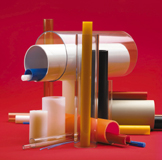 instituted new stocking levels for their Coretec™ collection of fractional fluoropolymer tubing, specifically their certified Teflon® FEP and PFA products.
DelStar now inventories Coretec fluoropolymer tubing from 5/32 to one inch (3.9 to 25.4 mm) outside diameter, with wall thicknesses of 0.030 or 0.062 inch (0.762 to 1.57 mm). They stock bulk continuous lengths of these products (up to 1000 feet/304.8 meters) and can cut to size and ship for distribution on the same day an order is received.
DelStar also specializes in custom work and is willing to stock proprietary configurations for their customers. DelStar's Coretec fluoropolymer tubing can be extruded in a variety of custom colors and sizes, with up to an eight inch (20 cm) outside diameter. Maximum available lengths will vary with diameter and wall thickness. DelStar is a licensed manufacturer of DuPont™ Teflon fluoropolymers. Their collection of fractional FEP and PFA tubes include FDA compliant and USP Class VI products. These chemically inert tubes exhibit excellent strength and thermal stability in long-term, high-temperature applications (up to 500º Fahrenheit/260º Celsius).
For more information, contact Marjorie Wilcox, Delstar Technologies, Inc., 601 Industrial Drive, Middletown, DE 19709, 302-378-8888, Fax: 302-378-4482, Web: www.delstarinc.com.