Polyethylene Shapes

Polyethylene (PE) is one of the largest volume thermoplastics used today and is available in a wide range of grades and formulations (commonly grouped into Low, Medium and High density). The various formulations impart a wide range of properties to the polymer making it appropriate for countless applications. Generally speaking, PE is tough, chemical resistant and offers good electrical properties with a low coefficient of friction and moisture absorption. They are relatively light weight and easy to fabricate.
Following is an overview of a wide range of polyethylene manufacturers offering a wide range of materials from sheet, rod and tube to film and profiles. A contact name, phone number and E-mail address follows each company listing.
Applied Plastics now makes spiraled and multi-striped tubing in polyethylene, in many different colors. They also make ribbed polyethylene tubing and produce solid rods in various materials and sizes. For additional information, contact Joe Klein, Applied Plastics, at 414- 764-2900, E-mail: jhklein@appliedplasticsinc.com.
Artek, Inc., a manufacturer of Duravar® UHMW-P E , has been supporting its customers and providing quality products since 1985.
Artek supplies a full line of extruded UHMW-PE products including rod, strip stock, quarter sheet, Half SheetPlus, standard and proprietary profiles, guide rail and custom fabrication in a variety of colors and formulations, while delivering the personal customer service one would expect from a smaller manufacturer.
Duravar products provide the combined qualities of high abrasion, impact resistance, low coefficient of friction and chemical resistance to eliminate problems in many industrial applications. For additional information, contact Randall L. Kirkpatrick, Artek, Inc., at 800-762-6808, E-mail: artek@artek-inc.com.
B & F Plastics is a custom extruder of thermoplastic sheet. Top quality, formable, printable, convertible virgin or recycled Polyolefins-Polyethylene-Polypropylene and Thermoplastic rubber is manufactured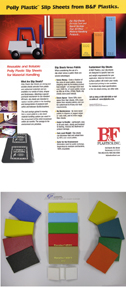 to strict specifications in a solid or foamed structure. Surface textures, gauges and sizes can all be specifically matched to customer's needs. Custom color matched roll or sheet goods, die cutting, punching, scoring, slitting, sonic welding and laminations of adhesive-carpets-felts-reinforcing scrims are available. B & F Plastics can extrude plastic from .020" up to .750" in thickness and any width up to 110". Their products include FiberPlast®, a special compound of various recycled materials; WoodPlast®, a thermoplastic material utilizing recycled materials; and TirePlast®, an excellent replacement for natural and synthetic rubbers. For additional information, contact Chris Smith, B & F Plastics Inc., at 800-562-8365, E-mail: bfchrissmith@aol.com.

Compression Polymers Corp. is an extruder of polyolefin sheet materials with special capabilities in sheet sizes, colors and gauges. Their HDPE sheet, Hitec™, is extruded from 1/8" through 1 1/2" thick and from 48" wide up to 10" wide. Sheet is available in homogeneous or co-extruded formats as well as smooth or matte surfaces. The standard product program includes industrial grade natural HDPE, pipe grade (black), UV stabilized Seaboard™, skid resistant Grip-X™, NSF approved Sanatec™ cutting boards, Co-extruded Polycarve™ and a variety of colors for playground construction.
Other applications include chemical storage vessels, pipe flanges, machined parts, boat manufacturing and accessories and skate parks. Compression Polymers Corp also produces Polypropylene Homopolymer, copolymer and flame retardant grades, PVDF and Halar ECTFE.
Compression's sister company, Vycom Corp. produces PVC Type I and high impact Type II PVC, CPVC, Celtec™ Foam PVC and Ultra White UV stabilized PVC. For additional information, contact Gary DiFazio, Compression Polymers / Vycom Corp., at 570-346-8797 ext. 1239, E-mail: gdifazio@cpg-vycom.com.

Crown Plastics Co. manufactures thin gauge UHMW utilizing their unique continuous compression molding process offering stock gauges from .003" up to .125" including metric up to 4mm. Crown has the distinction of being the only company to offer all of these gauges in a bondable form, thereby eliminating the need for mechanical fastening, reducing waste and minimizing downtime. Crown also has been licensed by Poly Hi Solidur to produce Poly Hi's custom blends in thin gauge and bondable form such as TIVAR® 88, DrySlide and TIVAR®HOT, a new blend of UHMW with a continuous operating temperature of 275°F. For additional information, contact Peter Ellerhorst, Crown Plastics Co., at 513-367-0238, E-mail: petee@crownplastics.com.

EHPCO, Inc. offers extruded coil, strip and flat sheets of Polyethylene, Nylon, Delrin® AF, Acetal, ABS, Polycarbonate, Polyurethane, Styrene, Polyesters, Glass filled and other thermoplastics from .010 to .187 thick and 1/4" to 28" wide on most materials. For additional information, contact Ellis Paine, EHPCO, Inc., at 860-928-0595.

Ensinger, Inc. offers a comprehensive product line of standard stock shapes in High Density Polyethylene. HDPE finds proven applications in markets such as medical, chemical, toys, sporting goods and food processing. HDPE rod is available in sizes ranging from 1/8" to 16" diameter in natural and black. HDPE heavy wall tubular bar is offered with minimum ID of 2" through an OD of 22".
Semi-rigid HDPE tubing is a mainstay in oil, hydraulic fluid, water and beverage transfer and is available in diameters as small as .170" inside diameter in natural and a wide selection of colors. Rigid HDPE tube finds applications in the oil, gas, electrical and telecommunications markets.
HDPE welding rods are available in natural and black and are used in conjunction with sheet and plate to fabricate tanks, tank liners and boxes for corrosive environments.
HDPE standard stock shapes are typically manufactured from FDA-approved resins and meet USDA, NSF and Canadian Department of Agriculture requirements for direct food applications. For additional information, contact Customer Service, Ensinger-Plastifab, at 514-325-9840, E-mail: infoprod@plastifab.ca.

Finger Lakes Extrusion

offers semi-rigid PolyFLEX 50 LLDPE Tubing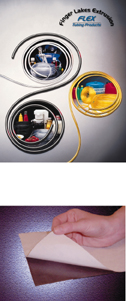 which complies with FDA and USDA regulations for use with foods and beverages.Low in extractables, it will not impart tastes to food products. It is ideal for use in chemical lines and instrumentation applications. It is available in translucent natural and opaque black (for superior UV resistance) in sizes from 1/4" to 1" OD. Quality FLEX Tubing Products are available in several formulations of un-reinforced and braid-reinforced PVC and two formulations of polyurethane in sizes from 1/16" to 3" ID. For additional information, contact Kingsley Beck, Finger Lakes Extrusion, at 585-742-2780, E-mail: king@flex-tubing. com.

Fluoron, Inc. has added Pressure Sensitive Sheet of Ultra High Molecular Weight Polyethylene to its line of UHMW PE and Teflon® Bondable Sheet Products. This provides easier installation in many applications such as lining chutes, hoppers, railroad cars, conveyor beds and cone bottom silos. Hold-down bolting is eliminated, resulting in substantial savings in time and material. UHMW PE is the toughest of all plastics. The pressure sensitive sheet is available in 18" and 24" wide rolls in 1/16" and 1/8" thickness.
Fluoron's products, trade named "FLUORO-WEAR," are compounded with carbon to make the products static dissipative and provide resistance to UV light. Fluoron also manufactures large size tubing and heat shrinkable tubing of UHMW PE and Teflon. For additional information, contact Frank Chapman, Fluoron, Inc., at 410-392-0220, E-mail: sales@fluoron.com.

Garland Manufacturing specializes in custom profile extrusions of GAR-DUR® brand UHMW Polyethylene.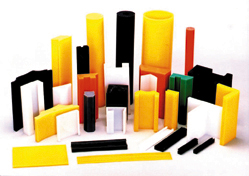 They also produce and stock boards up to 24" wide of unlimited length, rod to 8" (with special-order availability of 12" hollow- core stock) and bars and tubes of various standard dimensions. GAR-DUR UHMW is produced in standard virgin- grade with a minimum molecular weight of 4.2 million; filled varieties including silicone, wax and glass; static-dissipative; and UV-stable reprocessed.
Contact Garland for specialized applications, including conveyor, wastewater treatment, agricultural machinery and any other high-impact or high-abrasion use. For additional information, contact Daniel Garland, Garland Manufacturing Co., at 207-283-3693, E-mail: dgarland @garlandmfg.com.
King Plastic Corporation has been developing and manufacturing plastics since 1968, specializing in the production of high quality sheets, slabs and massive shapes.
Quality is the foundation on which King Plastic Corporation was built. King uses only the finest polymer resins and the most advanced color stabilization additives in conjunction with state-of-the-art manufacturing processes. Their diversified product offerings include King StarBoard®; StarBoard®XL; Star-Board® AS; StarLite®XL; Polyethylene sheet (HDPE, LDPE, Linear LDPE and Black PipeGrade HDPE); King Hy-Pact® S/R-12 (UHMW Polymer); King Hy-Pact® S/R-03 (VHMW Polymer); PVDF – ABS – Noryl; Polypropylene Sheet (Homopolymer and Copolymer); King CuttingBoard®; CuttingBoard®XL; CuttingColors®; CuttingColors®XL; King ColorCore® and King ColorBoard®; King PlastiShield® (Boron filled polyethylene sheet and slabs); King PlastiBal® (Lavatory and institutional partitions) and King Size Blocks (Polypropylene – Black PipeGrade HDPE – HDPE – LDPE). For additional information, contact Lou Stegner, King Plastic Corporation, at 941-493-5502, E-mail: lou@kingplastic.com.
New Process Fibre Company, Inc. offers extruded thermoplastic sheet, roll, coil, strip: HDPE, LDPE up to 38" width (untrimmed) in thickness ranges .010" to .187" from large quantity runs to small minimum runs. They have standard material colors and custom color matching is no problem. Slitting is available with widths as low as .500". They also extrude Polypropylene, Nylon 6, Nylon 66, Nylon MDS and Acetal and have been making non-metallic stamped parts, washer, gaskets and insulators since 1927. ISO9001:2000 registered. For additional information, contact Dale Patterson, New Process Fibre Company, Inc., at 800-497-4530, E-mail: sales@newprocess.com.
For the past 20 years Northern Plastics Ltd. has specialized in the extrusion of stock and custom UHMW profiles. Their in-house tooling capabilities ensure timely deliveries of products and solutions. Their products and services include in-house die manufacturing; large and small production runs; custom profiles; custom colors and custom formulations. For additional information, contact Bruce Halverson, Northern Plastics Ltd., at 250-804- 3052, E-mail: bhalverson@northernplastic.com.
In business since 1937, Penn Fibre Plastics, an Ensinger Company, provides a full line of Low Density and High Density Polyethylene coils, strips and punched parts. Strips and coils are available from .010" to .125" thick, in widths ranging from 1/4" to 24". In addition to standard formulations, colors, flame retardant, U.V. resistant and ESD formulations are available upon request.
Low and high density washers and punched parts are available from .090" O.D. to 4.35" OD and ID's from .062" to 3.90". All washers and punched parts are produced to customer specifications from an inventory of over 4000 die sets.
Penn Fibre products are also available in a wide range of nylon, acetal, engineering and high performance thermoplastics materials. For additional information, contact Dave Pincin, Penn Fibre Plastics, at 800-662-7366, E-mail penninfo@pennfibre.com.
Petro Extrusion Technologies Inc., (PET Inc.)specializes in engineering- grade thermoplastics as well as custom and stock products in low, linear low, medium and high density polyethylenes. PET, Inc. carries a stock line of 6 different PE channel shapes. The stock channels can also be made-to-order in any desired cut lengths.
PET Inc., also produces an endless variety of custom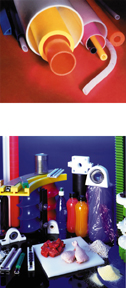 shapes and tube sizes ranging from 1/32" diameter up to 6" diameter. Petro has custom co-extrusion capability and can extrude in any combination of compatible PE materials or colors as your requirement dictates. They specialize in neon and specialty custom colors, as well as all standard colors. For additional information, contact Robert Petrozziello, Petro Extrusion Technologies, Inc., at 800- 229-3338, E-mail: robert.petro@verizon.net.
High impact strength; chemical-, corrosion-, moisture-and abrasion-resistance; and low coefficients of friction are the hallmarks of Poly Hi Solidur's TIVAR® (UHMW-PE) product family. Available in both sheet and rod, TIVAR materials excel in wet or dry conditions, keeping equipment running and materials moving. In addition, many of the TIVAR formulations meet FDA, USDA and 3A dairy guidelines for food handling and processing – without sacrificing any key performance properties. TIVAR excels in applications in bulk material handling, food processing, bottling, canning, pharmaceuticals, packaging and parcel handling. For additional information, contact Stephanie Kerr, Poly Hi Solidur, Inc., at 877-476-5944, E-mail: stephanie.kerr@menasha.com.
Precision Plastic Sheet manufactures Polystrong High Density Polyethylene (HDPE), High Molecular Weight Polyethylene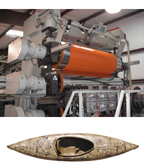 (HMW) and Pipe Grade Polyethylene Sheet. Sheet thicknesses range from 1/8" to 1" in widths up to 60". The company maintains an inventory of popular sizes in natural and black HDPE. Custom colors are available, subject to minimums. Close tolerance and cut-to-size are also offered. For additional information, contact Richard Newsum, Precision Plastic Sheet, at 877-743-3848, E-mail: plastic @meta2.net.

Primex Plastics Corporation offers High Density, Low Density and High Molecular Weight Polyethylene extruded from the finest virgin resins. Additionally, they can be modified with talc or calcium carbonate for increased stability and lay-flat features. Polyethylene is also available in a line of printable grade materials. Applications include medical trays, truck bed liners, portable toilets and paddle boats. For additional information, contact Jason Jenkins, at Primex Plastics Corporation at 800-222-5116, E-mail: jjenkins@primexplastics.

R. F. Kelly & Company extrudes UHMWPE custom and stock profiles and shapes for the material handling; automotive, truck and transportation; agricultural as well as consumer products industries. Founded in 1990 with a staff offering 70 plus years of UHMWPE processing and fabrication experience, they developed new processing technology for the conversion of intractable thermoplastic resins. This allows them to process more pounds per hour than conventional ram extrusion. The full plastification of the resin optimizes the resin properties as well as offers significant savings on tooling. For additional information, contact Rob Kelly, R. F. Kelly & Company, at 717-846-1300, E-mail: rkellyco@nfdc.net.

Röchling Engineered Plastics

is a leading manufacturer of Polystone® thermoplastics. Polystone®M (UHMW) is available in standard and premium grades in sheets, rods, tubes, profiles and fabricated parts. Polystone®G (HDPE) is extruded in smooth and textured sheets. Polystone®P (Polypropylene) is available in sheets, rods and welding rods and Polystone®PVDF in standard and fabric-backed sheets. Featuring the exclusive MegaSheet® (8' x 20') – Röchling offers the largest molded polyolefin sheet available anywhere in the world.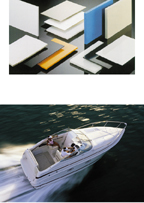 Compression molded in UHMW, HDPE, or PP, it can be used as one huge sheet or cut to achieve yields that are unmatched by industry standard sheet sizes. For additional information, contact Tim Brown, Röchling Engineered Plastics, at 704-922-7814, E-mail: brown@roechling.com.

Spartech Plastics offers an A/B/A co-extruded expanded HDPE sheet product. The outer surface "A layers" give this product its excellent finished look and adds to the overall strength of the sheet, while the foamed inner layer provides weight reduction, yielding a product with an excellent strength-to-weight ratio. Additionally, with its excellent toughness and UV protection package, The material provides the OEM with a superior outdoor use product. It is a great alternative to wood and fiberglass for a variety of applications in the marine industry. The sheet is available in a thickness range of .125" to .500" in both smooth/smooth and matte/matte finishes in a wide array of colors. For additional, contact Howard Kenney, Spartech Plastics, at 888-721-4242, E-mail: howard.kenney@ spartech.com.

Symplastics offers a complete range of Ramex® UHMW sheet and rod. The company has just announced the start up of their new 60" ram extrusion line to produce sheet sizes up to 60" x144" and a thickness range from 1/8" to 1-3/4". Larger sheet sizes will maximize part yields as well as reduce loading on saws and routers. 60" wide sheet is ideal for lining. Larger sheet sizes equate to less seams. 60" sheet will be available in most Ramex Grades and stocked in Natural Virgin and Black Repro. For additional information, contact John Schwenck, Symplastics, Inc., at 636-397-3008, E-mail: jschwenck@symplastics.com.

Thermoplastic Processes, Inc.

offers Excelon® Low Density Polyethylene Tubing produced from 100%, low density polyethylene resin. PE is a chemically inert, non-contaminating translucent tube that meets FDA standards, making it an ideal choice for laboratory, hospital, food and beverage applications. PE's exceptional stability, long life and resistance to corrosion make it well suited for use with pneumatic controls, instrumentation and hydraulic applications. TPI offers Polyethylene in two formulations — Low Density, and Linear Low Density in five colors: red, yellow, orange, green and blue plus black, white and natural. The tubing features a mirror-like smooth interior surface resulting in a higher flow rate.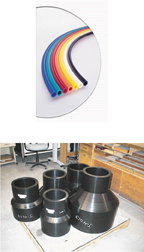 It is available in strippable,twin and multiple-bore configurations which reduces installation time and encourages the production of neat layouts in multi-line systems. The tubing is also available as a co-extruded liner material in applications where additional flexibility is required without sacrificing inertness. For additional information, contact Doug Kinney, Thermoplastic Processes Inc., at 888-554-6400, E-mail: dkinney@dbindustrialgroup.com.

Tucson Industrial Plastics

(T.I.P.) is an extruder of high density polyethylene, PE3408 pipe grade material. T.I.P. manufactures machined, one-piece billet construction pipe fittings. Products include flange adapters, stub ends, reducers, both concentric and eccentric, anchor rings, beveled flange adapters and specialty items. Fitting sizes from 12" to 63", IPS or DIPS, in any SDR, fully pressure rated. AWWA certification is available. Custom and prototype production is also available.
T.I.P. also manufactures extruded, solid wall, seamless tanks and manholes. Inside diameters from 39" to 118" and 18" in length/height, in one, continuous piece. Tanks or manholes are fabricated to customer specifications with appurtenances. For additional information, contact Kathy Leetzow, Tucson Industrial Plastics, at 800-303-7330, E-mail: kathy@tucsonindustrialplastics.com.

TSE-OKULEN Americas LLC (TSE- OK)

is a joint venture corporation of TSE Industries, Inc., Clearwater, FL (TSE) and Ottensteiner Kunststoff GmbH & CO.KG, Ahaus, Germany (OK).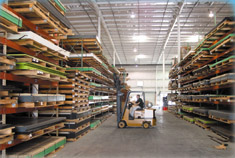 OKULEN (OK) is a premier manufacturer of high and ultra high molecular weight (HMW/UHMW) polyethylene sheets, with over 26 years of compression molding expe-rience. They press PP, HMW and UHMW PE sheet stock at their new 60,000 square foot facility in Clearwater.
TSE-OK stocks standard sheet materials made of OK1000 natural, green, black, lubricated blends (oil, wax), moly filled, UV/stabilized and antistatic blends and uses FDA compliant material additives to ensure a safe working environment.
Custom formulations are available to enhance wear properties. Their high performance polymers are specified as OK2000 blends which are made of the highest molecular weight available in the market today. TSE-OK offers glass filled, high temp, flame retardant and fiber cloth backed or rubber backed sheeting. For additional information, contact Robert G. Langhans, TSE-OKULEN Americas LLC, at 727-540-1290, E-mail: robert.langhans@tse-ok.com.

ULTRAPOLY™, Inc. has developed a new line of Ultra Non-Skid® products.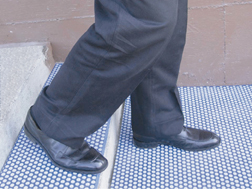 Technology initially developed for the United States Navy has been scaled down for commercial use. The material is offered in thin section (3/16" – 1/4"), double-sided, non-skid sheet with an aggressive ultra high molecular weight polyethylene (UHMW-PE) core. Also new to the Ultra Non-Skid family are Braxx and Americans With Disabilities Act (ADA) compliant Braxx. These non-skid technologies are a direct replacement for non-skid tapes and paints for industrial applications. ULTRAPOLY, Inc. is a manufacturer and fabricator of UHMW-PE sheet and extruded profiles. For additional information, ULTRAPOLY™, Inc. at 800 872-8469.
United Plastic is a leading custom extruder of high quality thermoplastic tubing, welding rod and stock shapes from a variety of resins including HDPE. Extruded tubing is available from 1/8" to 18" diameters in heavy and thin walls, in round, square, rectangular and oval shapes. Custom profiles are also available. Welding rod is available in coils or straight lengths in 15 shapes to 96" or 1 to 100 lb. reels. Stock shapes are offered from 2" to 6" diameter. For additional information, contact Patrick Hurley, United Plastic, at 302-855-0139, E-mail: sales@upicorp.com.
Among the broad spectrum of polyethylene products currently available to the market, Westlake Plastics Company focuses on Ethylux® (LDPE), Ultra Ethylux® (HDPE) and Lennite® (UHMWPE) primarily in compression-molded sheet.

Some of the advantages to be gained by utilizing a compression molded polyethylene sheet manufactured by Westlake versus an extruded sheet include low stress material ideal for machining parts, a wide range of sizes and thicknesses to obtain optimum yield levels and a variety of surface finishes (press polished, haircell and other custom surface textures). All polyethylene products manufactured by Westlake are available in FDA compliant grades. For additional information, contact Renee Ebersole, Westlake Plastics Company, at 610-459-1000, ext. 222, E-mail: renee.ebersole@westlakeplastics.com.
Click here for a complete mailing addresses and websites for the manufacturers above.