Fab Machinery and Tooling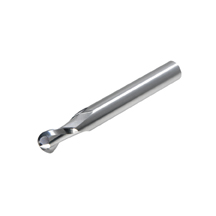 High Surface Finishes in Plastics
Typically, when a ball nose tool is used to machine contours in plastic, the surface finish is a slightly irregular with evident tool marks. While this finish is acceptable in most applications, it is not acceptable in many medical components, such as a knee replacement part. A knee replacement includes an insert made of mechanical plastic material. The plastic insert ensures smooth rotation between the metal components of the implant.
The mechanical plastic insert requires a very low Ra (roughness measurement), which visually is a highly polished finish. Metal machined components can achieve a high polish using abrasives in a secondary operation. Abrasives cannot be used on plastic, as the abrasives will roughen the surface of the plastic.
To achieve the surface finish required for the plastic insert, LMT Onsrud Cutter has developed an innovative solid carbide ball nose tool that will be available fourth quarter 2010. The new tool's unique geometry, specially designed point and highly polished primary clearance and flute give the tool the ability to attain a surface finish of 28 Ra in mechanical plastic. A 28 Ra surface finish is more than satisfactory for the knee insert.
Other industries that will benefit from the new ball nose tool include food processing and electronics. In any plastic application where the surface finish is critical, companies will want to take advantage of Onsrud's new ball nose tool.
For additional information, contact Leslie Banduch, Onsrud Cutter LP, 1081 S. Northpoint Blvd., Waukegan, IL 60085, 847-362-1560, Web: www.onsrud.com.
---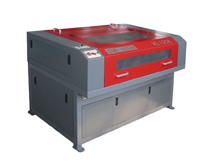 Creative Dollars for Machinery
CDM Industries announced a bold new idea to assist startup and existing companies in acquiring the right machine tool for the job. Plastic fabricators and distributors very often pass up on quoting jobs because they do not have the right tool for that job. It pays to have the right tool, but many companies have a tough time justifying the initial cost.
They offer an array of machines such as dust collectors, panel saws, table saws, CNC routers, lasers, etc. for sale or hire on a weekly, monthly and yearly basis. Let them know what you need and they will be happy to give you a price. Their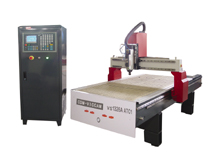 equipment is also for sale and if you find that the machine you are renting should become a permanent fixture they will take any money paid in rental fees on an existing rental towards the purchase price of the machine.
CDM (Computer Driven Machinery) Industries is a full service machinery sales and service company offering machinery repair, PM, installation and instruction, re-location and remote programming service to customers from coast to coast. With more than 25 years experience in the plastic cutting industry, they are your one-stop shop for all your machinery needs.
For additional information, contact Cahir McCoole, CDM Industries, P.O. Box 883, Marblehead, MA 01945, 781- 608-4400, E-mail: cdmindustries @aol.com, Web: www.cdm-industries .com.
---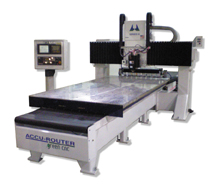 Green CNC™ for Dense Plastics
Accu-Router recently shipped its latest Green CNC to a Pennsylvania plastics fabricator who purchased their first CNC router in 1980, which Accu-Router took back as a trade-in. The same customer purchased their second CNC router from Accu-Router in 1983.
A number of factors defined this project's success. Paying cash, Accu-Router re-acquired the original 1989 platform from a major boating customer in North Carolina. The original 1989 CNC control had been upgraded along the way due to water damage, resulting in a late-model Fanuc 18i-MA control and extra value for the right Green CNC application. The retail value of a Fanuc CNC control package is $50,000+, which can exceed the entire price of a lighter machine with off-brand or PC-based electronics. As part of the transaction, Accu-Router was able to offer a trade-in credit for an inactive 1980 Porter router, which was hauled back to its factory after delivery to be modernized for yet another customer.
Other system highlights include: full one-year new machine warranty, 15 hp cast iron power drawbar spindle, built and serviced in Tennessee with lifetime loaners; 8-position automated tool rack with rotary actuated chip cover.
Accu-Router's Green CNC program means a number of "non-wear" structural components are inspected, cleaned and reused, representing great savings versus the cost of all new. Such items on this Accu-Router included the heavy steel weldments, thick aluminum jig plate table and NEMA-12 (dust tight) electrical cabinets. The machine was provided with a vacuum holddown system and a 15 hp Travaini liquid ring vacuum pump (new). This customer has four other CNC routers (three are Accu-Routers). This new Green CNC is the fastest, most versatile of their machines. It was also the least expensive.
Accu-Router factory technicians also performed a courtesy written inspection of the customer's existing three Accu-Routers to maximize their performance and life expectancy.
Besides offering customers "buy, rebuild, sell back" options on Accu-Router machines, the company is also actively expanding its Green CNC services to other fixedgantry, ballscrew-drive routers; potential brands include Shoda, Komo, Northwood, and Heian.
For additional information, contact T.R. Herzog, Accu- Router, Inc., 634 Mountain View Industrial Drive, Morrison, TN 37357, 800-239-5778/931-668-7127, Fax: 931-668-9187, E-mail: info@accu-router.com, Web: www.accu-router.com.
---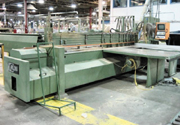 Large Selection of New & Used Equipment
When in the market for used or new equipment, Ex- Factory Inc. offers quick and easy access to over 6,000 listings of used machines on www.exfactory.com and over 1,200 new machines on www.FactoryNEW .com. Used and new, select from 475 CNC routers, 450 panel saws, hundreds of peripheral equipment such as compressors, dust collectors, electrical components, material handling equipment, fork and scissor lifts and more.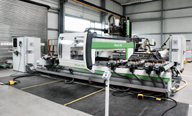 For immediate buying opportunities and competitive pricing, frequently visit their online auction website at www.ExfactoryAuctions.com for exceptional value in a wide range of equipment. With over 20 years in the industry, 25 industry experienced Product Managers, value-added services and the widest variety of equipment this industry has to offer, Ex- Factory Inc. is the place to go

For additional information, contact Norman Schust, Ex-Factory Inc., 1805 Sardis Road North, Charlotte, NC 28270, 704-841-2001 x445, Fax: 704-841-1200, E-mail: norman.schust@exfactory.com, Web: www.exfactory.com.
---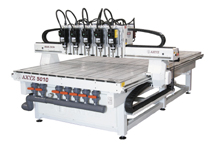 Higher Productivity Multi Head CNC
One of the great strengths of the AXYZ Series machines is their ability to have custom head configurations to suit almost any specific manufacturing requirement. This particular example shows how five identical cutting spindles can be mounted on a single carriage to allow the production of five parts at the same time.
These machines can have one or two carriages each with up to three cutting heads mounted on independently controlled Z axes all driven by precision ballscrews. To take this concept even further, the machine could also have two gantries each with its own set of carriages and heads. When multiple spindles are mounted on the same carriage they can be setup to operate together - as in this five head example - in which case five parts can be cut simultaneously for maximum production. Alternatively, each head could be fitted with different tooling and configured to cut independently of the other heads so that jobs requiring multiple tools can be processed without the need for an automatic toolchange unit.
When you consider the range of cutting heads that can be used - routing spindles, knife units, drills and more - and all the ways in which they can be arranged on the machine either with or without an auto toolchanger, the possibilities are almost endless.
This is what makes the AXYZ Series machine the most versatile in the industry today and is why it is so popular with discerning manufacturers who know exactly what they need to make their business stand out from their competitors and achieve that winning combination of productivity and profitability.
For additional information, contact Greg Jenkins, AXYZ International, 5330 South Service Road, Burlington, ON, L7L 5L1, Canada, 905-634-4940, Fax: 905-634-4966, E-mail: sales@axyz.com, Web: www.axyz.com.
---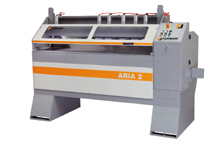 Diamond Edge Polisher
AWED Corp. is now offering the newest Fermari polisher, the ARIA 2 Diamond Edge Polisher with a polishing capacity of 62" long and up to 4" thick. The polisher is equipped with a 1 1/2 hp direct drive, single-phase 220-volt spindle motor. It will polish faster than any previous machine and still have a high quality finish. A10 footer is also available.

Router Bits & End Mills
AWED also carries the Euracryl end mills in solid carbide or with monocrystalline diamond cutters. The tooling creates a highly transparent finish on acrylic. Now you have the opportunity to create shapes with rounded, beveled edges with your CNC or milling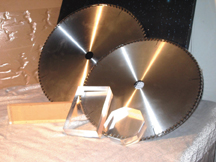 machine and have a polished finish. The tooling can put a radius or bevel on the inside of a straight hole from its diameter up to 20mm, to any capacity of your machine (limited size bevel).
In some cases you can polish steps in the thickness of the material, either straight or bevel finish. You can also polish a through hole with their special tooling (machinery requirement differs). Special shapes available upon request. The tools are available 6mm and 8mm shanks with .05 radius on natural diamond and 6mm to 20mm on PCD and carbide.
TCG Saw Blades
AWED also offers plastic cutting saw blades with the unique triple-chip grind (TCG) tooth design. It's design offers a cut unequal by any other blade. These blades can be used on standard table saws or panel saws, manual or CNC. A variety of sizes are available to meet your specifications.
For additional information, contact Victor Miranda, AWED Corp., 1175 Buford Highway, Suite 101, Suwanee, GA 30024, 770-831-9800, Fax: 770- 831-7404, E-mail: awedmachine@aol.com, Web: www.awedmachine.com.
---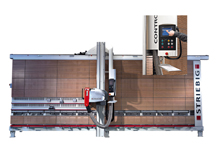 Vertical Panel Saws
STRIEBIG vertical panel saws from Switzerland have a renowned reputation for quality and precision cutting in a wide variety of materials including most plastics. STRIEBIG panel saws are safe, easy to operate and take up a minimal amount of floor space compared to horizontal saws, especially for larger sheets. STRIEBIG offers the most complete range of machines with five models, each with a wide variety of frame sizes from 5'x 10' up to 10' x 30' and cutting depths up to 3 1/8".
The COMPACT model offers STRIEBIG precision in a basic manual machine but with many available accessories. It is available with automatic travel in the COMPACT AV model. The STANDARD model is a more powerful, still basic machine and available with a full-wood back support panel for thinner material.
The newly redesigned top-of-the-line CONTROL model is a fully automatic machine with touch-screen controls, digital measuring, the full-wood back support, automatic set-up features and new optional programmable trimming, measuring and cutting.
For additional information, contact David Bull, Colonial Saw, Inc., 122 Pembroke Street, P.O. Box A, Kingston, MA 02364, 781-585-4364, Fax: 781-585-9375, E-mail: dbull@csaw.com, Web: www.csaw.com.
---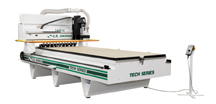 Precision Machining Products
C.R. Onsrud, Inc. offers a comprehensive line of high-precision machining products including over fifty standard models of 3-, 4- and 5-axis CNC routers, four models of Inverted Pin Routers, as well as a complete line of tooling and accessories. CNC routers are offered in cast-iron fixed bridge, twin table, single table, and steel frame moving gantry designs.
Most C.R. Onsrud CNC routers include a 12-position tool changer, high grade "off-the-shelf" standard components, 24/7 tech-support, and all can be customized via a full menu of standard options including: multispindle drills, aggregate capability, rotational C-axis, 5-axis, multi-spindle and dual process configurations. C.R. Onsrud is known for superior service capabilities, high-tech training facilities and an extensive Applications Engineering department to further reinforce their pledge to provide the industry with the best products, service and customer support.
For additional information, contact Alyson Onsrud, C.R. Onsrud Inc., P.O. Box 419, Troutman, NC 28166, 800- 638-8185/704-528-4528, Fax: 704-528-6170, E-mail: sales@cronsrud.com, Web: www.cronsrud.com.
---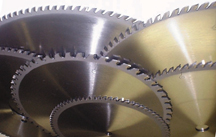 Saw Blades for Plastics
FTM, Inc., offers a large selection of saw blades specifically designed and manufactured for cutting all types of plastics. They stock blades manufactured by General Saw Corp., a name synonymous with cutting excellence within the plastics industry. General Saw gives meticulous attention to every aspect of saw blade engineering and design, producing precision saw blades, which exceed even the most critical cutting needs. Things to keep in mind when selecting a saw blade are the thickness, hardness and heat sensitivity of your plastic. The thinner the plastic the more easily it will chip, therefore the more teeth the blade will require, the lower the rake angle and the thinner the kerf. The harder the plastic is, the more likely it is to chip, also requiring more teeth. Heat sensitive plastics require fewer teeth, more radial clearance angle and more tooth overhang.
Use these guidelines to select the best blade for your material: use the maximum number of teeth to reduce or eliminate chipping but cut back on the number of teeth when smearing (overheating) begins to occur; use a blade with the thinnest practical kerf; use stiffening collars when possible; and always service your blades at the first sign of dulling. For more help selecting the perfect saw blade, visit FTM's website and click on the "SAW-LECTOR GUIDE" for blades.
For additional information, contact David Geer, FTM, Inc., 327 Industrial Drive, Unit 1, Placerville, CA 95667, 530-626-1986, Fax: 530-642-2602, E-mail: info@123ftm.com, Web: www.123ftm.com..
---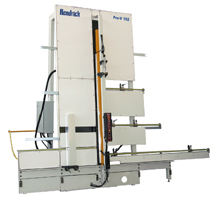 Vertical Beam Saw Series
Hendrick's line of heavyweight, fully automatic vertical beam saws feature the precision accuracy needed to stack cut and cross-cut all-sized parts while requiring minimal floor space. Hendrick PRO-V Vertical Beam Saws have full length heavy-duty pneumatic pressure beams and squaring fences to provide confirmed placement of material while cutting, solid frames and surface areas to maintain squareness and support. Featuring ±.005" of straight line accuracy, an operator merely needs to place the material against the stop, press the button to activate the hold-down bar and then press the start button to rip or cross-cut anything ranging from less than 1/2" squares up to 10' sheets.
The compact saw offers single blade scoring and three cutting modes: normal, reciprocating and scoring. Driven by a 9 hp motor, the adjustable saw blade travels on precision machined ways and the 2 hp variable speed automatic saw carriage traverse motor by AC inverter is standard with speeds up to 75 fpm. The machine's small footprint saves valuable floor space.
For additional information, contact Whitney Wiggin, Hendrick, 32-34 Commercial Street, Salem, MA 01970, 978-741-3600, Fax: 978-744-0242, E-mail: info@ hendrickmanufacturing.com, Web: www.hendrickmanufacturing.com.
---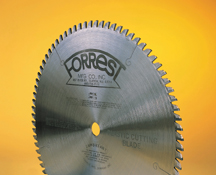 Saw Blades for Cutting Plastic
Forrest Manufacturing offers several quality blades designed specifically for plastic applications. These blades feature specially tipped, abrasive-resistant, double-hard C4 micrograin carbide for 50% to 300% longer life between sharpenings.
Like all Forrest products, they are made in the United States and come with a 30-day, money-back guarantee. The following blades can be ordered direct from the factory or from quality dealers, retailers and catalogs: No-Melt Saw Blades cut single or multiple stacked sheets of plastic—without chipping or melting these materials. They are particularly suitable for acrylics, delrins, ABS, PVC, and both high- and low-melt nylons. Carefully engineered side clearances on the carbide teeth significantly reduce or eliminate melted burrs and residue buildup. Duraline Thin-Rims for Plastikerf and Plycutter Saws. These blades cut fine, fragile, and/or thinwalled material such as 1/32" to 1/4" acrylic sheets, engraving stock, curved formica sections, plastic extrusions, etc. Duraline Thin-Rims eliminate chipping, minimize tooth impact and reduce material waste. Duraline Circular Saw Blades are suited for extra fine, chipless sawing of acrylics and plastic sheets and for fine sawing of ABS, acrylics and PVC.
For additional information, contact Jay Forrest, Forrest Manufacturing Company, 457 River Road, Clifton, NJ 07014, 800-733-7111/973-473-5236, Web: www.forrestblades.com.
---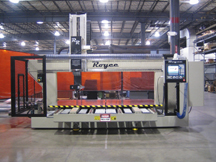 5-Axis CNC Machine
MAAC Machinery, a leader in the manufacturing of thermoforming machinery, is producing a line of 5-axis CNC routers to the thermoforming industry, labeled Royce Routers.
The Royce Router is equipped with two 5' x 5' tables that can be used independently or in tandem to accommodate a 10' x 5' working area. This router is designed specifically for the maximum production of trimming thermoformed parts with a focus on higher speeds, allowing thermoformers to match the output of rotary thermoforming machines.
This allows processors to not only speed secondary processes but eliminates the need for multiple "slower" trimming machines typically required to provide an equivalent output. The Royce line is equipped with top of the line Fagor controls, 10 hp (2400 rpm) spindle(s), and is available in both 36" and 48" z strokes.
This addition to the MAAC line up allows them to now provide complete processing cells; from forming equipment and molds, to trimming equipment and trim fixtures. With the ability to provide everything from a single source, MAAC can greatly reduce project timing, pre-set all processing parameters, greatly reduce learning curves and assure complete cell integration.
For additional information, contact Michael P. Alongi, MAAC Machinery Corporation, 590 Tower Boulevard, Carol Stream, IL 60188, 800-588-MAAC/630-665-1700, Fax: 630-665-7799, E-mail: sales@maacmachinery.com, Web: www.maacmachinery.com.
---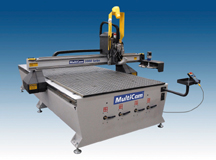 CNC Router for the Plastics Industry
MultiCam, Inc. offers an innovative, heavy-duty, precise cutting system to the plastics and acrylic fabricator. Our top-selling 3000 Series CNC Router is loaded with standard features normally associated with more expensive machines. The rigid, all-steel plate frame construction coupled with our new automatic rotary tool change, 8.5 hp, 40,000 rpm spindle allows for an incredible edge finish when machining plastic.
The 3000 Series router also comes in a wide variety of table sizes and features a space saving, moving- gantry design. In addition, MultiCam has vacuum fixturing options specifically tailored to the plastics industry.
MultiCam Inc. has over 70 distributors worldwide, including 20 Technology Centers in North America, so you can always depend on local training, support and service.
For additional information, contact John Harris, MultiCam LP, 1025 West Royal Lane, DFW Airport, TX 75261, 972-929-4070, Fax: 972-929-4071, E-mail: leads@multicam.com, Web: www.multicam.com.
---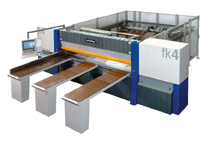 High Precision Saw
Schelling announced their new fk4 panel saw designed and engineered specifically for high speed, precision cutting of plastic panels. This includes acrylic, PETG, polycarbonate, polyolefins, PVC, UHMW, phenolics, mechanicals and other specially engineered materials.
The fk4 provides extremely tight cutting tolerances and chip-free cutting of material as thin as .020" without the use of a protection board. The machine is also equipped with material recognition software, a saw blade change database and total panel control features that provide fast setup times when changing materials.
Additional features include: rigid heavy duty construction; state-of-the-art material handling technology that automates the loading, cutting and off loading processes; on-line remote diagnostics for increased uptime and productivity; saw blade rpm control combined with blade cooling; online downloading of optimized cutting patterns and label printing.
For additional information, contact Stephen Bailey, Schelling America, Inc. P.O. Box 80367, Raleigh, NC 27623, 919-544-0430, Fax: 919-544-0920, E-mail: sbailey@schelling.com, Web: www.schelling.com.
---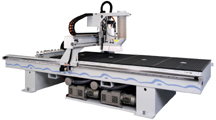 Nested-based CNC Routing
Stiles Machinery Inc. introduced a solution for nestedbased CNC routing that delivers excellent quality at an affordable price. Stiles observed that nested-based CNC routing continues to gain momentum as an efficient manufacturing process but their customers needed a costeffective solution in today's economic climate. Stiles shared their customers' requests with Weeke Mas - chinenbau to engineer an entry-level CNC router. Based in Northern Germany, Weeke is one of the world's largest manufacturers of CNC equipment. Stiles has been Weeke's exclusive distributor in the United States for over 20 years. The outcome of these collaborative efforts is the Weeke Vantech series of CNC routers.
For routing panels, the Vantech delivers maximum flexibility and easy integration with popular CAD/CAM software packages. But German engineering alone did not fulfill the expectation of Stiles and their customers. Stiles viewed the slow economy as an opportunity to pursue new strategies, so they considered another option. By manufacturing in the United States, they could build machines for less without factors such as fluctuating exchange rates and international shipping costs. German engineered quality at an American-made price. Primarily designed for nested-based machining, the Vantech series of routers incorporates the advantages of Weeke performance at an affordable price.
Available in 4' x 8', 5' x 10' and 5' x 12' table sizes, all of the models are constructed with an extremely durable foundation to accommodate the CNC router's high-speed capabilities while ensuring the machine's longevity. Windows-based programming software is a standard feature for maximum flexibility and easy integration with popular design packages. Other features include Quik-Pod system for added flexibility, dual drive gantry and pneumatic positioning pins.
For additional information, contact Amanda Dombeck, Stiles Machinery Inc., 3965 44th St. SE, Grand Rapids, MI 49512, 704-861-8239, E-mail: adombeck@stilesmachinery.com, Web: www.stilesmachinery.com.
---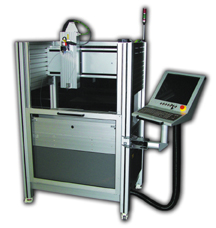 Gantry Machine Platform
Techno, Inc. Linear Motion Systems announced the New TechnoMod Gantry Machine, a multi-axis motion platform complete with controls, cabling, software and enclosure; all fully assembled. The TechnoMod is available in three different sizes and can be used for pick and place, dispensing, assembly, testing, drilling, routing, welding and general automation applications. Joe Griffin, Techno Linear Motion Sales Manager, states, "The New TechnoMod machine is completely assembled when it arrives. All electronics are wired and software installed, allowing customers the ease of running the machine in any work cell shortly.
The only setup customers may have to perform is the mounting of drill, dispenser, laser or automation tooling required for their application and in many cases Techno can do this for the customer prior to shipping." Travel ranges are 650 x 300 x 275 mm for the Model 30, 650 x 450 x 275 mm for the Model 45 and 650 x 650 x 275 mm for the Model 65. Additionally, a 4th or 5th rotary axis can be added to the machine for more complex operations, while all drive motors are DC brushless servos providing high torque and precision. The TechnoMod can be delivered with or without electronics as well as a sliding front door with safety interlock. It has a built-in industrial computer and rugged swing arm console which includes a monitor and keyboard.
For additional information, contact Joseph Griffin, Techno, Inc., P.O. Box 5416, New Hyde Park, NY 11042, 800-819-3366/516-328-3970, Fax: 516-358-2576, E-mail: tooling@technocnc.com or cncinfo@technocnc.com Web: www.techno-isel.com.
---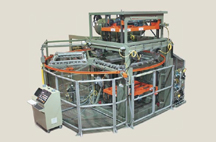 New & Used Equipment
PlastiMACH Corp. is a stocking dealer of used plastic thermoforming and plastic processing equipment since 1975. Most of their late-model inventory can be inspected in New York or Chicago warehouses.
They also represent all major manufacturers of new thermoforming machinery, including single station, rotary double end and inline equipment. They can help you select the right machine for your application and budget, with over 75 years of experience in the thermoforming and routing industry.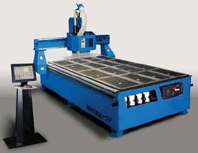 PlastiMach Corp. also introduces their CNCrouter - store.com division. In addition to a wide selection of new and used CNC Routers, The CNC Router Store staff specializes in assisting buyers locate the appropriate equipment for their particular application. With their large selection they have machines for every budget. They carry used CNC routers from Thermwood, Motionmaster, C.R. Onsrud, Komo, Quintax, Multicam, Anderson, Omnitech and others. They also carry the new line of CNT Motion Systems and FMT CNC Routers with complete 3-axis CNC Router packages.

For additional information, contact Jerry Hammerman, plastiMACH Corp., 704 Executive Blvd., Valley Cottage, NY 10989, 845-267-2985, Fax: 845-267-2825, E-mail: mailto:jerryh@plastimach.com, Web: www.plastimach.com.
---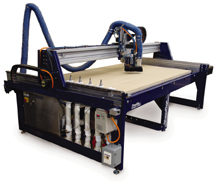 Gantry-Based CNC
ShopBot's PRSalpha CNCs are tough, sophisticated, gantry-based CNC routers. Using advanced technology for CNC cutting, drilling, carving and machining, the PRSalpha is right in professional environments where production speed is important, delivering rapid transit speeds of 1800 inches per minute and cutting speeds of up to 600 inches per minute. These ShopBot CNCs boast robust Vexta alphaStep motors, an innovative hybrid combining the quick motion and speed of stepper motors with the closed-loop feedback advantages of servos.
Easy to assemble, configure and re-configure, learn and use, the PRSalpha CNC delivers reliable, affordable, full-production performance in digital fabrication of wood, plastic, aluminum and other materials. The ShopBot PRSalpha features fast, closed-loop Vexta alphaStep motors, tough precision bearings and hardened steel rails, reliable rack-and-pinion power transmission, step resolution of .0004", positional accuracy of +/- .002", Z-zero Touch-Off Plate and XY Proximity Switches, advanced ShopBot Control System software, user-friendly ShopBot PartWorks Software Suite, free tech support and a two-year warranty.
The CNC is offered in four popular table sizes: 48 x 48, 96 x 60, 120 x 60 and 144 x 60 with custom sizes and special adaptations available to meet your specialized production needs.
For additional information, contact ShopBot Tools, Inc., 3333B Industrial Drive, Durham, NC, 27704, 919-680-4800/888-680-4466, Fax: 919-680-4900, E-mail: see their website, Web: www.shopbottools.com.
---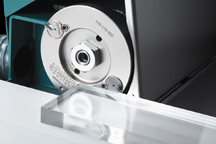 Polish Acrylic on a Sliding Table Saw
The German woodworking machinery company, MARTIN has develop an option for the MARTIN T74 saw that would make it possible to finish polishing of acrylic panels directly after cutting them. The drive of the sliding table was fine tuned for polishing. The pressure bar is divided into several clamping areas, which can be used independently ensuring gentle and firm clamping of smaller and bigger workpieces. A special fence included in the package makes it easier to position the workpieces to be polished. Even whole stacks of acrylic plates can be positioned for polishing without difficulty at the 2 m guide. Acrylic plates as well as whole>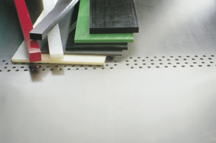 stacks of material, with an edge length of up to 3,000 mm and a thickness of up to 100 mm, can be processed effortlessly.
The package includes the polishing unit, including tool protection, dust extraction hood and lifting device which can be lifted and lowered manually. The polishing unit can only be used with Euracryl ES-100 tools (not included in the package) polishing a maximum thickness of up to 100 mm.
Planer for Plastics
MARTIN has also developed a planer designed for the processing of plastics. Specific machine options such as a vacuum table for the processing of thin material, a zinc-coated dust collection shroud to reduce static and a cutterhead with an 18°hook angle are designed into the MARTIN T45 planer. MARTIN also offers its T45 Contour planer with these options, which allows for the profiling of plastic material up to 24" wide with a 1" depth of cut.
For additional information, contact Carl Stout, Martin Woodworking Machines Corp., 8107-M Arrowridge Blvd., Charlotte, NC 28273, 704-525-3963, Fax: 704-525- 3443, Web: www.martin-usa.com.
---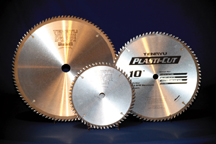 General Purpose & Precision Saw Blades
Craftics provides a variety of tools and accessories for working with plastics, including Tenryu Saw Blades. They inventory the Tenryu Plasti-Cut and Pro Series Blades for Plastics in a variety of sizes and grades. The Plasti-Cut blades are designed for general purpose cutting on a variety of materials and material thickness.
High grade carbide teeth and an ultrathin kerf will allow faster feeding and minimal waste. They provide exceptional performance for a value price. Craftics offers 7-1/4", 10", 12" and 14" diameters from stock.
The Pro Series blades are superior quality, high-precision blades that offer fine-grain, wear-resistant carbide teeth for long life, expertly tensioned steel bodies for true and accurate cuts, built-in expansion slots act as dampeners to reduce vibration and noise. Achieve precise professional cuts in production applications time after time.
Craftics offers 10", 12" and 14" diameters from stock. Craftics also offers the Craftics Brand Plasticutter and Edgescraper and Onsrud Cutter Router Bits and can sharpen your saw blades.
For additional information, contact Tracy Pineda, Craftics, 2804 Richmond Drive NE, Albuquerque NM 87107, 866-296-2130, Fax: 800-289-2020, E-mail: sales@craftics.com, Web: www.craftics.com.
---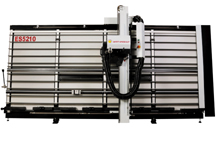 Panel Saws
Safety Speed currently offers nine different panel saws. Their full line of panel saws are engineered to be low cost, highly efficient and extremely safe to use. Each machine has a guaranteed alignment built right into the machine and calibrated within factory specifications.
From their C4 and C5 models which pack all the features of full-size saws into a portable 5' frame to their ES5210 Panel Saw designed for high production and tight tolerance cutting, Safety Speed strives to provide their customers with equipment that improves productivity, quality, safety and bottom line profitability. Ideal for cutting plastics, their top of the line ES5210 machine is equipped with a 7 Hp, 3~, 220V motor. The European Style traveling carriage traverses the full length of the machine frame to execute cuts on full size sheets up to 61" tall and 130" long with cutting accuracy of 0.005" straight and square. The traveling beam allows the operator to leave the panel stationary while the cutting blade moves both horizontally and vertically.
Standard Equipment includes built in gauges with length stops, integrated dust collection system, stops for horizontal cuts, self-moving panel supports, MID-WAY FENCE™ System and quick change from vertical to horizontal cutting.
For additional information, contact Tom Houska, Safety Speed Mfg., 13943 Lincoln Street N.E., Ham Lake, MN 55304, 800-772-2327/763-755-1600, E-mail: sales@safetyspeed.com, Web: www.safetyspeed.com.
---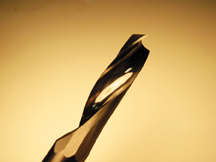 Micro Flute Polishing on Plastics Tooling
Vortex Tool Company, Inc. recently introduced a new proprietary process of polishing the flutes of their router bits used in the plastics industry. The process imparts an extremely high finish quality on the surface of the cutting face and flute area of the bit. For the user, this means better cut quality, longer tool life and less chance for chip re-welding or sticking to the tool itself. This new process is now used on all Vortex Tool's plastic cutting router bits.
Vortex Tool Company, Inc., designs and manufactures a wide variety of standard and custom high-performance router and insert cutting tools for the woodworking and plastics industries, and provides re-tipping and sharpening services.
For additional information, contact Mike Serwa, Vortex Tool Company, 5605 Jelinek Avenue, Schofield, WI 54476, 800-355-7708, Fax: 715-355-7353, E-mail: mikes@vortextool.com, Web: www.vortextool.com.