Cutting Acrylic

Acrylic sheet continues to be one of the most popular materials used by distributors and fabricators in the US today. From the distributor or fabricators perspective, providing accurate acrylic parts with a quality edge finish is important due to the visual requirements for the end application. While there are a number of methods available, sawing is the most frequently used process for sizing acrylic sheet material.
There are three basic types of equipment used for sawing plastic sheet: table saws, vertical saws and automated panel saws. Table saws and vertical saws are limited to cutting single sheets, while an automated panel saw is designed to process stacks of acrylic sheets. In addition to automating the cutting process, panel saws can provide higher accuracy and better edge quality for acrylics due to machine design and advanced features. In consideration of these points, we will focus this discussion on automated panel saws. Ranging from the thinnest extruded acrylic to the thickest cast acrylic, there are a number of key factors to consider when cutting acrylic with an automated panel saw.
Tooling We begin with tooling (saw blades) because it is the heart of the sawing process. The correct blade must be selected for cutting the acrylic or the results will not be successful regardless of the sawing equipment. Saw blades vary in tooth geometry, number of teeth, width of blade, rpm speed and other factors depending on the specific job requirements. Selecting a smaller diameter blade that allows for up to a 1.25 inch projection over the top sheet will cost less and produce a slower tip speed which will result in less burning. Saw manufacturers and saw blade vendors can assist you in selecting the correct tool for your specific acrylic needs.
Blade Speed Using an inverter to control the blade rpm can improve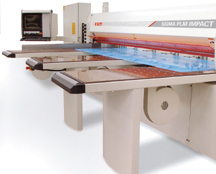 the quality of the edge finish by reducing chipping and melting. In addition, the inverter will enable higher stacks of acrylic material to be cut at faster speeds which will increase productivity. Controlling the tip speed of the blade through blade diameter size on a fixed rpm saw can provide some flexibility if your saw does not have an inverter.
Blade Projection The height that the blade projects above the acrylic being cut is important to control chipping, "blow-out" and melt. Normally the blade should project enough so the gullets in the saw blade can evacuate the chips to the dust collector. Raising the blade projection to as much as 1" over the material can also help to reduce edge "blow-out" when stack cutting thin acrylics. If your saw is not equipped with variable blade height adjustment, try to control projection through blade diameter size.
Blade Cooling Heat buildup within the saw blade can create serious edge problems when cutting. A fine mist or blown air is used on some panel saws to cool the main blade during the acrylic cutting cycle. Lubrication helps to produce a smoother, cleaner edge and increases blade life.
Cut Speed Cutting speed for acrylics can range from below 20 feet per minute to over 60 feet per minute depending on acrylic sheet thickness, stack height, tooling and panel saw features. State-of-the-art panel saws with rpm control, variable blade adjustment, blade cooling and advanced guide systems ensure that you can cut at faster speeds, maintaining productivity without sacrificing quality.
Other Factors Vibration created within a panel saw can be transferred to the acrylic being cut, causing chipping and overall poor cut quality. A solid base design (heavy I-beam type construction) with a smooth drive system (rack and pinion) will deliver the smoothest, most vibration-free cut. Material hold down is also important. A pressure beam providing evenly distributed hold down over the entire material length is critical for a good finish. A pressure beam system with slots can allow the pusher fence with grippers to maintain continuous contact on the acrylic during the cut cycle, ensuring maximum accuracy on the narrowest cuts. This is especially important if you cut small dimension acrylic parts. Using a slotted beam system can improve yield by as much as 6- 8%.
Chip and Dust Evacuation Last but certainly not least, your sawing system for acrylic should include a good chip evacuation system. Acrylic residue remaining in the saw blade gullet, on the saw table or in the saw carriage can cause heat and melting problems resulting in loss of quality and yield. Be sure to provide your sawing operation with adequate chip removal to prevent this problem.
---
Written by Phil Bryant, Business Manager, Plastics Division for the SCM Group USA. SCM Group USA supplies Routech 3- and 5-axis CNC Routers and Gabbiani Panel Saws. For additional information, contact SCM Group USA, 2475 Satellite Blvd., Duluth, GA 30096, 770-813-8818, Fax: 770-813-8819, E-mail: pbryant@scmgroup-usa.com, Web: www.scmgroup-usa.com.