Saws For Cutting Plastics
There are several types of saws available to plastics distributors and fabricators for panel processing and cutting plastic shapes. Here is an overview of the most common saws used in the industry.

Horizontal Panel Saws
Horizontal Panel Saws, also referred to as Computerized Panel Saws or Horizontal Beam Saws, are capable of cutting plastic sheet fast and accurately. The Panel Saw differs from other types of saws in that it has a stationary horizontal beam that houses a moving saw carriage assembly. The rear area of the saw includes an electronically controlled fence with grippers to move material accurately to the cut line for processing. The control section of a panel saw is capable of executing computer generated cutting programs that are optimized. If you are contemplating an upgrade to an existing saw or purchasing a new panel saw, here are some items that should be considered:

Style - There are three basic styles of panel saw: front-load, rear-load and angular. The angular panel saw is normally used in high production manufacturing so we will focus on the other two styles.

The Rear-Load Panel Saw is designed for high production, multiple shift operations and can also be configured in a side-load version. The main difference between the rear-load and front-load saw is the ability to add an automatic material loading and feeding system to the rear-loader. It has the ability to accept sheet material in bunks or stacks and includes a lifting table and various material handling options at the rear of the machine. The material is delivered to the side/rear and loaded onto the saw or roller-feeders by forklift. The saw then automatically controls the amount of material presented for each job. The saw operator is not required to load the panels, only to turn the panel for a crosscut once it has been rip cut and to offload finished panels. One potential concern when considering a rear-load saw is the capability of the saw to accurately count and load thin panels. The see-through nature of some thin material can present problems for counting accuracy and should be discussed and demonstrated by the saw manufacturer for your protection.

The most common style of panel saw used to size plastic sheet is the Front-Load Panel Saw. Material is loaded into the front of the saw by the operator and is drawn back into the machine for processing. The versatility and value of the front-load saw has made it the panel saw of choice for a majority of plastic manufacturers, distributors and fabricators.

Size - Panel saws are available in three basic dimensions, although some manufacturers build custom units for special projects. Common sizes are 10, 12 and 14-foot saws and each can normally accommodate panels over-sized up to six inches; a 12-foot saw could accommodate a panel dimension of up to 12.5' x 12.5'. When calculating the size requirement for your operation, be sure to include factors beyond original panel size. Cut patterns and in-feed table size can have an impact on the amount of room needed to reposition panels for cross cutting. Future needs should also be taken into consideration.

Cutting Height - Cutting or stack height is another way to categorize saws and refers to the maximum cutting height that can be executed on a single or stack of sheets. Most manufacturers offer a range of saws with cutting height spanning from 2 to 5 inches with a few offering heights of 6 inches. Some things to consider when choosing the cutting height are obvious, such as current and near-term production requirements. Others include material handling capabilities (can I move it once I cut it?), the type of plastic processed and tooling requirements.

Production Capacity/Volume - The volume of work that can be processed on a panel saw is related to the speed, cutting height and cycle time of the saw. The travel speed of the saw carriage and the pusher fence will have a great impact on how fast material can be processed. Speeds can range from zero to 500 feet per minute (fpm) for both the saw carriage and the positioning fence. Most manufacturers provide for variable speeds in both axes so that best results can be obtained for each type of plastic being cut.

When choosing a saw, be sure to consider the type of drive system. Choose a well-constructed drive system that can deliver fast, variable speeds with smooth transition from one position to the next. This is typically achieved through a rack and pinion drive system utilizing brushless AC motors.

The cutting height will impact volume by controlling the maximum stack height allowed for each job.

Cycle time is the amount of time the saw requires to complete one cycle. Although you cannot cut material at 500 fpm, the saw can return that fast to begin the next cut. Be sure to consider high return speeds for the saw carriage and pusher fence to optimize cycle time, as well as optimized operation of the saw carriage and pressure beam between cuts.

Quality of Cut - The ability to hold tight cutting tolerances over a period of years should be a minimal requirement. Most manufacturers quote tolerances in the range of +/- .008 and can maintain that guarantee with the improved guide and positioning systems in use today. The capability to produce a quality edge on a variety of materials must also be considered when choosing a saw. Basic machine construction, saw blade speed control, blade temperature control, material hold down and tooling are important factors to ensure a reliable non-chip cut. The basic construction of the machine should include a heavy-duty base with a high quality, self-cleaning guide system to avoid vibration and ensure perpendicular cuts. Controlling the rotational speed and temperature of the saw blade is critical to obtain quality edges for certain types of plastic materials. Most manufacturers provide options for rpm control and blade cooling devices. Plastic panels must be securely held between the pressure beam and the cut line to ensure the highest quality cut. A pressure beam with variable control combined with a solid or near-solid saw table will produce the best results for even the hardest-to-cut materials.

Operational Issues - Maximum control over your cutting operation is the desired outcome. The ability to control blade travel speeds, blade rim speed, pusher speeds and other variables is available through the software and control system of many panel saws. The software should be user-friendly and capable of producing effective cutting programs quickly. Some panel saw manufacturers include panel optimizer software as part of the basic saw package. These optimizers can provide value by offering an easy-to-use program for increasing yields. A number of panel saw manufacturers include management reporting and bar code capabilities as part of the basic software included.

Safety

is a critical issue when considering a panel saw. Perimeter safety fences provide an effective deterrent to keep personnel away from the rear saw area and are available from some manufacturers. Easily reached, emergency shut-off buttons should be accessible from all points of the machine. Within the pressure beam assembly an emergency shut-off bar should run the length of the cut line along with independent guards that follow the profile of the material. These guards act as a deterrent for putting hands or fingers in the saw line. Additional safety features should address the area of the saw blade change. Some manufacturers provide a timing lock to ensure the saw carriage cannot be opened while the blade is turning. A few offer a quick-change blade system that is pneumatically controlled and requires no wrench.

A final issue to consider is dust collection. Make certain that the panel saw you select has adequate ports to clear the variety of chips, dust, "string", etc. you will be producing on the saw. Matching the proper dust collection unit with the saw initially will ensure you don't have operational problems in the future.

Vertical Panel Saws
Vertical panel saws are vertically oriented saws for processing panels. These saws have several key benefits. They take up very little floor space, the bottom roller fence allows them to handle full sized sheets of material very easily with one operator and they can be relatively low-cost. An effective vertical panel saw for plastics processing can cost as little as $2,000. The best option for your business depends on your requirements and the demands of your production process.

There are several factors that will have a major impact on the performance and longevity of a vertical panel saw. It is important to have a fully welded frame and guide system. It is also critical to have a smooth running bottom roller fence that rolls on cams or bearings to ensure unalterable alignment and accuracy. It is important to have an enclosed saw blade to minimize the risk of airborne debris and to protect the machine operator from blade contact. Use an industrial-duty saw motor that has been engineered to handle your application. Using an industrial saw motor will also ensure the availability of high quality blades for use on sensitive materials as well as low cost blades for rough cutting.

Other benefits of a vertical panel saw include a three-point footprint that will bridge all but the most severely uneven shop floors. This provides machine stability and safety and avoids placing stress on the machine frame welds, eliminating the need for regular adjustments. Vertical panel saws use gravity to hold material on their roller fence, which dramatically reduces the potential for inaccurate cuts. Vertical panel saws tend to be easily maintained and training is also very straightforward – just slide your materials in and let it rip or crosscut.

Radial Arm Saws
A radial arm saw has an arbor-mounted circular saw blade on a carriage that travels down a beam or arm in a radial forward and backward motion. The machine is usually at rest in the rear position with the blade behind a fence where the material to be cut rests. In its basic form it has a carriage that moves back and forth at a 90° angle to the fence for a straight cutoff. Most of the current radial arm saws do much more than straight cutoff work; these machines provide a platform that miters at any angle, bevel cuts or performs any combination of both.

Some of the benefits of using a radial arm saw include the ability to cut long material easily because it is stationary; high speed cutting can be performed due to high blade speed (rpm); miter cuts are easily done and clamping systems are easy to install because the material is stationary.

Following is a product overview of leading saw manufacturers serving the plastic shapes industry. A contact name, phone and E-mail address follows each manufacturer's listing. For complete contact information, click here.

The Altendorf F-45 ELMO 4, available from Altendorf America, a Division of Stiles Machinery, delivers increased out-put with a high degree of accuracy and less material waste. Altendorf's 2002 model ELMO 4 features several product enhancements including redesigned overhead safety hood for improved dust extraction; redesigned controller for easier equipment operation and improved performance; increased memory capacity allowing the operator to enter up to 600 programs and self-diagnostics. Standard on the ELMO 4 is the patented "Rapido" shimless scoring system.

The ELMO 4 is the newest Slider™ on which all four axes are electronically controlled. This results in increased productivity. Digital display improves the accuracy of cut dimensions on the rip and cross-cut fences, blade angle and blade height.

Also recently introduced was the Homag SawTech CHF 320 horizontal panel saw designed for a single operator and stack cutting up to 2 3/8". The CHF 320 features a full-color graphics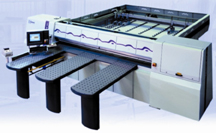 PC controller and "Silent Drive," a system that allows the saw carriage to move almost completely silently at high speeds and without vibration. The program fence is equipped with six pneumatic clamps for automatic positioning and advancement of the panels as they are cut. Other standard features include instant and smooth changes of carriage speed from 25 meters/minute, easy changing for the main and scoring blades, pneumatic torsion-free pressure beam, three large air flotation support tables and an automatic dual side alignment device. Contact Paul Hix, Altendorf America at 800-424-3232, E-mail: phix@stilesmachinery.com.
A.W.E.D. offers the Dario SV3 band saw mounted on an articulated arm and column base which puts the control of the cutting edge at your fingertips. The saw can follow a template to make repeated cuts and is >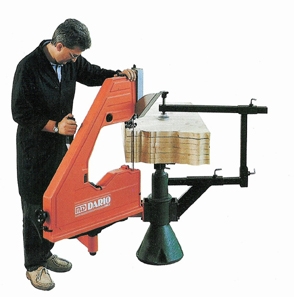 ideal for precutting parts to be placed on a CNC router or to finish cut profiles and shapes or thermoformed parts.
The SC3000 slide carriage panel saw is a precision saw that has a tilting arbor for cutting angles and bevels with ease. Material is clamped on the slide table and cuts are made to precision tolerances. Contact Victor Miranda, A.W.E.D. at 770-831-9800, E-mail: awedmachin@aol.com.
Colonial Saw offers the Evolution and Control saws from Striebig, winners of the Swiss Machinery Design Prize. The Evolution manual saw and Control automatic saw have powerful 7.5 hp motors and super stable frames, plus many added automatic features. Many procedures can be done with just the push of a button. For example, push-button locking and releasing of the saw beam, setting the horizontal cutting height, plunging and swiveling the motor and locking the support rollers during sawing are fully automatic.
Standard digital measuring provides improved repeatability and accuracy. The TRK dust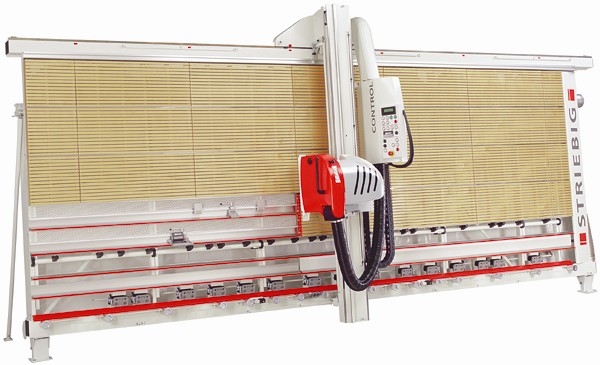 system with full support backing grid keeps dust to an absolute minimum and makes working with small parts a breeze.
Optional accessories such as a scoring saw unit, an electronic positioning system and an angle-cutting unit further enhance performance. One innovation is the edge trimming option. No lifting, no turning and no damaged edges. The panel to be trimmed is lifted, the trimming cut is made and the panel is lowered. Contact Dave Bull, Colonial Saw, Inc. at 888-777-2729, E-mail: dbull@csaw.com.
The Giben SuperSmart is a heavy-duty, competitively priced panel saw developed to satisfy the requirements of the small company in need of higher production levels. The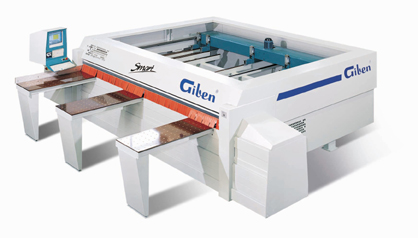 saw takes advantage of Giben's over 50 years of specialization in panel sizing technology and incorporates many of the advanced features of Giben's larger systems.
The Super-Smart has a standard cutting length of 3800 mm/149.5" and a cutting height of 65 mm/2.6" (72mm actual blade projection). It incorporates electronic and pneumatic clamps with floating "fingers" that keep material books firmly in place during the entire cutting cycle, up to the last trim cut. Other standard features include; a heavy-duty saw carriage, four air flotation tables, pneumatic quick blade release, a 15 hp main saw motor, a 1.5 hp scoring saw, automatic side aligner, pressure beam with torsion bar, three dust extraction outlets, roller profiles in the pusher area and the PC-based G57 machine controller with onboard optimizer. Contact Giuseppe (Joe) Borroni, Giben America, Inc. at 770-448-9140, E-mail: info@giben.com.
Grizzly Industrial offers the Model G0513 17" and Model G0514 19" Heavy-Duty Bandsaws. The 17" band-saw has a 16 1/4" throat capacity, 12" of vertical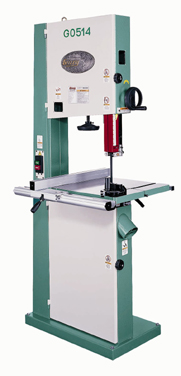 cutting height, a 17" x 17" precision ground cast iron table, quick change blade release/tensioning mechanism and a blade width range of 1/8" - 1". The 19" bandsaw is also loaded with features including a blade tracking window, rack and pinion upper blade guide adjustment, deluxe extruded aluminum fence system, quick change blade release/tensioning mechanism and European style roller disc blade guides. A 2 hp motor is standard on both models. Contact Melinda Schulze, Grizzly Industrial at 800-523-4777 / 360-647-0801, E-mail: melinda@grizzly.com.
Hendrick Mfg. Corp. celebrates 50 years of bringing innovation and value to their customers in the plastic distribution and fabrication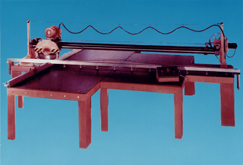 industry. The advent of "Plexiglas" required the need for an economical means for trimming and cutting large sheets. The company that gave the "Panel Saw" what has become its generic name, continues to manufacture the economical rail-type saws with which many distributors and fabricators launched their businesses. Models range from 54" to 150" length of cut, manual or automatic operation, standard 6" depth of cut, and a host of options for special applications.
In the 1970's Hendrick brought a new level of accuracy, automation and productivity to the industry with the introduction of computerized panel cutting. The products are engineered with focus on the special requirements of cutting plastic materials as compared to competitive woodworking machines. PRO-V, PRO-H, PRO-AM, Legacy and Patriot-SRP models offer solutions from entry-level through continuous, high production, full plant automation. Space saving vertical sawing and automatic loading/ off loading machines are available. Each model is designed to cut virtually all plastic material including phenolics, glass-epoxies, mechanicals, rod, tubing, etc., from large to very small parts. Contact Michael Pulliam, Hendrick Mfg. Corp. at 978-741-3600, E-mail: michaelp@awod.com.
Holzma U.S., a division of Stiles Machinery, offers the totally redesigned HPP 82 Optimat panel saw. Equipped with a 29 hp main saw motor, the saw has extra power for quick, accurate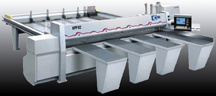 cutting of hardboard, acrylic and solid surface materials. Features include a rack and pinion saw carriage drive which easily cuts up to four sheets of 3/4" material, saw carriage speed of up to 125 m/min and quick-program fence speed of 80 m/min. Ergonomically constructed, the HPP 82 reduces operator fatigue with a comfortable worktable height and remote starter bar. Contributing to the saw's ease of operation is Holzma's "touch-free" magnetic measuring system, automatic cutting height and length, automatic side pressure device placement and a program fence positioning speed of 264 fpm. A 17" SVGA monitor, Windows NT PC-based control and modem diagnostics simplify operator training and technical support. Contact Bill Pitt, Holzma U.S. at 704-861-8239, E-mail: bpitt@stilesmachinery.com.
Safety Speed Cut manufactures a complete range of vertical panel saws for processing a wide variety of panelized materials such as plastic, metal, wood and composites. Their Model ES 5 is well suited for those demanding high volume production environments with tight tolerance requirements. The 7400 Series is perfect for medium to high volume applications where accuracy is a must. The 6000 Series is ideal for medium volume production situations and their H-Series combines key features from their whole product line at an opening price point. With nearly 50 years of experience since first developing their vertical sawing concept, Safety Speed Cut consistently delivers accurate, well built panel sizing equipment that will improve the efficiency and safety of your business. Contact Tom Anderson, Safety Speed Cut Mfg. at 800-772-2327 / 763-755-1600, E-mail: ssc.mail@safetyspeedcut.com.
Saw Trax released a new brochure featuring their line of panel saws from 5' wide with a 52" cross-cut to 10' wide with a 100" cross cut. All models include their quick-change carriage. The carriage allows other tools, such as a knife cutter or router, to be used as well as other saws such as a worm drive saw and a 10 1/4" saw. Their patented Accu-Square™
set-and-forget alignment system is also featured. Saw Trax states that their panel saws "never go out of square." Saws feature an industrial 15 amp Porter Cable saw that runs off standard 110 current. Saw Trax also includes a dust kit standard on all of their machines. A free video is also available. Contact Michael Della Polla, Saw Trax Mfg. at 888-SAW-TRAX / 770-974-0021, E-mail: sawtrax@aol.com.
Schelling America, Inc. offers two precision saws custom made for cutting plastic. The new Schelling FMK precision saw has special features and a patented blade that can process a variety of plastics into parts that are glassy smooth and square which virtually eliminates additional edge finishing. It has a price that will fit most budgets.
The Schelling FMK precision saw has a specially designed cutting table that enables stacks of thin material like .030" to be cut into chip free pieces without a cover board. A solid pressure beam and dust protection curtain completely enclose the saw line which results in the production of dust free parts. Real time remote diagnostics increase uptime and productivity.
The Schelling FLM is a modular saw that can be equipped with a variety of automated material handling features. It has a cutting accuracy of +/- .004 inch, a frequency converter to lower the blade rpm, a solid steel cutting table with an air bed, a dust protection curtain, a feeder carriage that automatically clamps and positions heavy stacks of material, moveable front loading air tables, a spray mist device that lubricates the blade and "Space Cut" blade technology with patented tooth geometry. Contact Roger Vinton, Schelling America, Inc. at 919-544-0430, E-mail: rvinton@schelling.com.
SCM Group USA offers the modular designed SCMI Sigma 115 PLM panel saw. The saw features a PC controller, 4" cutting height, inverter to control blade rpm, blade cooling, 25 hp main motor, automatic side alignment with THK guide, magnetic strip for pusher positioning, quick blade change, rack and pinion variable speed saw carriage with speeds of 377 fpm and AC Yaskawa brushless motors.
The PC provides tremendous flexibility and allows the leading optimizers to be downloaded. The saw also has the ability to print barcode labels online in order to link other machines and manage material flow with increased production.
Also offered is the Galaxy 140 PLM. Available in both
12' and 14' models, the saw has 5" cutting height capacity, a 30 hp main motor, saw carriage speeds of 492 fpm and pusher speeds of 295 fpm. Standard features include non-proprietary Windows ® based Dell controller, blade cooling, automatic side alignment with THK guides, two independent motors for main and scoring blades, AC Yaskawa brushless motors, quick change blade, rack and pinion variable speed saw carriage, magnetic strip for pusher positioning, on-screen diagnostics and an optimizer. Contact Aaron Biddar, SCM Group USA Inc. at 770-813-8818, E-mail: webmaster@scmgroup-usa.com.
Tannewitz Inc. introduces four new vertical bandsaws Designed for durability and ease-of-use with throat capacities of 16", 20", 24" and 36" and standard cutting heights of 10", 11", 16" and 22", additional cutting heights can be custom-built to your specifications. Standard features include heavy-duty guides, rip fence, miter gauge and interlock doors for safety. Blade speeds are 5500 sfpm. Contact Kevin Stoner, Tannewitz, Inc., at 800-458-0590 / 614-457-5999, E-mail: saws@tannewitz.com
The Original Saw Company has released a new version of its Heavy Duty Series Radial Arm Saws. This series of machines comes standard with a 3 hp 1-phase motor and a 14" blade capacity or 5 hp 3-phase motor with either a 14" or 16" blade size. The machines have two standard arm lengths which produce either a 16" crosscut or a 24" cross-cut. Improvements to the Type 5 include a new single unit start/stop push-button station at the end of the arm, new safer, deeper tables on the long arm versions with tapered back sides to allow for better access to the miter controls and the base clamp handle, and new lower elevation that allows for easier adjustment of the blade height off the table top. Contact Allen Eden, The Original Saw Company at 641-843-3868, E-mail: origsaw@ncn.net
Powermatic, part of the WMH Tool Group, recently introduced the VPS126 vertical panel saw and the HPS126 and HPS67 horizontal panel scoring saws to their saw line. The auto-shifting grid frame provides full support to workpieces and automatically positions itself for blade clearance in the horizontal cutting mode. Power is supplied by a 4.8 hp motor that can handle double panel cuts with ease. Large panels are fully supported by ball bearing rollers.
The HPS126 and HPS67 both feature an anodized aluminum table for durability that rides on 38 precision steel ball bearings mounted between hardened ground rods. The saws have heavy steel plate construction, a micro adjustable rip fence with solid steel guide bar and a swing away guard with 4 " dust port.
The HPS67 has a 50" rip capacity, 5 hp 230V 3 phase motor, 12" main blade with 30 mm arbor, a 3/4 hp independent scoring motor and a carriage stroke of 67".
The HPS126 offers a 54" rip capacity and has a 7 1/2 hp 230V 3 phase motor, a 16 " main blade with 30 mm arbor, a 3/4 hp scoring motor and a carriage stroke of 126". Contact Jim Box, WMH Tool Group/Powermatic Division, 615-793-1321, E-mail: jbox@wmhtoolgroup.com.
For more information, contact the featured manufacturer directly. Click here for a complete directory. Introduction to "Saws For Cutting Plastics" contributed by Phil Bryant, Business Manager, Plastics Division for the SCM Group USA, Tom Anderson, President of Safety Speed Cut and Allen Eden, Vice Prseident of The Original Saw Company."