THERMOFORMING: Thermoforming Spotlight

Enclosed Overhead Gantry Router DMS CNC Routers introduced their latest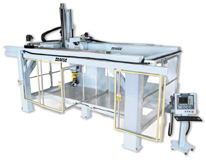 model – the DMS Model 505-12-5-48S enclosed 5- axis overhead gantry. This router comes with a 12' x 5' table which can be used in a single or twin table configuration with 4' of Z axis stroke. Spindles are available in either double-ended or tool change style with a wide range of hp. Fagor controls with TCP/IP network connection, flash memory card and remote telediagnostics are standard.
The entire line of DMS enclosed 5-axis machines range in sizes from 3' x 3' to 12' x 12' single and twin shuttle table configurations. All axes are driven by state–of-theart brushless AC servo motors and digital drives. Twelve position traveling servo driven tool changers feature 10- second tool changes.
For additional information, contact Denny Brazelton, Premier Tech Products, Inc. at 330-923-3125 or Jeff Stein, Creative Machine Technology, Inc. at 330-923- 2154. Or visit their website at www.5axiscncrouter.com.
---
Thin Gauge Plastic Sheet Ensinger announced that they are now stocking TECAPEEK™ 2' x 4' thin gauge sheet available in .040", .080", .093", .118", .187" thicknesses as well as sizes in between by request. TECAPEEK™ has excellent properties for use in general industry, electronics, semi conductor, marine, automotive, and aerospace.
Tecapeek™ offers exceptional heat, chemical, dielectric, wear, radiation, and mechanical properties. It also has superior wear resistance and dimensional stability. Ensinger, headquartered in Washington, Pa., is a world leader in engineering stock shape plastics.
For additional information, contact customer service, Ensinger Industries, 365 Meadowlands Blvd., Washington, PA 15301, 800-243-3221/724-746-6050, Fax: 724-746- 9209, E-mail: sales@ensinger-ind.com.
---
Sheet Sample Kit Kleerdex Co. LLC, offers its updated KYDEX® sheet sample kit produced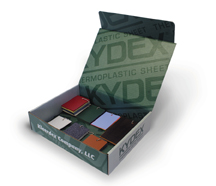 specifically for thermoforming processing. Each kit includes general information about the more than 30 grades of KYDEX thermoplastic sheet available to thermoformers and fabricators.
The kit includes a Product Selection Guide, which details the physical properties of each product, as well as suggested applications, product highlights, production capability and environmental and safety considerations.
Sample chip chains with product thickness specifications in a variety of textures, colors and product grades, including wood grain, metallic and fluorescent, also are included. Specific application kits are also available upon request.
KYDEX sheet is a premier thermoforming material offering numerous processing advantages such as extreme formability, hot tear strength and the ability to maintain uniform wall thickness.
For additional information, contact Customer Service, Kleerdex Company, 6685 Low Street, Bloomsburg, PA 17815, 800-325-3133/570-389-5810, Fax: 570-387- 7786, E-mail: info@kleerdex.com, Web: www.kydex.com.
---
Next Generation Robotic Router Trimming System KMT Robotic Solutions, the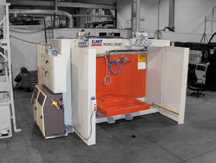 world's leading designer and manufacturer of robotic waterjet, router, laser and knife trimming systems, introduced the RoboTrim™ RT- 1002 – the latest in KMT's line of cost-effective, turnkey robotic router trimming systems that help thermoformers, plastics molders and composite manufacturers increase throughput, uptime and employee safety.
The system not only trims parts more than 50 percent faster than traditional five axis CNC's but also offers substantial trimming flexibility, saving manufacturers valuable time and money. The ergonomic design also improves employee safety by distancing operators from the potentially harmful trimming environment.
The standard model features a robot mounted inside a steel enclosure. The system's two-sided rotating table has a 1,000 pound part and fixture capacity and can rotate 3 foot by 5 foot (and sometimes longer and narrower) parts into and out of the cell in less than three seconds. This allows finished parts to be safely unloaded by the operator while unfinished parts are being trimmed inside the cell. Manufacturers can also customize the system by adding a variety of optional features including a second robot, KMT's patented compliant knife or the automatic tool change option and others.
For additional information, contact Suzanne Carter, KMT Robotic Solutions, Inc., 1255 Harmon Road, Auburn Hills, MI 48326, 248-829-2800, Fax: 248-829-2750, E-mail: robotic.na@kmtgroup.com, Web: www.kmtgroup.com.
---
Clamping System Lenzkes Clamping Tools Inc. offers clamping systems for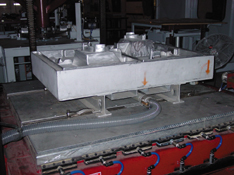 all kinds of manufacturing machines. At the Thermoforming Show in Cincinnati, Lenzkes introduced their system to the thermoforming. With clamping forces up to 18,000 ft lbs per clamp, due to their forged special alloy steel, the system is capable of holding any mold, large or small, in place. This patented technology has drawn interest from several thermoforming equipment makers who are considering making it standard equipment for their machines.
Their Quick-Release Clamping system is stepless and adjustable both horizontally and vertically by simply sliding the clamping arm up to the mold and tightening the ball pressure screw located in the back of the arm.
With increasing focus on lean manufacturing, mold changes are one area in the thermoforming industry that needs improvement. The Lenzkes system provides easy adjustment for a wide variety of mold sizes and will reduce down-time on your machines.
For additional information, contact Mike Brocher, Lenzkes Clamping Tools, Inc., 825 Radford Road, Christiansburg, VA 24073, 540-381-1533, Fax: 540- 381-4484, E-mail: m.brocher@lenzkes.com, Web: www.lenzkesusa.com.
---
Twin Sheet Pressure Formers MAAC Machinery, an industry leader in thermoforming machinery and systems, is now producing a new, upgraded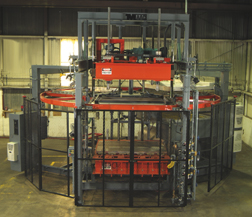 line of Twin Sheet Pressure Formers that have options available to perfect even the most complicated parts. With higher pressures, now exceeding 100 psi, faster platen speeds, up to 20" per second and faster rotation times, as low as 3 seconds, these machines are producing highly detailed, unique twin sheet parts at record speeds.
MAAC's brand new, advanced twin sheet sequencing capabilities, tool rotating or shifting abilities, articulating twin sheet clamp frames and custom twin sheet plug assisting methods guarantee that even the most complex parts can be more efficiently twin sheeted or pressure formed.
With new features like automatic lance adjustment, several quick mold change systems and adjustable clamp frames, these upgraded machines will allow any thermoformer to decrease changeover time and increase production rates. New automatic loading and unloading options allow for full automation.
For additional information, contact Michael Alongi, MAAC Machinery Corp., 590 Tower Blvd., Carol Stream, IL 60188, 630-665-1700, Fax: 630-665-7799, E-mail: sales@maacmachinery.com, Web: www.maacmachinery.com.
---
Thermoforming Line Modern Machinery's Single Station thermoforming machine is ideal for manufacturing large or small parts at a modest cost. They offer flexibility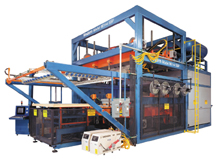 and versatility. Comparably, their Double Ender's offer increased productivity by allowing multiple sheets to process simultaneously. They offer Three and Four Station Rotary with standard features like electric drive platens and servo drive index, as well as a multitude of customizable options.
With Modern Machinery's Trim Press, finished parts are automatically nested for packaging or further processing. They are available in different mold sizes and tonnage ratings. All Modern Clamp Frames are constructed of heavyduty extruded aluminum and can be retrofitted into existing equipment. The 4-Way Adjustable Style is adjustable in both directions, eliminating the need for tools and greatly reducing machine down time. Top and bottom load systems are available in 4-Way Adjustable and standard styles.
Modern Machinery provides several Upgrade Kits for your existing equipment.
For additional information, contact Brian Winton, Modern Machinery of Beaverton, Inc., 3031 Guernsey Road, P.O. Box 423, Beaverton, MI 48612, 888-649- 9839, Fax: 989-435-3940, E-mail: info@modernmachineinc .com, Web: www.modernmachineinc.com.
---
Cutting Tools Onsrud Cutter LP, a leading supplier of CNC

router tooling, announced a new line of solid carbide taper tools from 1/8" to 1/4" in cutting diameter with cutting angles per side ranging from 1 to 7 degrees. The ball nose tip is ideal for 3-D decorative profiles, and the taper profile allows production of draft angles in molds. The spiral design produces an excellent finish in wood, plastic and aluminum. Custom designs can be made upon request.
For additional information, contact Diane Sullivan, Onsrud Cutter LP, 800 Liberty Drive, Libertyville, IL 60048, 847-362-1560, Fax: 847-362-5028, E-mail: dsullivan@onsrud.com, Web: www.onsrud.com.
---
New & Used Equipment

plastiMACH Corp. is a stocking dealer of used plastic thermoforming and packaging equipment since 1975.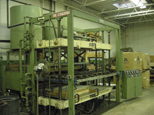 Most of their late-model inventory can be inspected in New York or Chicago warehouses. They also represent all major manufacturers of new thermoforming machinery, including single station, rotary double end and inline equipment. They can help you select the right machine for your application and budget, with over 75 years of experience in the thermoforming and routing industry.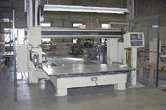 plastiMACH Corp. also introduces their C N C R outer Store.com division. The CNC Router Store is dedicated to providing a selection of new and used CNC routers to the plastics industry. They carry used CNC routers from Thermwood, Motionmaster, C.R. Onsrud, Komo, Quintax, Multicam, Anderson, Omnitech and others. They also carry the new line of CNT Motion Systems routers with complete 3-axis CNC Router packages.
For additional information, contact Jerry Hammerman, plastiMACH Corp., 704 Executive Blvd., Valley Cotage, NY 10989, 845-267-2985, Fax: 845-267-2825, E-mail: jerryh@ plastimach.com, Web: www.plastimach.com.
---
Thermoformable Materials

Premier Material Concepts (PMC) introduced Exultra™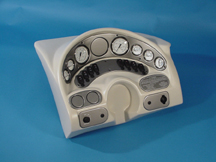 the first cost-effective, "green," recycleable product for interior and exterior applications and specifically engineered for the thermoforming industry.

Exultra is an innovative product that offers an alternative to vinyl-wrapped materials, without the additional labor, cost and waste. It eliminates many secondary processes and allows customers to reclaim the fall-off associated with the thermoforming process.

There are currently two products in the Exultra line. Exultra 3000, a patentpending 3-ply formable product that consists of a weatherable elastomeric cap layer laminated to an expanded elastomeric foam middle layer then laminated to a high impact thermoplastic olefin core layer.

Exultra 2000 is a 2-ply formable product that consists of a weatherable elastomeric cap layer laminated to a high impact thermoplastic olefin layer. Ideal applications include instrument panels, dashboards, decorative trim, consoles, door panels, flooring, interior fitness equipment, seating and organizational devices. Both Exultra products are outdoor weatherable and contain UV stabilizers throughout the product. Exultra products also have improved impact strength over ABS and are moisture, scratch and mar resistant.

For additional information, contact George Privateer, Premier Material Concepts, 2040 Industrial Drive, Findlay, OH 45840, 877-BUYPMC6/419-425-8974, Email: sales@buypmc.com, Web: www.buypmc.com.
---
3- & 5-axis Router Line Quintax designs and manufactures a complete line of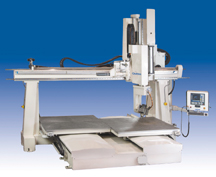 quick, accurate and robust industrial 3- and 5-axis CNC routers for accurate high-speed robotic trimming, cutting and shaping of plastics, composites, carbon-fiber, non-ferrous metals and wood. Choose from Quintax single or twin table machines in various table sizes with mechanical hold-down or integral table vacuum system. All Quintax CNC routers can be equipped with a choice of CAD/CAM packages. Quintax offers very rigid construction, many standard design features, training and technical support. Custom engineered CNC routers are also available.
For additional information, contact Eric Kenney, Quintax, Inc., 4445 Allen Road, Stow, OH 44224, 330- 920-9200, Fax: 330-920-4200, E-mail: sales@quintax.com, Web: www.quintax.com.
---
5-Axis Line Royce Routers are a new line of 5-Axis CNC routers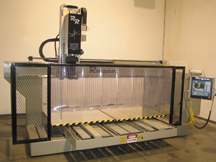 designed specifically for the cut sheet thermoforming industry, manufactured by MAAC Machinery. The R55T5A is a twin-table machine featuring two 60"x 60" tables. The tables can be operated independently or as a single 120" x 60" table. The unique one-piece construction fits within a standard 10' x 12' doorway and does not require an installation.
Mass production of a single model will deliver the maximum value at the most cost-effective price. The new Royce Router combines the latest technology and increased speeds to improve cycle times up to 400%. With faster feeds and speeds, higher quality, enhanced accuracy and more reliable components, these machines are raising the industry's standards.
Royce Router offers full service and parts availability from stock.
For additional information, contact Michael Alongi, Royce Routers LLC, 590 Tower Blvd., Carol Stream, IL 60188, 630-665-1700, Fax: 630-665-7799, E-mail: sales@maacmachinery.com, Web: www.maacmachinery.com.
---
Conductive Sheet Products RTP Company's Sheet and Film Division has recently developed new conductive sheet products including the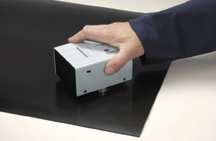 addition of polyethylene, polypropylene (PP) and polyethylene terephtalate glycol (PETG) sheet. The most significant improvements are in the PETG sheet, which provides unique benefits, including a higher purity than is typical for sheet products and low-outgassing.
The conductive sheet offers surface resistivity levels ranging from <104 through 1011 ohm/sq and presents further options, such as flame retardance, wear resistance and color. Additionally, custom sheet and film from RTP Company are available in both thin gauge and thick gauge.
Conductive sheet is ideal for a wide range of applications, including anti-static labels, bags and other ESD packaging products. Conductive sheet also provides resistive heating, which offers a defense with the material being used as a resistor. Other products that utilize conductive sheet are electronic device in-process trays and shipping media.
For additional information, contact Christin Ruge, RTP Company, 580 East Front Street, Winona, MN 55987, 507-454-6900, Fax: 507-454-2089, E-mail: cruge@ rtpcompany.com, Web: www.rtpcompany.com.
---
Next Generation CNC Router Control Technology Thermwood builds a complete line of three and five axis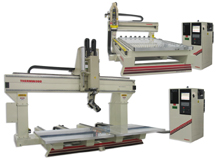 CNC routers from high speed systems for routing, trimming and pattern making to large envelope systems for aerospace and defense. All Thermwood CNC routers now include advanced CNC control technology called "Next Generation Control." Next Generation Controls provide easier programming and program execution: as with three-axis machines, accepting the part design directly without having to convert it to CNC code. A new advanced motion control engine provides better machine motion and accuracy.
The new generation control provides advanced communications including tracking and notification for routine maintenance along with tool use and life. It provides three-dimensional views identifying machine errors and plays video instructions, showing the operator how to perform maintenance and repairs.
A fully searchable operator's manual is integrated within the control, along with the ability to view, move, rotate and explode CAD drawings of every major assembly on the machine. Thermwood's Gen2 new generation control can access Thermwood technical help through the audio/video/date link connecting the operator directly to an experienced technician who can then assist with technical help from programming assistance to making adjustments within the control.
For additional information, contact Cliff Crawford, Thermwood Corporation, P.O. Box 436, Dale, IN 47523, 800-533-6901/812-937-4476, Fax: 812-937-2956, E-mail: sales@thermwood.com, Web: www.thermwood.com.
---