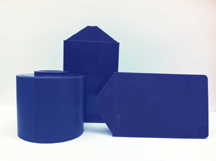 FDA Compliant Blue Plastic
EnsingerŐs TECAFORM¨ FG Blue was designed and developed so that food equipment components machined from this material will be more visible than the same parts made from standard natural colored materials. Blue is the only color that does not widely occur naturally in the food chain. Therefore, should components break or wear during operations, small pieces will be more likely to be picked up by the optical inspection systems typically used in many food processing plants. Manufactured from resin that is FDA, USDA and 3A Dairy compliant, TECAFORM FG Blue is resistant to hot water and typical cleaning chemicals and it possesses good bearing and wear properties.
The material exhibits outstanding physical properties and low internal stress, making for more dimensionally stable components. It is commonly used for bushings, rollers, wear strips and other applications requiring a combination of strength, low moisture absorption, chemical resistance and dimensional stability. TECAFORM FG Blue can be used to color code similar parts made for different lines or pieces of equipment.
For more information, contact Bruce Dickinson, Ensinger, Inc., 365 Meadowlands Blvd., Washington, PA 15301, 800-243-3221/856-227-0500, Fax: 724-746-9209, E-mail: sales@ensinger-ind.com, Web: www.ensinger-inc.com.