Plastics Design Wins Thermoformed Parts Competition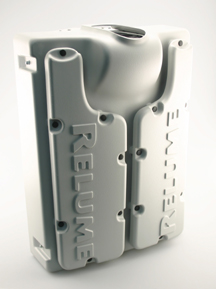 Premier Material Concepts (PMC) recognized customer Plastics Design and Manufacturing as first place winner of the 2008 SPE Thermoforming Conference Heavy Gauge Vacuum Formed Parts Competition.
Plastics Design and Manufacturing, LLC, located in Wadsworth, OH, formed the high output street light for customer Relume Technologies using Lyondel Basell E5000 TPO sheet extruded by PMC.
"The critical aspects of the design identified by Relume Technologies were thermal management and heat dissipation, UV resistance, impact strength and wind loading. The LED light engines generate a tremendous amount of heat. This had to be removed from the housing while keeping potentially damaging bugs out. Product life is warranted for seven years and all materials were chosen to survive an extreme outdoor environment life span," said James Reedy of Plastics Design and Manufacturing, "This high output street light is a direct replacement for existing systems with the benefit of a significant decrease in electrical consumption."
For more information, contact Jen Schoenberger, Premier Material Concepts, 2040 Industrial Drive, Findlay, OH 45840, 877-BUYPMC6/419-429-7017, E-mail: jschoenberger@rowmark.com, Web: www.buypmc.com.