POLYCARBONATE SPOTLIGHT

Polycarbonates offer high impact strength over a wide temperature range. They can be supplied in high heat, FDA, UV grades and glass filled. They are available in a wide variety of stock shapes and can be custom extruded into unlimited profiles. Following is an overview of a variety of polycarbonate materials offered by some of the industry's leading suppliers.
Sheets and Panels
AmeriLux International, LLC offers Coverlite® and Thermoclear Plus®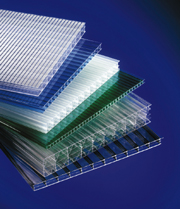 multi-wall polycarbonate sheets, Lexan® corrugated polycarbonate panels, Agrilite ™ corrugated PVC panels and Coverbord™ PVC trim board material. All of their sheets feature the latest in product technology and are backed by a 10 year warranty.
Lexan Thermoclear Plus is the next generation of multiwall polycarbonate sheeting that has been produced in Europe for over 24 years. It will maintain its clarity and mechanical properties up to 5 times longer than competitor's products. AmeriLux offers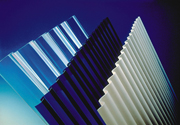 Thermoclear Plus in 8 mm twin wall, triple wall, solar control and UV 2 sided. It is also available in 25 mm six wall UV 2 sided.
Coverlite corrugated MR 9" and MR 12" polycarbonate panels are designed specifically for the metal roofing industry. Coverlite polycarbonate panels are perfect for skylights and sidelight applications.
Their new Agrilite PVC corrugated liner panels are designed for hog barns, food processing, dairy farms and storage sheds. These liners come in an attractive high-gloss white finish and offer a scratch resistant surface, high impact strength and excellent resistance to chemicals. Coverbord PVC foam trim boards are designed for trim, fascia or detailed moldings. It is available in wood grain, matte or smooth finish.
For additional information, contact Tami Churchill Voss, AmeriLux International, LLC, 1212 Enterprise Drive, De Pere, WI 54115, 888-602-4441/920-336-9300, Fax: 920-336-9301, E-mail: ameriluxtami@aol.com, Web: www.ameriluxinternational.com.
---
Multiwall and Corrugated Sheet
Now it's easier than ever before to rely on CO-EX for a broad range of products including Macrolux® Multiwall Polycarbonate Twin, Triple, 4, 5,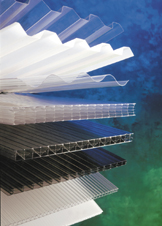 and M-Wall sheet and Rooflite ® Corrugated Polycarbonate sheet and profiles.
CO-EX Products feature advanced technology and product development with superior service that comes with a smaller, close-knit operation.
Macrolux Multiwall Twin, Triple, 4, 5 and M-Wall Polycarbonate sheet is superior to standard polycarbonate sheet products due to its strong, multilayer construction. These layers provide increased thermal insulation and strength while maintaining high light transmission. Heat reflecting Macrolux Athermic reduces heat buildup in conservatories, greenhouses, sunrooms and other glazed buildings, reducing cooling costs and energy requirements.
Rooflite Corrugated Polycarbonate sheets are flexible and lightweight for easy installation and are extremely durable. Rooflite is available in Greca, Sine Wave, Arc Wave and RoofliteMB® which fits into metal roofing profiles for effective, economical skylights.
CO-EX'S BDL® is a system of modular panels used to create vertical, sloped and curved skylights, vertical wall panels and interior systems. Thanks to a wide range of accessories, the system is versatile and easy to install.
CO-EX Corporation serves the horticultural, architectural, metal buildings, plastics, signage and home improvement markets.
For additional information, contact Janice Pravorne, COEX Corporation, 5 Alexander Drive, Wallingford, CT 06492, 800-888-5364/203-679-0500, Fax: 203-679-0600, E-mail: coexcorp@aol.com, Web: www.co-excorp.com.
---
Tubes up to 14"
Futurplast manufactures clear polycarbonate tubes ranging from 1/4" in diameter to 14" with 1/16", 1/8" and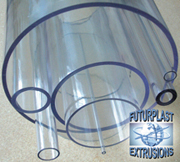 1/4" wall thicknesses. These products are stocked at their strategically located distribution warehouses in Chicago, Los Angeles, Tampa, Houston, Seattle, New Jersey, Albuquerque, Columbus and Montreal. If you are looking for one 10" tube with a 1/4" wall and need it overnighted to you, Futurplast has got it and will get it to you when you need it.
Futurplast is a distributor committed a one-stop shopping destination for clear polycarbonate tubes as well as clear, colored and frosted "P95" acrylic products, offering a large selection of in-stock rods and profiles. Colored polycarbonate tubes are also available on request.
For additional information, contact Joseph Sorella or Lisa Houle, Futurplast Extrusions, 3435 Pitfield Blvd., St-Laurent, QC, Canada, H4S 1H7, 888-812-9075, Fax: 866-388-2955, E-mail: info@futurplast.ca, Web: www. futurplast.ca.
---
Multi-wall Flat Sheets
Gallina USA, entering its 6th year of operation in the United States, has been producing multi-wall polycarbonate flat sheets at its location in Janesville, Wisconsin since April 2007.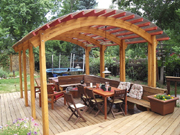 They are capable of producing from 4 mm through 25 mm, with a 2, 3, 4, or 5 layers depending on the thickness. Gallina can also offer custom sized panels for a minimum required quantity.
Later in 2008, Gallina plans to introduce panels with anti-fog properties for greenhouses and other applications that require the maximum amount of visibility and clarity. Gallina panels can be used for a wide variety of applications from skylights to windows to canopies to sunrooms. They are also a supplier of storm panels for home and business protection against the threat of severe or hurricane weather. The storm panels have both Florida state and Miami-Dade approval. Gallina also offers a variety of tongue and groove and standing seam panels.
For additional information, contact Betty Reed , Gallina USA, LLC, 4335 Capital Circle, Janesville, WI 53546, 608-531-0450, Fax: 608-531-0451, E-mail: betty@gallinausa. com, Web: www.gallinausa.com.
---
Full-Service Converter
Green.tek is a leading, full-service, "cut-and-ship converter" of hard-to-inventory polycarbonate sheets for the commercial greenhouse, architectural and construction markets. Green.tek provides cost-effective, highly efficient warehousing and logistics services, as well as professional sales and service capabilities to the plastic distribution market segment. Partnered with Palram's manufacturing expertise in the USA, Green.tek has positioned itself as the leading polycarbonate supplier in the industry based out their 220,000 square foot facility in centrally located Wisconsin. Green.tek offers multi-wall stock ranging from 4 mm to 32 mm in clear and a variety of colors. They can cut and ship orders within 2 to 3 days and have no minimum order quantity.
For additional information, contact Erin Kelly, Green.tek, Inc., 417 East Fulton Street, Edgerton, WI 53534, 800-747-6440/608-884-9454, Fax: 608-884- 9459, E-mail: erin.kelly@green-tek.com, Web: www.green-tek.com.
---
Flat Sheet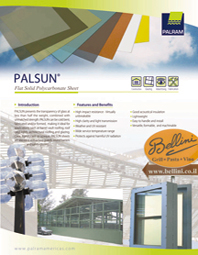 Palsun®, from Palram Americas presents the transparency of glass at less than half the weight, combined with unmatched strength. PALSUN can be cold bent, fabricated and/or formed, making it ideal for applications such as barrel vault roofing, roof (sky) lights, architectural roofing and glazing. Clear, translucent or opaque, sheets are also ideal as machine guards, sound barriers and safety glazing.
It is available in several forms including UV protected on one or both sides, embossed (E102, prismatic, hair cell), with a higher fire resistant rating, in matte on one side and with abrasion resistance on one or both sides. Sheets are available 48" x 96", 60" x 96" and 72" x 96" in thicknesses of 0.04", 0.06" and unit values from 0.08" to 0.5".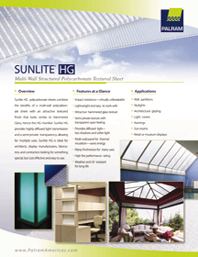 Multi-Wall Textured Sheet
Sunlite® HG polycarbonate sheets, from Palram Americas, combine the benefits of a multi-wall polycarbonate sheet with an attractive textured finish that looks similar to hammered glass, hence the HG moniker. The sheet provides highly diffused light transmission and a semi-private transparency, allowing for multiple uses. It is ideal for architects, display manufacturers, fabricators and contractors looking for something special, but cost-effective and easy to use.
The sheet is impact resistant, lightweight and easy to work with, is available in many thicknesses for many uses and is weather and UV resistant for long life. Sunlite HG is also extremely flexible to allow vertically positioned panels to conform to arched construction.
For additional information, contact Stan Schultz, PALRAM Americas, Inc., 916-989-2615, Fax: 916- 290-0229, E-mail: stan.schultz@ palram.com, Web: www. palramamericas.com.
---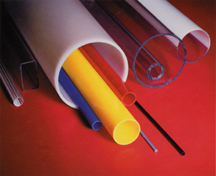 Tubing & ProfilesPetro Extrusion Technologies, Inc. (PET, Inc.) is a custom and stock tubing and profile extruder of engineering grade thermoplastics. They specialize in a wide range of compounds including general purpose, UV, FDA and high heat grades of polycarbonate. PET, Inc. can custom extrude clear and colored polycarbonate tubing from 1/16" to 8" in a variety of shapes and wall thicknesses. They also custom extrude polycarbonate profile extrusions, offering an extensive selection of standard colors with color matching capabilities.
For additional information, contact Sales, Petro Extrusion Technologies, Inc., P. O. Box 99, Garwood, NJ 07027, 800-229-3338/ 908-789-3338, Fax: 908-789-0434, E-mail: rpetro@ petroextrusions.com, Web: www.petroextrusions.com.
---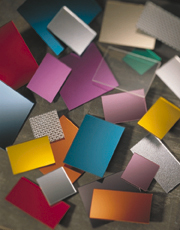 Mirror
Plaskolite, Inc. offers polycarbonate mirror sheet in .118" and .236" thickness, in a sheet size of 48" x 96". It can be easily fabricated, saw, router or laser cut. Polycarbonate mirror is recommended for those applications requiring high impact strength, heat and flame resistance.
A scratch-resistant coating is available for those more demanding applications requiring abrasion, stain and solvent resistance.
For additional information, contact Jonda Baldwin, Plaskolite, Inc., P.O. Box 1497, Columbus, OH 43216, 800-848-9124, Fax: 877-538-0754, E-mail: plaskolite@ plaskolite.com, Web: www.plaskolite.com.
---
Rod, Plate & Tube
Plastifab Industries manufactures standard stock shapes, rod, plate and tube and custom profiles in polycarbonate. Available in utility, specialty and engineering grades, polycarbonate offers superior impact and toughness, clarity, high mechanical strength and rigidity and good thermal properties.
For additional information, contact Plastifab Industries, 7777 Route Transcanadienne, Montreal, PQ, Canada H4S 1L3, 800-361-4774/514-325-9840, Fax: 514-325-5222, E-mail: infoprod@plastifab.ca, Web: www.plastifab.ca.
---
Resistant Glazing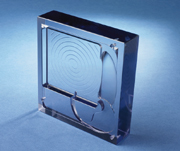 MAKROLON HYGARD® bullet resistant glazing from Sheffield Plastics Inc., a Bayer MaterialScience Company, offers bullet resistant containment up to UL 752 Level 3. It also offers optical clarity and abrasion resistance.
MAKROLON HYGARD BR laminates accomplish this with three products: BR750, BR1000 and BR1250. They are rated for security applications requiring UL Listed Level 1, Level 2 and Level 3 bullet resisting glazing respectively.
All three products are clear, with custom colors available upon request, and sizes range from 38"-60" in width and 60"-96" in height, with custom sizes available.
Low Flammability Polycarbonate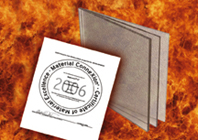 Sheffield Plastics Inc., a Bayer MaterialScience Company, offers MAKROLON ® LF (Low Flammability) polycarbonate sheet material. It is ideal for applications requiring flame inhibiting polycarbonate such as transparent interior aircraft components, electronic enclosures, gaskets, spacers, switchgears, electrical devices, thermoformed equipment and other current-carrying components. The material is easy to form and can be easily die cut, punched and sheared for the most demanding fabrication needs. It features improved ductility and reduced brittleness for superior impact strength, many times that of float glass and acrylic. It is also UV stabilized and offers excellent optics.
Standard clear and custom colors are available in gauges ranging from .080" to .250".
Widow Grade
MAKROLON® WG (Window Grade) polycarbonate sheet is an amorphorus thermoplastic made from Bayer's MAKROLON polycarbonate resin. It is ideal for use in a variety of applications, ranging from containment to fabricated parts. The sheet ranges in thickness from .750" thick up to 2". Polycarbonate sheet offers extremely high impact strength and high modulus of elasticity. Typical applications include sight windows for tanks/vessels, viewport windows, medical parts and some military parts. The sheet features excellent clarity, dimensional stability and good dielectric properties. It offers excellent thermal performance and is fabrication friendly.
For more information, contact Cindy Kahlstrom, Sheffield Plastics Inc., 119 Salisbury Road, Sheffield, MA 01257, 800-254-1707, Fax: 800-457-3553, E-mail: cindy.kahlstrom@bayerbms.com, Web: www. sheffieldplastics.com.
---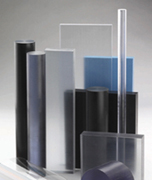 Machine Grade Rod & Sheet
Röchling Sustaplast LP offers Sustanat® PC polycarbonate machine grade rods and sheets available from stock in natural, black and glass-filled 20%. Rods range from 3/8" to 6" diameter (10' lengths) and sheets 1/4" - 4" (24" x 48"). Custom sizes and cut-to-size pieces are also offered on request.
For additional information, contact Tony Caballero, Röchling Sustaplast L.P., 216 Philips Road, Exton, PA 19341, 800-832-6787/484-875-9040, Fax: 484-875- 9030, E-mail: tcaballero@sustaplast.com, Web: www. sustaplast.com.
---
Extrusions
The Spiratex Company's polycarbonate extrusions are manufactured from lightweight, flame retardant, durable thermoplastic compounds. They custom extrude polycarbonate parts in clear or custom colors. Glass fiber reinforced and modified polycarbonate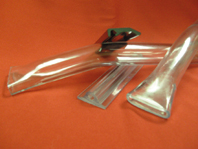 grades are also available. Parts that are typically fabricated can often be custom engineered and extruded to produce more costeffective solutions and reduced manufacturing operations.
Architectural finishes are an example of a good use of polycarbonate; Light casings, railings, handles, support stands, etc. are all easily manufactured by Spiratex. polycarbonate is also a good choice for electronic applications when moisture and impact resistance, rigidity and transparency are critical. This material delivers the transparency of glass at half the weight, superb impact resistance; it's practically unbreakable, has a wide service temperature range, high clarity and light transmission. Spiratex will also manufacture polycarbonate in food grades that are compliant with FDA, NSF, Canada AG and USP Class VI regulations.
Spiratex is committed to living up to their reputation of being a reliable source for the production of unusual, difficult projects. Their experienced team has the ability to customize polycarbonate profiles and/or tubes to meet your particular requirements. Their technicians are highly trained to produce quality products, and take pride in being involved with some of the most challenging projects in the world.
For additional information, contact Connie Buick, The Spiratex Company, 1916 Frenchtown Center Drive, Monroe, MI 48162, 734-289-5226, Fax: 734-289-4804, E-mail: cbuick@spiratex.com, Web: www.spiratex.com.
---
Polycarbonate Shapes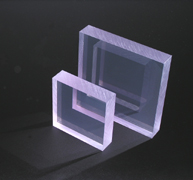 Trident Engineering Plastics produces UV-stabilized clear Optical Machine Grade polycarbonate plate up to 2.00" thick in sizes of 24" x 48", 48" x 48", 48" x 72" and 48" x 96". Also included in this new product line are natural and black machine grade plate up to 4" thick, white machine grade plate up to 2.50" thick and glassreinforced polycarbonate plate up to 4.00" thick in sizes of 12" x 48" and 24" x 48". Custom sheet sizes and cut to size blanks are also available.
Trident's polycarbonate stock shapes feature excellent impact resistance, low moisture absorption, excellent dimensional stability and a heat deflection temperature of 270ºF at 264 psi. Low internal stress levels make Trident's polycarbonate stock shapes easy to machine without the need for secondary annealing. Typical applications for this material include control panels, electrical components, manifolds and housings for use in medical, semiconductor and industrial machinery of all kinds.
For additional information, contact Dean Cadic, Trident Engineering Plastics Inc., 215-946-3999, Fax: 215- 946-0333, E-mail: sales@tridentepp.com Web: www. tridentepp.com.
---
Polycarbonate Sheet & Rod
Zelux® polycarbonate from Westlake Plastics is a tough, transparent engineering plastic with excellent dimensional stability and good strength and stiffness over a wide range of service temperatures.
Zelux is often used for structural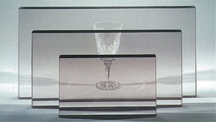 applications where clarity and impact strength are essential, including lenses, manifolds, site glasses and machine guards. It is also used for a wide variety of electrical applications since it has low moisture absorption, good insulating properties and an excellent flammability rating. Zelux is also easy to machine, fabricate, paint and glue.
Zelux is available in several formulations: Zelux W is the window grade and is optically clear. Zelux M is a machine grade and comes in natural and black. All are available in sheet sizes from 3/8" up to 2 1/2" thick in 48" x 96" sheet sizes. Sheets sizes 48" x 120" and 60" x 120" are available on a custom quote basis. Zelux M sheet is also available in 24" x 48" sheet sizes up to 4" thick in both natural and black. All Zelux M products are stress relieved. Custom quotes are available in 18" widths up to 6" thick.
In addition, 10, 20, 30 and 40% Glass Filled Black Zelux is available in the above sheet sizes. Custom quotes for colors, FDA and other grades are available upon request.
For additional information, contact Gary D. King, Westlake Plastics Company, P.O. Box 127, Lenni, PA 19052, 800-999-1700/610-459-1000, Fax: 610-459- 1084, E-mail: gary@westlakeplastics.com, Web: www.westlakeplastics.com.
---