PALRAM Partners with Trex

PALRAM Americas, the world's largest manufacturer of corrugated polycarbonate products, announced a new agreement to supply cellular PVC Trimboard to the Trex Company. Trex will market and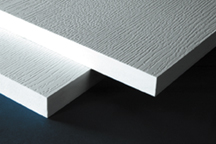 sell the product under its Trex Trim™ brand of low maintenance, wood replacement products for window/door surrounds, deck trim, soffitt, fascia and other trim applications. The partnership comes just months after PALRAM Americas opened a new 92,000 square foot state-of-theart production facility to expand the company's PVC production capabilities. Manufacturing of the product takes place at the company's North American headquarters in eastern Pennsylvania.
PALRAM developed its cellular PVC technology as an alternative to traditional wood applications. Benefits of the material combine the workability of wood with the long life of PVC. PALRAM's cellular PVC materials are not affected by water and, unlike wood, will not rot, swell, split or become damaged by insects. The product is known for its beauty, durability and uniformity in many popular consumer and commercial applications.
For more information, contact Stan Schultz, PALRAM Americas, Inc., 916-989-2615, Fax: 916-290-0229, E-mail: stan.schultz@palram.com, Web: www.palramamericas.com.