Extrusion Welder Debut

Leister will debut the new Weldplast S2 extrusion welder at the upcoming ATX / Plastec expo in Anaheim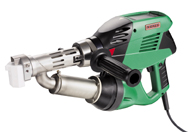 (Jan. 29-31). The S2 features a new, modern ergonomic design and weighs only 12.8 pounds, yet provides up to 5 pounds of output per hour. The tools' high performance motor and brushless blower provide the user with a virtually maintenance free tool. The S2 has a dual, twist-free welding rod feed and low noise drive mechanism with a 360 degree rotating welding shoe and hand grip. These features make welding effortless for the operator even in tight areas.
The full line of Leister welding equipment and process heat tools will be featured at the upcoming ATX / Plastec show (booth 4166).
For more information, contact your local U.S. Leister sales and service center: Western 800-694-1472; North-Central 800-635-0384; North-Eastern 800-289-7505; South-Eastern 800-241-4628.