Color Mood Analyzer Display

When M&M'S World® New York opened in Times Square, the Big Apple was treated to a display of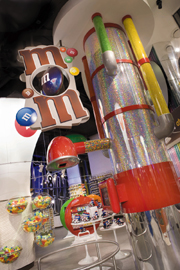 sights, sounds and colors. As one of the world's best known brands, M&M'S® looked to outdo itself with this fully interactive and colorful entertainment store. The centerpiece of this sensory extravaganza is the "Make-Your- Mix" Color Mood Analyzer, a unique high-tech display designed to match a visitor's personality to one of the hundreds of specialty M&M'S colors. To help achieve a fun and dynamic look representative of the brand, award-winning retail design agency Chute Gerdeman Retail chose to create the analyzer with the Confetti pattern from the Sterling Collection of ACRYLITE® acrylic sheet, a reflective metallic-looking product from CYRO Industries, a wholly owned subsidiary of Degussa.
The Confetti pattern features a highly reflective metallic surface that refracts light and color, changing appearance according to shifts in viewing angle and movement.
The material's unique aesthetic qualities allowed Chute Gerdeman to attain the look it needed for the analyzer display. Lightweight and fabrication friendly, ACRYLITE acrylic sheet adheres well to other materials and is easy to cut, rout, polish, drill and line bend.
For more information, contact CYRO Industries, 379 Interpace Parkway, Parsippany, NJ 07054, 207-490-4209, Fax: 973-541-8445, Web: www.cyro.com.