Spiral "O" Carbide Tooling

MultiCam, L.P. carries the largest inventory of Belin Spiral "O" router bits in North America.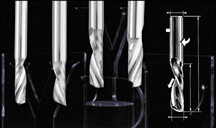 These tools are ideal for machining a wide variety of plastics as well as aluminum, wood and solid-surface. The Spiral "O" high-helix single-flute design allows for continuous shearing motion and easy chip formation and evacuation. Belin uses the best available ultra micro-grained carbide along with a proprietary edge finishing system which yields superior edge finish, higher feed rates and longer tool life.
For more information, contact Mark Allen, MultiCam L.P., P.O. Box 612048, DFW Airport, TX 75261, 972-929-4070, Fax: 972-929-4071, E-mail: mark@multicam.com, Web: www.multicam.com.