Air System Training CD

Kaeser announced the release of their new Interactive Air System Maintenance CD.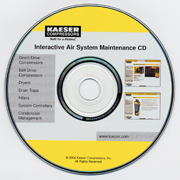 This exciting training tool details common maintenance functions for rotary screw compressors, refrigerated and desiccant dryers, filters and drains.
The CD is ideal for both endusers and service technicians. Its interactive nature is designed to be user-friendly and easy to navigate. Using instructional video, voice over and graphics, it illustrates the steps necessary for routine maintenance and keeping air systems in top operating condition. The Interactive Air System Maintenance CD is also enhanced by helpful website links for many accessory products and a copy of Kaeser's popular Compressed Air System Installation Guide.
For more information, contact Michael Camber, Kaeser Compressors, P.O. Box 946, Fredericksburg, VA 22404, 800-777-7873 / 540-834- 4520, Fax: 540-898-5520, Web: www.kaeser.com.