Informational Brochure And CD

ShopBot Tools has released a new informational brochure and product CD that describes its new line of affordable PRTalpha CNCs.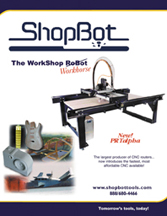 The materials detail the new closed-loop stepper motor technology that allows ShopBot's $10,000 CNCs to reach cutting speeds of 300- 600 inches per minute and rapid transit speeds up to 1,800 inches per minute. The CD includes video of the machine cutting as well as demos for ShopBot Part Wizard CAD/CAM software and ShopBot Control Software.
For more information, contact Diane Reynolds, ShopBot Tools, 3333 B Industrial Drive, Durham, NC 27704, 888-680-4466 / 919-680-4800, Fax: 919-680-4900, E-mail: info@shopbottools.com, Web: www. shopbottools.com.