Router And Insert Tooling

A new 40-page catalog from Vortex Tool Company, Inc. provides an overview of more than 400 different types of tools the company designs and manufactures for the woodworking and plastics industries.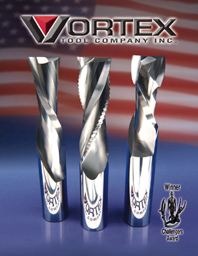 The catalog includes easy-to-use selection guides and detailed technical information on Vortex's high-performance router and insert cutting tools.
A 2004 recipient of an IWF Challengers Award, Vortex Tool Company, Inc. produces tools with cutting edges in various grades of carbide, stellite, high-speed steel and polycrystalline diamond and provides custom tool design, retipping and sharpening services.
For more information, contact Mike Serwa, Vortex Tool Company, 5605 Jelinek Avenue, Schofield, WI 54476, 800-355-7708 / 715-355-7707, Fax: 715-355-7353, Web: www.vortextool.com.