Router Bits for Plastics
Vortex Tool Co., Inc. manufactures and has in stock over one hun dred unique router bit designs specifically for machining plastics.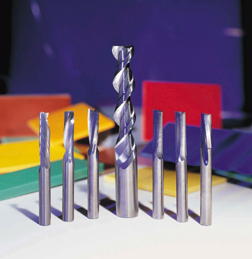 Because they are the manufacturer and deal direct to the end-user, customers can be sure they are receiving quality tool ing, timely responses and the best possible pricing.

The most important factor in cutting performance and tool life is the quality of the router bit. Every Vortex router bit goes through an exhaustive quality control check. All tools are precision ground on CNC grinding equipment and feature micro-polished flute and clearance grind finishes which make the tools last longer and cut better.

Vortex continues to improve and expand the line of plastic cutting bits and orders can now be placed, tracked

For more information, contact Mike Serwa, Vortex Tool Co., Inc., 5605 Jelinek Ave., Schofield, WI 54476, 800-355-7708, Fax: 715-355-7353, E-mail: mikes@ vortextool.com, Web: www.vortextool.com.