Two Flute Straight O Flutes For Plastic Cutting
Southeast Tool, Inc. is offering a new solid carbide two-flute straight O flute for plastic cutting.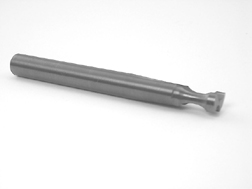 The benefit of the two-flute tool is better edge finish. This is especially true on problem type materials. In addition, the O flute design helps in the chip curl to keep the chips from rewelding to the part that is cut. Chuck Hicks, President of Southeast, states that the tool is available in 5 sizes now, with more planned in the very near future.

For more information, contact Chuck Hicks, Southeast Tool, Inc., 301 10th Street NW, #E-106, P.O. Box 1597, Conover, NC 28613, 828-465-7012, Fax: 828-465-7013, E-mail: router@southeasttool.com, Web:www.southeasttool.com.