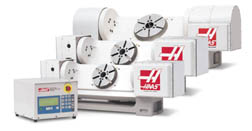 Convert Your 3-Axis Mill to a 5-Axis Workhorse
The new TR160, TR210 and TR310 dual-axis trunnion rotary tables from Haas Automation add 5-axis capabilities to a 3-axis mill. These simple bolt-on solutions for machining complex parts can turn almost any 3-axis mill into a 5-axis workhorse – and at a fraction of the cost of a 5-axis machining center.
Available in three sizes (160 mm, 210 mm and 310 mm platters) to fit almost any work envelope, the trunnions bolt directly to the table of a 3-axis VMC to provide 5-axis motion or position parts to nearly any angle for multi-sided machining.
All three trunnion tables are driven by powerful brushless servo motors on both axes, and provide ±120° of tilt on the A-axis and a full 360° of rotation on the B-axis. Each features a precision-ground platter of heat-treated 4140 alloy steel, with six standard T-slots (0.625") equally spaced at 60º for easy fixturing. Three servo control configurations are available to interface to almost any machine.
For more information, contact Scott Melamed, Haas Automation, Inc., 2800 Sturgis Road, Oxnard, CA 93030, 800-331-6746, 805-988-6933, Fax: 805-988-6918, E-mail: smelamed@haascnc.com, Web: www.haascnc.com.