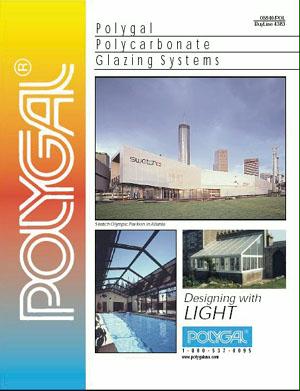 Polycarbonate Structured Sheets

Polycarbonate Structured Sheets are fully described in new literature from Polygal USA, Inc. Included are application examples, performance and technical information, and a product selection guide.
Available from 6mm (1/4") to 25mm (1") thick in a variety of standard construction configurations, sizes and colors, Polygal polycarbonate structured sheets are a leading glazing material for greenhouses, atria, skylights, shelters, canopies and other covering applications where external light sources are used for internal illumination. Inside, Polygal polycarbonate structured sheets have become extremely popular as room and area dividers. All of their polycarbonate structured sheets carry a 10-year non-prorated warranty against discoloring and breakage when properly installed and maintained.
Polygal polycarbonate structured, corrugated sheets, and a full line of proprietary polycarbonate and aluminum profiles and accessories are available through a network of Authorized Polygal Distributors.
For more information, contact Steve Sichterman, Polygal USA, Inc. 1227 Barberry Drive Janesville, WI 53545 800-537-0095 E-mail: steve@polygalusa.com, Web: www.polygalusa.com.