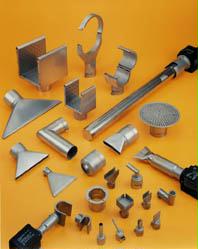 Nozzles And Reflectors
A wide variety of standard and custom nozzles and reflectors for solving virtually any directional hot air application requirement is being introduced by Malcom Hot Air Systems.
The nozzles and reflectors feature 12 basic designs that are offered in hundreds of standard styles and sizes or can be customized to meet specific user application requirements. They are compatible with the full line of LeisterŪ heat sources and blowers which provide process capacities from ambient to 1650°F and air flow rates from a whisper to 500 CFM.
Allowing hot air to be concentrated or spread evenly at a precise velocity, the nozzles and reflectors typically push-fit onto the heat source. Standard styles include tubular, shell reflector, hinged, round, or extension types, and sieve reflectors for applications such as curing, drying, de-flashing, laminating, shrinking, soldering, sterilizing, and welding.
For more information, contact Sheila Carpenter, Malcom Hot Air Systems, 1676 East Main Road, Portsmouth, RI 02871, 888-807-4030, Fax: 401-682-1904, E-mail: info@malcom.com, Web: www.malcom.com.