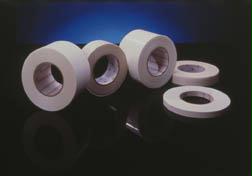 Adhesive Tapes To Bond Low Surface Energy Plastics
Scapa North America has introduced two new double sided, pressure sensitive adhesive tapes that offer good adhesion to a wide variety of difficult to bond substrates including low surface energy plastics such as polyethylene and polypropylene. The high performance products are ideal for a wide range of general industrial, packaging, and graphic arts bonding applications.
These tapes utilize a permanent rubber based adhesive coated on both sides of a polyester carrier and supplied on a paper liner. The specially formulated rubber based adhesive provides high shear strength as well as superior tack and adhesion. These products are also available on a polyethylene liner that facilitates easy die cutting.
For more information, contact Tony Ieraci, Scapa North America, 111 Great Pond Drive, Windsor, CT 06095, 800-801-0323, 860-688-8000, Fax: 860-688-7000, Web: www.scapana.com. or www.scapatapesna.com