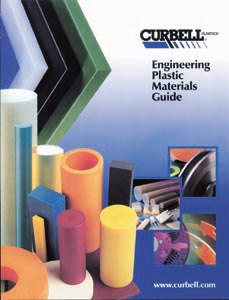 ENGINEERING MATERIALS CATALOG

Curbell Plastics offers an updated Engineering Plastic Materials Catalog featuring their complete line of engineering solutions for bearing and wear, chemical resistance, electrical, high temperature, and structural engineering applications. A new selection and design guideline worksheet helps end users choose the correct material for their specific application. Along with the addition of many new products, they have updated the machining guidelines and technical information sections.
This updated catalog represents a segment of Curbell's total product line for the plastics industry. Curbell also offers its See Through, Sign and Display Materials Guide and its Adhesive, Sealant and Moldmaking Materials Guide.
For more information, or a free copy of the catalog or the guides, write no. 628 on the Reader Service Card between pages 20/21 or 36/37, or use e-Reader Service at www.plasticsmag.com.