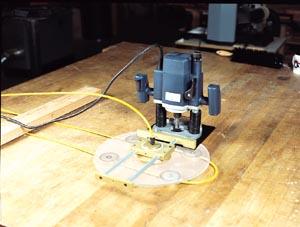 VARIABLE RADIUS CIRCLE

Vac-U-Clamp has introduced a variable radius circle cutting fixture that is ideally suited for router cutting of plastics. The fixture is held in place by vacuum, which leaves no marks or scratches, even on the most polished materials. The fixture is constructed of aircraft-grade anodized aluminum and designed with an oversize rotating bearing to insure smooth wobble-free rotation when cutting. The fixture comes with 12" solid aluminum extension bars, enabling cutting diameters from about 7" in diameter to 27". Radius adjustments are made by loosening the four screws in the center block, sliding the router to the desired diameter and then tightening the screws. 18" and 24" extension bars are available and can be coupled, end-to-end, to allow any conceivable radius. The 8" x 8" router mounting plate is large enough to accommodate a variety of commercially available router.
In addition to the circle fixture, they produce a complete line of vacuum operated hold downs, from the two-sided modules shown here that can be instantly moved anywhere, to semi-permanent, single sided modules, larger track mounted modules for use on CNC equipment, and a vacuum held in-place straight edge, templates, clamping fixtures and a complete line of vacuum pumps and accessories.
For more information, contact Barney Rigney, Vac-U-Clamp, 1330 "B" East St. Andrew Place, Santa Ana, CA 92705, 888-342-8262, 714-641-6802, Fax: 714-641-6826, E-mail: barney@vac-u-clamp.com, Web: www. vac-u-clamp.com.