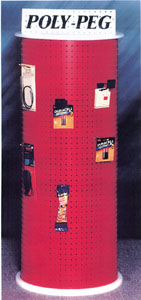 PERFORATED POLYETHYLENE SHEET

Outwater Plastics Industries, Inc. introduced Poly-Peg®, a lightweight and waterproof perforated high density polyethylene extruded sheet designed for use in applications where conventional hardboard pegboards cannot be used either because of inherent postforming limitations or where steel pegboards are simply too costly to purchase or fabricate.
The 1/8" material is stocked in five FDA Approved colors in 2" x 2" and 4'x 4' sheets. It is color impregnated, eliminating the need for initial edge finishing and reducing scratches that may be associated with maintenance. Standard 9/32" hole patterns 1" on-center enables the use of standard pegboard hooks and store fixturing hardware. The board can be cut cleanly and is easily cold or hot formed to achieve curves or L, Z and U contoured shapes. Custom capabilities include special color matches, specific sheet sizes and UV stabilization for long term exterior applications.
For more information, write #500 on the Reader Service Card found between pages 20/21 or 52/53 inside this issue or see our e-Reader Service at www.plasticsmag.com.