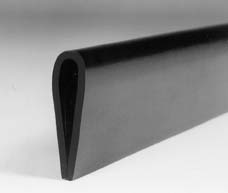 1" NYLON PROFILE

Petro Extrusion Technologies, Inc. announced the addition of a new 1" size NYLAGLIDE GR™ Nylon profile. This new 1" size (Part No. J-728) is designed to protect metal conveyor rails from 1/16" thick up to 3/16" thick. Extruded from MDS-filled Nylon 6 compound, this new 1" size channel provides a greater coverage area than smaller channels.
Like the full line of NYLA-GLIDE GR profiles, this channel offers superior wear and heat resistance. J-728 offers strength and rigidity, yet is flexible enough to bend around curves. Available in 100 ft. coils. Color is Silver/ Gray.
For more information, contact Bob Petrozziello, Petro Extrusion Technologies, Inc., 490 South Ave., Garwood, NJ 07027, 800-229-3338, 908-789-3338, FAX 908-789-0434.