Supplier Partnership Award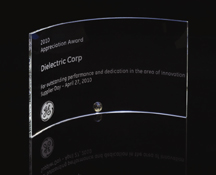 Plastifab/Leed Plastics, has received the Best Supplier Partnership Award from its preferred customer, L3 Communications. Over 17,850 precision parts were delivered in 2009 with an exemplary quality and delivery rating.
Plastifab/Leed Plastic's President Rick Donnelly commented, "Our team has again shown it's ability to produce high quality parts with on time delivery performance. Every one of our employees understands the significance of not just meeting, but exceeding L3's exacting requirements." Plastifab/Leed Plastics has produced dozens of different components designed from G10, FR4, FR5, GPO3, G11, Nomex®, Nylon, Delrin®, and Polycarbonate in support of a multitude of government applications. Some projects have proven to be valuable reconnaissance assets for the War on Terrorism, as well as providing critical border surveillance. Plastifab's certifications under ISO 9001:2008 and AS9100:2004 as well as ITAR Registration assure the quality and compliance to assist L3 with its government contracts.
Plastifab/Leed Plastics is a CNC machining company that utilizes state-of-the-art automation equipment to produce complicated precision parts for the aerospace, defense, electronics, semiconductor, turbine and even the music industries.
For more information, contact Sean Souza, Plastifab/Leed Plastics, 1425 Palomares Avenue, La Verne, CA 91750, 909-596-1927, Fax: 909-596-3020, E-mail: info@plfv.biz, Web: www.plfv.biz