Carbon Nanotube-Enhanced Plastic Products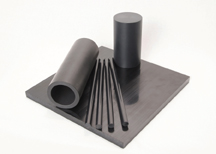 Quantum Polymers announced the introduction of Quantano® extruded stock shape plastic products made with TEGO™ polymers, featuring carbon nanotube technology, manufactured by Entegris of Billerica, Massachusetts. The new Quantano product line can provide improved mechanical strength, homogenous controlled electrical conductivity for superior ESD (electro-static discharge) performance, higher operating temperature, superior dimensional stability and better aesthetics for manufacturers in multiple industries.
"TEGO polymers are manufactured using proprietary technology to enhance the dispersion of the carbon nanotubes in the polymer," said Shawn Cheesman, General Manager for Entegris. "As a result, stock shapes have very consistent ESD, excellent dimensional stability and improved toughness that can be used in many new, high performance products for the semiconductor, data storage, aerospace and medical industries. Working with Quantum Polymers allows us to offer TEGO polymers in a broader range of options than ever before and we are excited to have TEGO polymer stock shapes available to a wider range of potential customers." Carbon nanotubes confer tremendous benefits to stock shape plastic products as they do not adversely affect the base resin material, as is the case with carbon powder or carbon fiber. Furthermore, TEGO polymers can be processed on conventional thermoplastic equipment, such as injection molding, extrusion and compression molding processes. At the OEM level, TEGO polymers, formed into Quantano stock shapes, can be used to replace metal parts and can be used in new and existing areas, such as: semiconductor material handling, chemical cleaning systems, sockets, gaskets, rings, bushings, bearings, seals and valves.
Quantum Polymers is offering Quantano extruded rods and plates, including CNT-filled PC, PEI and PEEK. Quantano rods are available from 3/8" to 6" diameter whereas plates are available from 3/8" to 5" thickness.
For more information, contact Ellen Witherspoon, Quantum Polymers, 211 Executive Drive, Suite 1, Newark, DE 19702, 866-737-7012/302-737-7012, Fax: 302-737-7035, E-mail: info@quantum-polymers.com, Web: www.quantum-polymers.com.