Vortex Used for Production of "Cars"

Vortex Tool Company, Inc. recently collaborated with Eddie Paul, owner of E.P. Industries of El Segundo, California, who was contracted by Pixar Films to produce working full-scale models of the vehicles featured in its heavily promoted summer feature film release "Cars".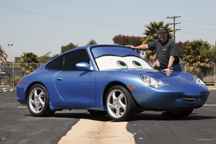 The project was the first time that a full-size functional model has been developed from digital animation files. To do this, E.P. Industries needed to capture individual body panel shapes from digital information and then machine the parts from a type of pattern wood called Jetulong on a CNC router. Vortex Tool provided the tooling and technical advice on CNC router operation for the project.
Vortex Tool Company, Inc. designs and manufactures high-performance router and insert cutting tools for the woodworking and plastics industries.
The company produces tools with cutting edges in various grades of carbide, stellite, high-speed steel and polycrystalline diamond, and provides custom tool design, retipping and sharpening services.
For more information, contact Mike Serwa, Vortex Tool Company, 5605 Jelinek Avenue, Schofield, WI 54476, 800-355-7708, Fax: 715-355-7353, Web: www.vortextool.com.