High Performance Plastics Spotlight

High Performance Plastics offer plastic fabricators materials that have higher strength, higher service temperatures, and in some cases, resistance to hot water and steam or chemicals and possess good electrical properties. Applications can be found in a wide range of industries including where parts come in contact with aggressive materials, lining of tanks, pumps, flanges, fittings, parts in centrifuges and control engineering industry. Also characterized by a higher cost, the range of applications that these tough materials serve demands these high performance physical properties and justifies their cost. The following section provides an overview of some exciting new materials, as well as some that are time-tested, from leading international manufacturers and suppliers.
---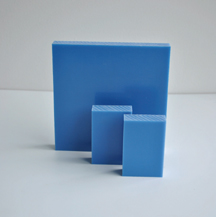 X-ray Detectable Acetal for Food Processing
Rochling Engineering Plastics is the first manufacturer to offer extruded X-ray detect - able Acetal Copolymer sheets and rods for machined parts and components in the food processing industry.
With new regulations in place, the FDA now mandates that all food processors have comprehensive preventive controls and safety programs in place. They have the complete authority to recall food due to contamination, and it is well known to food processors that a recall can kill a brand.
Repeated handling, cleaning and normal wear and tear of plastic component parts on processing machinery increases the risk of a fragment breaking off and contaminating the product, especially with the ongoing pressure to increase production line speeds. Quality checks are performed at process control points typically with either metal or x-ray detection systems. In many cases, X-ray systems are required or preferred due to the food (such as meat products) and the fact that the system can effectively detect contamination post-packaging. Sustarin® C XDT has been proven to be detected in a particle as small as a 3mm cube on production lines running as fast as 250 feet-per-minute.
Together with their recently developed Polystone® M XDT (UHMW-PE), Rochling now provides two of the most commonly used engineering plastics in the food processing industry in these special x-ray detectable grades.
For additional information, contact Birgit Karen Moecks, Röchling Engineering Plastics, 903 Gastonia Technology Parkway, Dallas, NC 28034, 704-922-7814, Fax: 704-922-7651, E-mail: info@roechling-plastics.us, Web: www.roechling-plastics.us.
---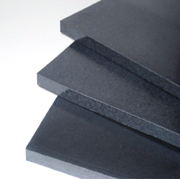 Extruded Engineering Materials
Warren Polymer Solutions International (WarrenPSI) was founded in 2009 by stock shape extrusion industry veteran Jeff Warren. His goal was to offer customers a friendly and easily accessible source for high performance thermoplastic materials and also provide those users with the detailed technical information necessary for their application in industry.
Today, WarrenPSI continues to grow and it is internationally recognized as a premier manufacturer of premium quality extruded shapes for fabrication from a wide range of thermoplastic engineering materials including PC, PVDF, PEI, PSU, PES, and PEEK.
Warren stated, "We are not one of the big guys in our industry and we don't pretend to be. What we offer our customers is straightforward and extremely knowledgeable answers to their technical questions and cutting edge manufacturing capabilities. Our team is comprised entirely of degreed engineers who have an average of 33 years of industry experience. We definitely have the knowledge and experience to fulfill our customer's most challenging thermoplastic requirements and we strive to make sure that we are the easiest company to do business with."
The manufacturing equipment and processes at WarrenPSI have been custom designed to offer optimal material properties, reasonable manufacturing costs and quick turn around times at even the smallest production quantities. For the custom extrusion of polymers with fillers like glass fibers, carbon fibers or PTFE, customers frequently find that WarrenPSI offers the best value available.
WarrenPSI manufactures plate in widths up to 24" and thickness up to 4". Rod and tubular bar products are available up to 12" lengths and 8" in diameter.
For additional information, contact Jeff Warren, Warren Polymer Solutions International, LLC, 925 Schwab Road, Suite #2, Hatfield, PA 19440, 215-362-5111, E-mail: sales@warrenpsi.com, Web: www.warrenpsi.com.
---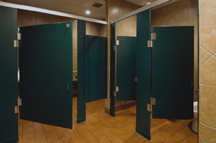 Flame Rated Polymer Sheets
King Plastic Corporation announced that they now offer their polymer sheet products with ASTM E-84 Class A or Class B flame certifications. These certifications will be especially helpful in generating new business for King StarBoard® ST polymer building sheets and King PlastiBal® partition sheets.
StarBoard ST is an environmentally stabilized, high strength and scratch resistant building sheet that is ideal for the construction of heavy use cabinets, furniture and accessories. StarBoard ST is 25% stiffer than King StarBoard and is available in several thicknesses and eight unique colorfast colors.
King PlastiBal is a heavy-duty, waterproof, aesthetically attractive, graffiti resistant, easy to clean, HDPE panel designed for commercial architectural applications as well as other various industrial applications such as bathroom partitions, benches, shower enclosures, lockers, laboratories and clean rooms.
The Class A or Class B additives may also be used with their original King StarBoard marine polymer building sheets and King ColorCore®, the versatile, environmentally stabilized sheets with multiple layers of contrasting color, and King ColorBoard® also environmentally stabilized for outdoor use with bright primary colors which makes it ideal for signage, industrial, marine, playground and recreational applications. Both King ColorCore and King ColorBoard are easily engraved and are made to handle more abuse than conventional sign materials.
The ASTM E84 test method is intended to compare the surface flame spread and smoke developed measurements to those obtained from the tests of mineral fiber cement board and select grade red oak flooring. The results are expressed as Flame Spread Index and Smoke Developed Index.
For additional information, contact Lou Stegner, King Plastic Corporation, 1100 N. Toledo Blade Blvd., North Port, Florida 34288, 941-493-5502, Fax: 941-497-3274, E-mail: sales@kingplastic.com, Web: www.kingplastic.com.
---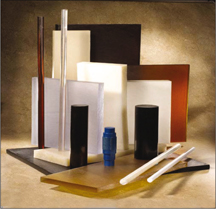 HPP Rod & Slab
Advanced Polymer Technologies (APT) was founded on the basis of employing the newest process technology for consistent production of the highest quality extruded stock shapes with minimal stress and production flexibility. Their ISO 9001 quality process has enabled APT to service the most demanding applications including medical devices, semiconductor production equipment and aerospace platforms.
APT manufactures engineering plastic stock shapes for machined parts. Standard materials include POM, PEI, PSU, PEEK, PVDF, PC, PES and more. Standard extruded shapes from 0.375" to 6" rod and slab.
APT focuses on production flexibility offering special resins, custom slab (thickness, length, width) "optimizes fabrication yield with a range from 12" to 24.5".
For additional information, contact Karen Phanthaanat, Advanced Polymer Technologies, LLC, 510 Gilmore Ave. Suite C, Stockton, CA 95203, 209-464-2701, Fax: 209-464-5760, E-mail: kphan@aptllc.net, Web: www.aptllc.com.
---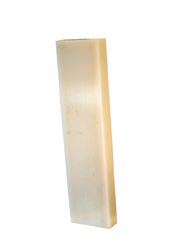 Kynar® 450 PVDF-Based Plastics
Quantum Polymers announced the immediate availability of extruded stock shape plastic products made with Kynar® 450 resin from Arkema Inc. KYNAR 450 is a semi-crystalline high molecular weight pelletized polymer of vinylidene fluoride. It is a versatile engineering plastic with an outstanding balance of physical and chemical properties, which qualify it for high performance service in a wide range of applications.
Quantum Polymers is offering Kynar 450 PVDF extruded rods and plates. Rods are available from 1/2" to 5" diameter whereas plates are available from 3/8" to 4 1/2" thickness. The material works well for applications required to handle harsh chemicals for long periods of time. It is chemically resistant to halogens (chlorine, bromine, fluorine, iodine) and strong acids even at high temperatures. As such, Quantum is offering this material well suited for chemical processing and other areas of manufacturing. Kynar 450 PVDF is FDA compliant for repeated contact with food. It also meets NSF-61 specifications for potable water.
'ÄúWe are pleased to announce the incorporation of Kynar PVDF 450 as the newest member in our PVDF offerings," said Hemant Bheda, CEO of Quantum Polymers. "Kynar 450 stock shape products will provide our customers access to readily available PVDF grade products for specific applications in chemical processing."
For additional information, contact Ellen Witherspoon, Quantum Polymers, 211 Executive Drive, Suite 1, Newark, DE 19702, 866-737-7012/302-737-7012, Fax: 302-737-7035, E-mail: info@quantum-polymers.com, Web: www.quantum-polymers.com.
---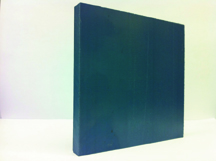 Metal Detectable Plastic
During the last several years, Ensinger has enhanced its reputation as a leader in new product development. They continue that legacy with the recent introduction of TECAPEEK¬ģ ID metal detectable polyetheretherketone (PEEK). Ensinger recognized the need for metal detectable engineering plastics in the food processing industry as demands for higher production speeds and more highly concentrated cleaning solutions conspired to put greater levels of physical stress on moving parts. The increased potential for system failure, production shutdown and food contamination caused by undetected part failure can result in product waste and lost production time. TECAPEEK ID addresses this problem.
TECAPEEK ID is manufactured using Victrex® PEEK polymer, the leader in Polyaryletherketone resin technology. These resins enjoy a long history of success in tackling the challenges of industries most demanding high temperature and chemical environments. This technology combines with Ensinger's proprietary metal detectable ingredients to form TECAPEEK ID. This new thermoplastic is an extremely useful tool in guarding against costly food product contamination and recall by allowing for early detection using the standard metal detection equipment already in place in most food production facilities. The material components are FDA and other U.S. agency compliant as well as being compliant to the European 2002/72/EC regulations. Typical applications for this new ground breaking material would include filling nozzles for juice processing, components for jam and jelly production, chocolate production parts and high temperature kettle scrapers as well as any components subjected to repeat sterilization of any kind.
For additional information, contact Bruce Dickinson, Ensinger, Inc., 365 Meadowlands Blvd., Washington, PA 15301, 800-243-3221/856-227-0500, Fax: 724-746-9209, E-mail: sales@ensinger-ind.com, Web: www.ensingerinc.com.
---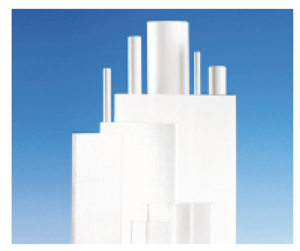 High Performance Rod & Sheet
GEHR Plastics offers polyvinylidene fluoride (PVDF) sheet and rod, which is ideal for applications including pumps, rotation disks, valves, fittings, glide tracks, cogwheels and chemical processing. PVDF shows a higher tensile strength, pressure resistance and dimensional stability than the related PTFE, but friction and insulation properties are lower. PVDF has a high mechanical strength and toughness at lower temperature and is self-extinguishing. The temperature ranges from -22°F to +300°F.
Characteristics are high tensile strength; FDA compliance; high mechanical strength; excellent radiation resistance; high chemical resistance; excellent barrier properties and low water absorption. It is the material of choice for high purity; good friction and wear and tear values fluid handling and high UV-resistance. It produces toxic fumes when burned and cannot be solvent cemented.
GEHR also offers ethylen-chlortrifluorethylene (ECTFE) rod in 1/2" to 5" in 4' lengths. E-CTFE exhibits extraordinary impact strength at temperatures ranging from - 104°F to +302°F. A great part of the product properties attributes to the very smooth surface and differentiates HALAR¬ģ from other fluoropolymers. Due to the fact that E-CTFE is very pure, this material is being used to process chemicals and ultrapure water for the semiconductor industry. Also the permeation resistance to oxygen, carbon dioxide, chlorine gas and hydrochlorid acid is 10 to 100 times better than PTFE. Its characteristics are: extremely high impact strength (up to -105¬įF) no break on notched or un-notched IZOD impact test; good insulation properties; very good weather resistance; high resistance to radiation; very high chemical resistance and it is self-extinguishing. It offers very good sliding properties and is food safe. Applications include: parts which come in contact with aggressive materials (machinery building industry), lining of tanks, pumps, flanges, fittings, parts in centrifuges and control engineering industry.
For additional information, contact Bill Shields, GEHR Plastics USA, 24 Creek Circle, Boothwyn, PA 19061, 800-PVC-GEHR/610-497-8941, Fax: 610-497-8901, E-mail: info@gehrplastics.com, Web: www.gehrplastics.com.
---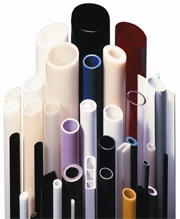 Tubing & Profiles
Hi-Tech Profiles is a leading manufacturer of extruded stock shapes. HTP is enjoying their 23rd year in the plastics distribution and manufacturing industry with an extensive thermoplastic material product line, which includes Nylon and Acetal stock shapes. HTP is proud to be an ISO9001:2008 registered company along with its two sister companies, HTP-Meds, and Hi- Tech Molds. Together, the HTP family of companies delivers quality, real-world solutions from concept to reality through rapid prototyping and short lead times.
Hi-Tech Profiles is offering you two new services. You can now have any of their products annealed prior to machining, which will reduce internal stress and help you get the most out of the physical properties. And they also now offer centerless grinding for all of their hollow rod products, with tolerances as tight as +0.005" available.
Hi-Tech Profiles specializes in the extrusion of all engineered thermoplastic materials in sizes ranging from 0.050" to 2.5" OD. HTP offers an extensive, high-quality line of tubing, hollow rod and bushing stock in Nylon and Acetal that is in stock and available for immediate shipment. Custom sizes are available with over twenty different materials to choose from including; ECTFE, Polycarbonate, PVDF and Polysulfone. Custom cutting and printing are also available as well as co-extruded tubing with two and three layer construction, in sizes ranging up to 1" OD.
For additional information, contact Brian McGregor, Hi-Tech Profiles, Inc. 15 Gray Lane, Ashaway, RI 02804, 800-342-5495, Fax: 401-377-2423, E-mail: info@hitechprofiles.com, Web: www.hitechprofiles.com.
---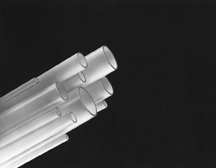 PVDF Stock Tubing
Petro Extrusion Technologies (PET) manufactures HYLAR'ĄĘ PVDF tubing available from stock in eleven sizes. HYLAR thermoplastic fluoropolymer is strong and tough as exhibited by its tensile and impact strength. Compared to many thermoplastics, HYLAR has excellent resistance to creep and fatigue. It is non-toxic, tasteless and odorless. It is the engineering grade thermoplastics material of choice for applications requiring high purity and exceptional corrosion resistance properties.
Stock tubing is extruded from the highest quality Hylar 460 Polyvinylidene Fluoride resin that is an extremely versatile engineering fluoropolymer with a unique balance of physical, chemical and electrical properties.
Other stock products available from PET include acrylic profiles in 6 sizes from stock and NYLA-GLIDE GR'ĄĘ Profiles - MDS-filled Nylon 6 profiles available from stock in 17 standard shapes.
For additional information, contact Robert Petrozziello, Petro Extrusion Technologies, Inc., P.O. Box 99, 490 South Ave., Garwood, NJ 07027, 800-229-3338/908-789-3338, Fax: 908-789-0434, E-mail: rpetro@petroextrusion.com, Web: www.petroextrusion.com.
---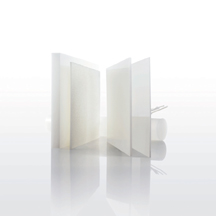 Composite Construction Sheet
SIMONA AMERICA Inc. is a subsidiary of SIMONA AG, one of the leading manufacturers and distributors of thermoplastic finished and semi-finished products, e.g. plastic sheets as a composite construction. A composite construction refers to a combination of at least two materials with different task profiles. Thermoplastic liners for dual laminates and steel tank lining make operation far more economical and efficient with regard to service life, maintenance and repair as well as production outages.
The products SIMON® PP-DWU AlphaPlus®-SK (homopolymer, polyester backed), SIMONA® PP-C-PK (block copolymer, polypropylene backed), SIMONA® E-CTFE-GK (ethylene-chlorotrifluoroethylene, glass-fiber backed) and SIMONA¬ģ PVDF-SK (polyvinylidene fluoride, polyester backed) have gained a particularly prominent position in the liner materials market. They offer high security and best-of-class quality.
As of 2012, new products will be SIMONA® PVDF-AK (polyvinylidene fluoride, aramide backed) and SIMONA® E-CTFE-AK (ethylene-chlorotrifluoroethylene, aramide backed).
SIMONA PP-DWU AlphaPlus-SK and SIMONA PP-C-PK are generally stocked in thickness ranges between 3 and 4 mm x 1500 wide and 20 meter rolls and SIMONA E-CTFE-GK, SIMONA PVDF-SK, SIMONA PVDF-AK and SIMONA E-CTFE-AK in thickness ranges between 2.3 and 3 mm. Delivering above-average performance in a wide range of applications, the liner materials meet the full range of required specifications including chemical and permeation resistance. SIMONA AMERICA offers an extensive range of products tailored to the requirements of liner and composite engineering, together with considerable expertise in these fields.
For additional information, contact John Ploskonka, SIMONA AMERICA Inc., 64 N. Conahan Drive, Hazleton PA 18201, 866-501-2992, Fax: 800-522-4857, E-mail: mail@simona-america.com, Web: www.simona-america.com.
---