CNC Mills

Vertical CNC Mills offer plastic shapes fabricators machining versatility and a small footprint on the shop floor. Traditionally these machines have been designed for working metals but many manufacturers now offer units that are ideal for cutting plastic shapes.
Following is an overview of a wide range of equipment offered by leading manufacturers. A contact name, phone and E-mail address follows each listing.
The V-CNC 500 Vertical Machining Center from Cincinnati Machine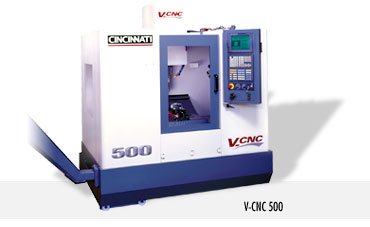 offers simplicity and value in a surprisingly affordable package. The V-CNC 500 is designed for flexibility and is perfect for first-time CNC users and small subcontract shops. The new easy-to-earn and easy-to-use GE Fanuc 21i-B CNC control is ideal for shops that must start cutting faster from the outset and ensures that operators spend more time cutting than learning complex control systems.
Two models of V-CNC machines are available with different sizes of X-axis travel. The V-CNC 500, with 510 mm of X-Y-Z-axis travel, provides maximum value for the money and is exceptionally user-friendly. A 762 mm X-axis is featured on the V-CNC 750 model. The V-CNC 500 features a 40 taper, 8,000 rpm, 17 hp spindle and a 21-tool changer with metal-to-metal change time of seven seconds. With a 700 mm x 520 mm worktable, the V-CNC 500 can handles work pieces up to 1,100 pounds.
Other value-added options available to enhance performance include spindle and tool probes, fourth axis interface, automatic coolant, 16 MB part programming package, wash gun and integral wash chip removal system, in addition to the standard chip auger for the ultimate in chip extraction. For additional information, contact Jamie Leininger, Cincinnati Machine, A UNOVA Company, 877-CINMACH, E-mail: sales@cinmach.com.
Fadal Machining Centers specializes in building Vertical Machining Centers and rotary products, focusing on delivering the highest level of value possible. Over 30,000 Fadal VMCs have been installed worldwide in the automotive, aerospace, marine, agricultural, medical and other industries precisely cutting metal, plastics and wood parts.

Their Performance Series VMCs can be pushed hard to deliver high tolerance parts. Larger casting with wider and thicker Box Ways increases vibration dampening, allowing the Fadal 10,000 rpm spindle to be pushed even harder than usual. In addition X, Y, Z axes can slide faster and smoother while holding increased positioning accuracy and repeatability. The Standard Series VMCs feature two types of construction for the X, Y and Z-axis slide motion, Box Way and Linear Way.
Fadal also offers remanufactured VMCs which provide customers affordable access to Fadal quality at a much lower cost. All Fadal Rebuilt VMCs include a 148 point inspection to determine what needs to be done to the VMC to bring it back to original factory specifications, an upgraded CNC, six month parts warranty and new sheet metal. Rotary tables add great versatility to your VMC. They allow machining of 4 and 5 sides of a part with one setup, saving setup time and reducing part run times. Fadal offers a full line of rotary products ranging from 5C to 400mm. For additional information, contact Dan Gustafson, Fadal Machining Centers, LLC, 818-407-1400, E-Mail: info@fadal.com.
Haas Automation, Inc. continues to advance its line of VMCs with higher speeds and increased capabilities.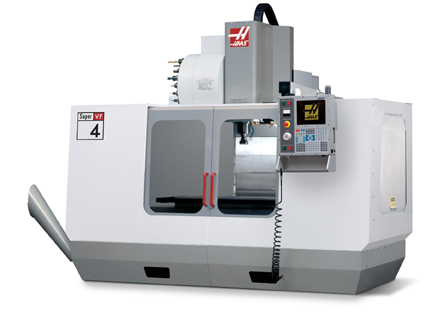 The new VF-4SS is a high-performance vertical machining center that comes standard with an innovative 12,000 rpm inline direct-drive spindle, an ultra-fast tool changer and 1,400 ipm rapids.
Based on the shop-proven Haas VF-4 platform (40" x 20" x 25" travels), the VF-4SS takes performance and affordability to a whole new level. The machine is equipped with a 12,000 rpm, 40-taper spindle that features a unique inline, direct-drive system that couples the motor directly to the spindle rather than using belts. This results in less vibration, less heat and less noise than other drive systems, providing better surface finishes, extreme thermal stability and very quiet operation. Powered by a 30 hp vector drive system, the spindle yields plenty of low-end torque, as well as the speed necessary for high-speed machining operations.
The VF-4SS also features a newly designed high-speed side-mount tool changer with 24+1 tools. Lighter materials and a high-performance servo motor make this tool changer the fastest that Haas has ever built, with tool changes taking less than 1.6 seconds tool to tool. To further reduce cycle times and keep non-machining time to a minimum, the VF-4SS uses high-pitch ballscrews and high-torque servo motors on all axes to provide rapids of 1,400 ipm.
While the VF-4SS offers substantial performance in base configuration, it is possible to boost capabilities even further with a high-performance package of options. This package includes an auger-style chip conveyor, programmable coolant nozzle, 16 MB program memory, Visual Quick Code programming, floppy disk drive, spindle orientation, 4th-axis drive, coordinate rotation & scaling, user-definable macros, remote jog handle and high-speed machining soft-ware. For additional information, contact Scott Melamed, Haas Automation, Inc., 800-331-6746 / 805-988-6933, E-mail: smelamed@haascnc.com.
Makino's S33L VMC provides outstanding machine rigidity, proven high speed machining capability, superb accuracies and superior performance for small and large shops.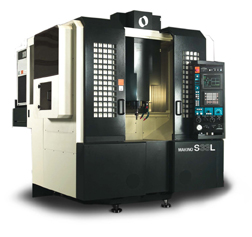 The S33L utilizes a 40 taper, 13,000 rpm spindle for fast, quality machining and a 20-tool magazine with automatic tool changer (ATC) to reduce setups and maximize machine utilization. Makino's proprietary, next generation Super Geometric Intelligence (SGI.3) servo control is included to provide exceptionally smooth surfaces.
Makino is a global provider of advanced machining technology and application support dedicated to driving out more costs from your manufacturing operation than any other competitive machine tool manufacturer. Makino manufacturing and service centers are located in the United States, Japan, Germany, Singapore, Italy, France, Korea, Taiwan, Turkey, China, Mexico, Brazil, and India, and are supported by a worldwide distributor network.
For additional information, contact Mark Rentschler, Makino, Inc., 800-552-3288 / 513-573-7200, E-mail: mark.rentschler@makino.com.
Mazak offers a full line of unique vertical machine designs depending on your application. Their VTC CNC machining centers have the performance you need for prototype or production runs. They have fixed cast-iron tables for heavy, oversize and off-center parts and are available with the powerful Fusion 640 Mazatrol Control.
They include a rigid heavy meehanite cast-iron frame for stability and accuracy, linear guide ways for precise motion control, high-speed rapid traverse, low maintenance, long life and higher reliability. They also have a fixed table design for easy part loading/unloading, multiple workpiece setups, or oversize parts and an adaptive feedrate control that compensates for variations in spindle motor loads
Mazak's Versatech vertical machining centers are the next step up in performance. The Y-axis column feed design eliminates any table overhang on the X-axis. This design feature offers maximum rigidity and improved machine accuracies. Other benefits include the extra standard features: automatic tool length measurement, coolant through the spindle preparation, probe preparation and Mazak 2-D high-speed software. These features provide more horsepower, torque and accuracy. A Pallet Changer and optional tool magazines are available.
For additional information, contact George Yamane, Mazak Corporation, 859-342-1700.
Mori Seiki's NH5000 is built for stable running 24 hours a day, 7 days a week. The 30 HP peak Direct Drive Spindle (DDS) accelerates from 0 to 14,000 rpm in just 1.4 sec-onds.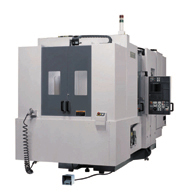 High axis acceleration rates along with one-second tool-to-tool time yield a chip-to- chip time of only 3.2 seconds. Changing the 19.7" square pallets takes only six seconds even when loaded with the maximum payload of 1,102 pounds.
This level of productivity produces a great amount of chips. The NH5000 delivers unmatched chip disposal capability so the machine can run without stopping to clear chips from the work area. The triple trough design has a center conveyor that moves the bulk of the chips with the remainder removed by dual spiral chip conveyors. The spiral chip conveyors, positioned at the outer edge of the machining area, extend to the setup station for added chip removal convenience.
Maintenance procedures are optimized: air valves and proximity sensors can be accessed without removing any covers. Where covers are required for safety, they are easily removed and replaced in seconds. Devices are mounted in functional groups to quickly find any component during troubleshooting.
The optional linear pallet pool (LPP) is a material handling system combined with one to eight horizontal machining centers. An automatic guided vehicle (AGV) carries pallets among machining centers, setup stations and pallet stands. After setting up a job for the first time, store it in the LPP and recall it at any time. With the next order for parts, simply schedule it, then, with zero setup time, complete the order. The N5000 can also run lights out by loading up the LPP with blank parts.
Mori Seki also offers the GV Series. These compact state-of-the-art vertical machining centers reduce material handling and machine set ups. Built for high speed on all drive systems, look here to boost production efficiency to newer and higher levels.
For additional information, contact David Austin, Mori Seiki, 972-929-8321, E-mail: daus@moriseiki.com.
Republic Lagun's CNC Vertical Bed Mills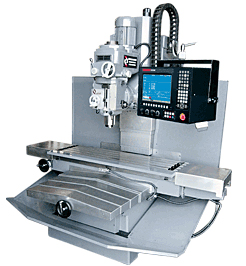 feature an open design for easy loading and unloading of parts. They are suitable for prototype or small lots using manual handwheels, "teach-in," or full 3-Axis CNC contouring. They are ideal for straight or angular milling, drilling, tapping, boring parts where an automatic tool changer is not required. Available with 4th axis rotary, The VBM-1000 / VBM 1270 3Axis CNCs feature a 10 hp MTR Variable Speed Head, special, heavy-duty Meehanite castings to support heavy parts up to 2,420 pounds, a 10 hp drive and a unique 4-way bed for maximum rigidity and stability – 35" across the ways. They also have hardened and ground ways with Turcite B anti-friction linear bearing material on the sliding surfaces, extra wide saddle assembly with 61 ½" bearing length supporting almost 90% of table length and an extra large table ideal for large parts, with expanded X axis travel of 50" and full automatic lubrication. Additionally, large diameter precision double-nut ball screws are on all three axes, with manual handwheels on X-Y and Quill and many available options.
For additional information, contact Chuck Williams, Republic Lagun, 800-421-2105 / 310- 518-1100, E-mail: info@lagun.com.
Click here for a complete mailing addresses and websites for the manufacturers above.