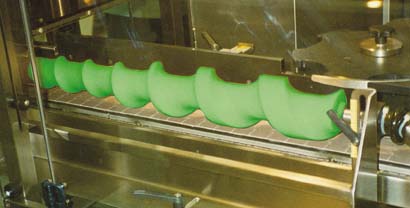 POLYAMID WITH EMBEDDED LUBRICANT

Sustaglide®, a specially formulated cast polyamide with an embedded thermoplastic lubricant additive, is available from Sustaplast Engineered Plastics. Lubricity is enhanced reducing the coefficient of friction lower than that of conventional materials. For example, the material combines the outstanding mechanical and thermal properties of cast nylon with the excellent sliding properties of polyethylene.
Successful applications are typically found in machinery, conveyors, etc., in industries such as: food processing, beverage and bottling, chemical processing, electronics manufacturing and assembly, among others. The material is most cost-effective in applications where resistance to wear is crucial. Other characteristics include: exceptional abrasion, impact and chemical resistance and low deformation under load. It resists temperature extremes and hostile environments.
Sustaglide®'s material specific gravity is 1.14 g/cm3, tensile strength is 80 N/mm2 and Shore hardness is 82. Application temperature range is -40°F to 221°F (-40°C to 105°C). It is supplied in a wide range of sheets, tubes and rods, plus custom shapes and sizes. Intricately designed parts made from the material are either machined or molded from resin.
For more information, contact Mark Bogin, Sustaplast, L.P., 170 Rodeo Drive, Edgewood, NY 11717, 631-242-0175, 800-832-6787, Fax 516-242-5121, Web: www.sustaplast.com.