Saw Blades Spotlight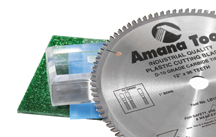 Non-Melt Saw Blades
Amana Tool's non-melt saw blades are designed to produce crisp, clean cuts in acrylics such as Plexiglas® and Lucite®, polycarbonates such as Lexan® and other plastics. The non-melt blades are designed with a modified triple-chip grind (MTCG) and 2° negative hook angle that produce less heat than standard saw blades, eliminating "chip-welding" or melted materials.
Amana's saw blade bodies are laser cut from virgin steel, annealed for accurate tooth alignment, and roll tensioned to ensure straight cutting performance. Carbide tips are manufactured and ground to Amana's specifications, enabling smooth, accurate cuts and longer-lasting cutting performance between sharpenings. The blades feature laser-cut expansion slots and copper plugs to reduce noise and minimize vibrations, as well as prevent heat buildup and blade warping.
Amana's collection of non-melt blades are available in a diameters ranging from 8" to 16". For example, item LB10801 has a 10" diameter and 80 teeth.
For additional information, contact Frank Misiti, Amana Tool, 120 Carolyn Blvd., Farmingdale, NY 11735, 800- 445-0077/631-752-1300, Fax: 631-752-1674, E-mail: frankm@amanatool.com, Web: www.amanatool.com.
---
TCG Saw Blades

AWED offers plastic cutting saw blades with the unique triple-chip grind (TCG) tooth design. It's design offers a cut unequal by any other blade. These blades can be used on standard table saws or panel saws, manual or CNC. A variety of sizes are available to meet your specifications.
For additional information, contact Victor Miranda, AWED Corp., 1175 Buford Highway, Suite 101, Suwanee, GA 30024, 770-831-9800, Fax: 770- 831-7404, E-mail: victor@awedmachine.com, Web: www.awedmachine.com.
---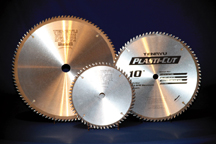 General Purpose & Precision Saw Blades
Craftics provides a variety of tools and accessories for working with plastics, including Tenryu Saw Blades. They inventory the Tenryu Plasti-Cut and Pro Series Blades for Plastics in a variety of sizes and grades.
The Plasti-Cut blades are designed for general purpose cutting on a variety of materials and material thickness. High-grade carbide teeth and an ultra-thin kerf will allow faster feeding and minimal waste. They provide exceptional performance for a value price. Craftics offers 7-1/4", 10", 12" and 14" diameters from stock.
The Pro Series blades are superior quality, high-precision blades that offer fine-grain, wear-resistant carbide teeth for long life, expertly tensioned steel bodies for true and accurate cuts, built-in expansion slots act as dampeners to reduce vibration and noise. Achieve precise professional cuts in production applications time after time. Craftics offers 10", 12" and 14" diameters from stock.
Craftics also offers the Craftics Brand Plasticutter and Edgescraper and Onsrud Cutter Router Bits and can sharpen your saw blades.
For additional information, contact Tracy Pineda, Craftics, 2804 Richmond Drive NE, Albuquerque NM 87107, 866-296-2130, Fax: 800-289-2020, E-mail: sales@craftics.com, Web: www.craftics.com.
---
No-Melt Blades for Cutting Plastics
Modified triple-chip-grind tooth style and specially engineered side clearances make Forrest Manufacturing's carbide tipped No-Melt blades the perfect choice for cutting single or multiple stacked sheets of plastic without chipping or melting.
The No-Melt blade is just one or the many award-winning general-, special- and custom-purpose blades and dados offered by Forrest Manufacturing, a family-owned business for more than 50 years. All Forrest blades are manufactured in the U.S. to exacting standards, using proprietary grinding techniques and hand straightening. The result is exceptional perimeter concentricity, an astonishing +/- .001-inch side runout and super fine tooth grind for smooth, quiet and precise cuts.
The No-Melt blade is no exception. Its numerous teeth allow fast feeding of brittle acrylics. Super-hard C-4 micrograin carbide tips ensure 50 to 300 percent longer life between sharpenings.
The No-Melt blade is available in 7- to 20-inch diameters with 60 to 120 teeth. It's particularly appropriate for cutting acrylics, delrins, ABS, styrenes, PVC, and high- and low-melt nylons.
Every Forrest blade comes with a 30-day money-back guarantee. Factory sharpening services are provided at reasonable cost.
For additional information, contact Jay Forrest, Forrest Manufacturing Company, 457 River Road, Clifton, NJ 07014, 800-733-7111, Web: www.forrestblades.com.
---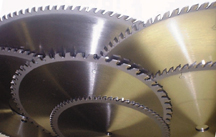 High Performance Saw Blades
FTM, Inc. offers a line of General Saw's high performance carbide-tipped circular saw blades. General Saw has specialized in the design and manufacture of blades specifically for the cutting of plastics, woodworking, solid surface and non-ferrous metal industries.
Since 1937 they have been manufacturing standard and custom saw blades designed specifically with your cutting needs in mind. For aluminum plate, plastic extrusions, foam board, polycarbonate, low-melt acrylic, melamine, veneers, trusses and more.
General Saw has engineered a blade that is right for you. They recognize the importance of the careful selection of fabricating materials, the differences in blade design, required machines and techniques needed to produce and test their products for successfully cutting various plastics and have acquired the latest of these important component. General Saw has helped companies and individuals across the world, and right next door, get the most out of their material and their machines by offering a superior cutting blade.
For additional information, contact Robert Ashcraft, FTM, Inc., 327 Industrial Drive, Unit 1, Placerville, CA 95667, 530-626-1986, Fax: 530-642-2602, E-mail: info@123ftm.com, Web: www.123ftm.com.
---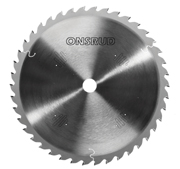 Onsrud Adds Saw Blades for Plastics
Fabricators of plastic material know to turn to Onsrud Cutter for their routing tools. These same fabricators can now turn to Onsrud for their sawing needs as Onsrud has introduced a line of 8", 10" and 12" blades for plastic materials including acrylic, derlin, ABS, styrene, PVC and nylon
The line offers premium performance resulting in cool, clean cutting of plastic without chipping or melting. The saw blades are designed to be used on table, miter and panel saws.
Onsrud Cutter is the only cutting tool facility in the United States that manufactures high-speed steel, carbide tipped, solid carbide, diamond coated and PCD CNC router tooling. Onsrud manufactured their first router bit in 1920.
For additional information, contact Leslie Banduch, Onsrud Cutter LP, 800 Liberty Drive, Libertyville, IL 60048, 847-362-1560, Web: www. onsrud.com.
---