Saws Spotlight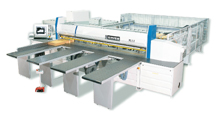 Panel Saw for Plastics
Mayer Panel Saws are manufactured to produce mirror surface edges and precision tolerances in a variety of plastics so your customer can buy net sized parts from you. Mayer's PS2 offers high output with 4.7" blade projection (optional 7.8" cutting height) and fast traverse speeds. Premium features for the plastics industry include: RPM and linear speed motor control; mirror finish cutting on thick plastics; heavy duty pressure beam for clean stack cutting; PCD; non-proprietary components; precision cutting tolerances eliminating secondary machining and a chromed machine table that eliminates material scratching.
The Mayer Panel Saws are faster and easier to use than other machines. The PC control allows for complete integration into networks and databases and barcoding applications.
For additional information, contact Gerri Yarbrough, Delmac Machinery Group, 4322 Piedmont Parkway, Greensboro, NC 27410, 336-854-1211, E-mail: sales@delmac.com, Web: www.delmac.com.
---
Industrial Class Saw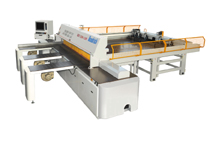 Hendrick's SRP PL Enhanced Industrial Class Series highspeed computerized panel saw is specifically designed for the plastics industry. Configured with a solid back table, solid pusher/gripper combination; this preferred plastics configuration allows for precision cutting of small parts, narrow strips, thin material, rod and tubing. The one fixed and two moveable front tables equipped with air floatation and solid phenolic surfaces are ergonomically beneficial to the machine operator while manipulating heavy materials into position for the grippers to pull it back into position.
The machine is equipped with a variable speed rpm 24 hp main blade motor and 3 hp scoring motor. Material indexing speeds up to 3,000 inches per minute, spray mist blade coolant system, pneumatic quick blade change, Windows based PC Controller, LAN interface, on-board optimization software and diagnostics point to problems and provide "how-to" solutions are standard features.
For additional information, contact Whitney Wiggin, Hendrick, 32-34 Commercial Street, Salem, MA 01970, 978-741-3600, Fax: 978-744-0242, E-mail: info@hendrickmanufacturing.com, Web: www.hendrickmanufacturing.com.
---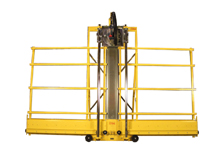 Vertical Panel Saws Saw Trax recommends two of its vertical panel saws for cutting plastic, acrylic or Lexan® sheets. Both have heavy duty material rollers, stops, tapes, a stand and frame wheels along with a spinning carriage for easy changes from cross cutting to rip cutting. The difference is the saw in the carriage. The 2064 (shown) uses a worm drive saw with a 7.25" blade and the 3062 uses a sidewinder saw with a 10" blade. Both saws have motors rated at 15 amps. The difference is the higher torque of the worm drive will not get bogged down and the 10" saw blades provide a higher cut quality.
Vertical panel saws, take up much less space in the shop and handling sheets is easier since they are moved vertically in and around machinery.
For additional information, contact Michael Della Polla, Saw Trax Mfg. Inc., 3694 Kennesaw S. Industrial Drive, Suite A, Kennesaw GA 30144, 888-SAW-TRAX/770-974-0021, Fax: 770-975- 1618, E-mail: info@sawtrax.com, Web: www.sawtrax.com.
---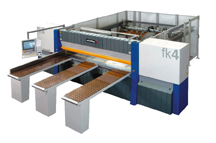 High Precision Saw
Schelling announced their new fk4 panel saw designed and engineered specifically for high speed, precision cutting of plastic panels. This includes acrylic, PETG, polycarbonate, polyolefins, PVC, UHMW, phenolics, mechanicals and other specially engineered materials. The fk4 provides extremely tight cutting tolerances and chip free cutting of material as thin as .020" without the use of a protection board. The machine is also equipped with material recognition software, a saw blade change database and total panel control features that provide fast setup times when changing materials.
Additional features include; rigid heavy duty construction; stateof- the-art material handling technology that automates the loading, cutting and off loading processes; on-line remote diagnostics for increased uptime and productivity; saw blade RPM control combined with blade cooling; online downloading of optimized cutting patterns and label printing.
For additional information, contact Stephen Bailey, Schelling America, Inc. P.O. Box 80367, Raleigh, NC 27623, 919-544-0430, Fax: 919-544-0920, E-mail: sbailey@schelling.com, Web: www.schelling.com.
---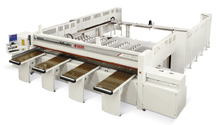 Built-in Loading Platform
A further step has been taken towards the range renewal of SIGMA Panel Saws. The new Sigma Impact 107P has a loading platform, built-in, combining a sturdy and high performance machine. With a new shape and framework, the 107P was carefully designed to ensure vibrations are absorbed by the ground, thus further improving the cutting quality of the machine. Ideal for shops looking for flexibility and effective solutions in material handling, the new saw combines the comfort of a technological machine with the investment competitiveness.
For additional information, contact Phil Bryant, SCM Group USA Inc., 2475 Satellite Blvd., Duluth, GA 30096, 770-759-3534, Fax: 770-813-8819, E-mail: pbryantscmgroup-usa.com, Web: www.scmplastics.com.
---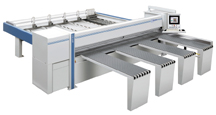 Optimize Work Flow
Stiles Machinery Inc. offers cutting solutions to help plastic fabricators deliver greater productivity at lower costs. Designed exclusively for sizing plastic and component panels, the Holzma HPP 380P panel saw features a variable speed main saw motor and automatically selects the ideal blade rim speed and cutting speed for each material. The saw carriage is equipped with the unique Holzma side pressure device that adjusts the pressure according to material type and achieves beautiful edge quality even with thin PETG.
In addition, utilizing Cut Rite software saves yield, time and money by creating easy to cut patterns based on your parts requirements and downloading them directly in the control on the saw, eliminating all set-up time and the potential for set-up error on the shop floor. As a side benefit, Cut Rite produces a cost per part and a cost per order: great tools for quoting new business accurately. Cut Rite will also produce a bar-coded label at the saw while the part is cut.
A national technical support network and same day spare parts program ensure that no matter where you are located, you can get technical assistance when you need it.
For additional information, contact Bill Pitt, Stiles Machinery Inc., 3965 44th St. SE, Grand Rapids, MI 49512, 704-861-8239, E-mail: bpitt@stilesmachinery.com, Web: www.stilesmachinery.com.
---
Saws Website Directory
Delmac Machinery Group.
www.delmac.com
Hendrick
www.hendrickmanufacturing.com
Saw Trax Mfg. Inc.
www.sawtrax.com
Schelling America, Inc..
www.schelling.com
SCM Group USA Inc
www.scmplastics.com
Stiles Machinery Inc
www.stilesmachinery.com
To learn more about sawing plastics, visit our website and click on Links to Sawing Plastics Archive.