High Performance Plastics

High Performance Plastics offer plastic shapes fabricators materials that have higher strength, higher service temperatures, and in some cases, resistance to hot water and steam or chemicals and possess good electrical properties. Applications can be found in a wide range of industries including where parts come in contact with aggressive materials, lining of tanks, pumps, flanges, fittings, parts in centrifuges and control engineering industry. Also characterized by a higher cost, the range of applications that these tough materials serve demands these high performance physical properties and justifies their cost. The following section provides an overview of some exciting new materials, as well as some that are time-tested, from leading international manufacturers and suppliers.
---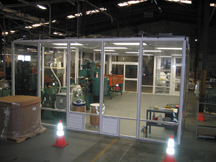 Engineering Stock Shapes
Advanced Polymer Technologies (APT) manufactures high quality extruded stock shapes with minimal stress and production flexibility from a wide range of engineering resins. Their ISO based quality system has enabled APT to service the most demanding applications including medical devices, semiconductor production equipment and aerospace platforms.
Standard materials include: POM, PEI, PSU, PEEK, PVDF, PC, PES and more, with standard extruded shapes from 0.375" to 6" rod and slab.
APT can offer their customers production flexibility, special resins, custom slabs (thickness, length, width) to optimize fabrication yield, a width range from 12" to 25", custom grinding and a high level of technical expertise in process technology and application development.
For additional information, contact Karen Phanthaamat, Advanced Polymer Technologies, LLC, 510 Gilmore Ave. Suite C, Stockton, CA 95203, 209-464-2701, Fax: 209- 464-5760, E-mail: kphan@aptllc.net, Web: www.aptllc.com.
---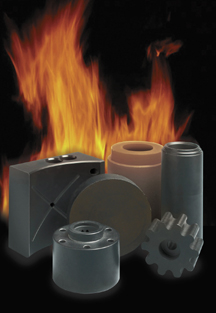 Compression Molding Capabilities
Ensinger's compression molded stock and near net shapes provide engineers and designers with options and flexibility in a variety of high performance thermoplastics. Not every application for engineering thermoplastics requires high volume production runs of standard materials. Smaller quantities of high temperature, high performance compounds can often be used to keep production or development costs down. Ensinger's large diameter press is capable of molding up to 81" in diameter in materials such as TECAPEEK, glass filled TECAPEEK and glass filled TECATRON PPS. This press allows for a larger diameter than any other manufacturer. Ensinger can also mold virgin PTFE and UHMW shapes over 25" in diameter.
Ensinger offers a variety of products that can be compression molded. Typical polymers include TECAPEEK polyetheretherketone and TECATRON polyphenylene sulfide (PPS). Typical fillers include glass fiber, carbon fiber, graphite and Teflon®.
Thin Gauge Materials
Ensinger has also expanded its product line to include a variety of High Performance thin gauge materials. Manufactured at Ensinger's Penn Fibre manufacturing facility, the new product offerings include the following: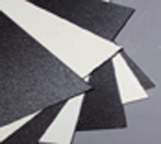 TECASON S Polysulfone (PSU) natural and TECANYL Noryl EN265 (PPO) black are available from .040" to .125". Thin gauge materials from .031" to .25" can be supplied in TECATRON 30% glass filled PPS black and TECAMID 12% glass filled nylon black. TECAPET natural is offered in thin gauge from .031" to .125". Ensinger also has an extensive inventory of thin gauge TECAPEEK (polyetheretherketone) sheet. Thin gauge high performance thermoplastics are available in sheets, coils/rolls, strips and punched parts.
Ensinger maintains an extensive inventory of thin gauge materials for immediate delivery from stock. The company specializes in offering a wide variety of engineering thermoplastic and thermoset materials in thin gauge strip, sheet, rolls and punched parts for a broad range of industrial applications. All federal, military, ASTM and AIAG specifications are met where applicable.
For additional information, contact Bruce Dickinson, Ensinger, Inc., 365 Meadowlands Blvd., Washington, PA 15301, 800-243-3221/856-227-0500, Fax: 724-746-9209, E-mail: bdickinson@ensinger-ind.com, Web: www.ensinger-online.com.
---
High Performance Rod & Sheet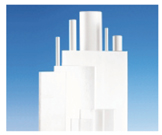 GEHR Plastics offers polyvinylidene fluoride (PVDF) sheet and rod which is ideal for applications including pumps, rotation disks, valves, fittings, glide tracks, cog wheels and chemical processing. PVDF shows a higher tensile strength, pressure resistance and dimensional stability than the related PTFE, but friction and insulation properties are lower. PVDF has a high mechanical strength and toughness at lower temperature and is self-extinguishing. The temperature ranges from -22° F to +300° F.
Characteristics are high tensile strength; FDA compliance; high mechanical strength; excellent radiation resistance; high chemical resistance; excellent barrier properties and low water absorption. It is the material of choice for high purity; good friction and wear and tear values fluid handling and high UV–resistance. It produces toxic fumes when burned and cannot be solvent cemented.
GEHR also offers ethylen-chlortrifluorethylene (ECTFE) rod in 1/2" to 5" in 4' lengths. E-CTFE exhibits extraordinary impact strength at temperatures ranging from -104° F to +302° F. A great part of the product properties attributes to the very smooth surface and differentiates HALAR® from other fluoropolymers. Due to the fact that E-CTFE is very pure, this material is being used to process chemicals and ultrapure water for the semiconductor industry. Also the permeation resistance to oxygen, carbon dioxide, chlorine gas and hydrochlorid acid is 10 to 100 times better than PTFE. Its characteristics are: extremely high impact strength (up to -105° F) no break on notched or unnotched IZOD impact test; good insulation properties; very good weather resistance; high resistance to radiation; very high chemical resistance and it is self-extinguishing. It offers very good sliding properties and is food safe. Applications include: parts which come in contact with aggressive materials (machinery building industry), lining of tanks, pumps, flanges, fittings, parts in centrifuges and control engineering industry.
For additional information, contact Bill Shields, GEHR Plastics USA, 24 Creek Circle, Boothwyn, PA 19061, 800-PVC-GEHR/610-497-8941, Fax: 610-497-8901, E-mail: info@gehrplastics.com, Web: www.gehrplastics.com.
---
Tubing & Profiles

Hi-Tech Profiles, Inc., a leading manufacturer of extruded stock shapes has entered into its 22nd year of service to the plastics distribution industry. Established in 1988, the company has grown steadily from its initial roots of offering only Nylon and Acetal stock shapes and now offers virtually any thermoplastic material including PEEK and Ultem®. HTP is operating from its brand new facility in Ashaway, Rhode Island along with its two sister companies, HTP-Meds LLC, and Hi-Tech Molds. The three companies combined offer concept to part service with extremely fast turn around times.

HTP specializes in the extrusion of all engineered thermoplastic materials in sizes ranging from 0.050" to 2.5" OD. The company offers an extensive line of tubing, hollow rod and bushing stock in Nylon and Acetal that is in stock and available for immediate shipment. Custom sizes are quoted upon request with over twenty different materials to choose from including ECTFE, Polycarbonate, PVDF and Polysulfone. Custom cutting and printing are available upon request with standard stock sizes available. Co-extruded tubing with two and three layer construction in sizes ranging up to 1" OD is also available. Please call for a quote on your next coextrusion project.

For additional information, contact Brian McGregor, Hi- Tech Profiles, Inc. 15 Gray Lane, Ashaway, RI 02804, 800-342-5495, Fax: 401-377-2423, E-mail: info@hitechprofiles.com, Web: www.hitechprofiles.com.
---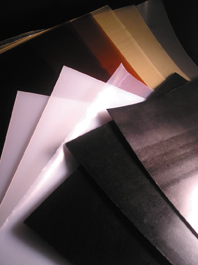 Films, Tapes, Fabrics & Belting
CS Hyde Company is the ideal source for High Performance Plastic Products such as films, tapes, coated fabrics and belting. CS Hyde brand names include Teflon®, Kapton®, 3M™, UHMW, PVDF, Mylar®, PEEK, Ultem®, FEP and cast acrylic.
CS Hyde Company specializes in converting services: die-cutting, high-speed sheeting, adhesive lamination. Plastic Distributors receive special discounts. Minimums for custom jobs are small, costs are reasonable and turn-around is quick. Technical assistance is available for your custom job.
Examples of converting capability: They can laminate adhesives to many unusual substrates like PEEK, Delrin®, specialty silicones, Kynar®, Ultem®, thick PTFE and coated fabrics. They welcome customer-supplied materials to laminate. They can high-speed sheet custom sizes like 12" x 12", 12' x 24", 24" x 24", etc. Die-Cut Jobs are priced competitively. They accommodate small prototype jobs as well as large quantity orders. Stock Products are sold by the foot, sheet and roll with no minimums and same day shipping.
For additional information, contact Tiffany Hoerle, CS Hyde Company, 1351 N. Milwaukee Ave., Lake Villa, IL 60046, 847-395-0325, Fax: 847-395-0334, E-mail: sales@cshyde.com, Web: www.cshyde.com.
---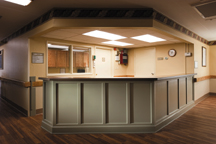 Antimicrobial Sheet
King Plastic now offers King Micro-Shield™ in many of its polymer sheets. King MicroShield is a new kind of antimicrobial protection that helps products stay cleaner between cleanings and inhibits the growth of product-damaging microorganisms, including bacteria, algae and fungi on the surface.
King MicroShield is available in King StarBoard®, King StarBoard® ST, King ColorCore®, King Color -Board®, King Hy-Pact® VH, King PlastiBal® restroom partitions and the company's general line of HDPE, LDPE and polypropylene sheet. Polymers made with King MicroShield are easy to clean, disinfect and keep hygienic using industry standard cleaning procedures. Constant use of cleaning solutions will not affect the antimicrobial protection of the material.
The product is safe, non-toxic and non-hazardous to ship and handle. Microbe cell walls that come in contact with King MicroShield are destroyed on contact without creating opportunities for adaptive or resistant strains to form. The material is non-leaching, with the antimicrobial agent bonded at the atomic level and integrated throughout the sheet.
If used to build cabinets, case goods or other architectural products, certain King products that include King MicroShield may qualify for LEED Purple Building Rating System Points.
For additional information, contact Lou Stegner, King Plastic Corporation, 1100 N. Toledo Blade Blvd., North Port, Florida 34288, 941-493-5502, Fax: 941-497-3274, E-mail: sales@kingplastic.com, Web: www.kingplastic.com.
---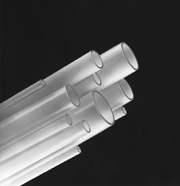 PVDF Stock Tubing Petro Extrusion Technologies (PET) manufactures HYLAR™ PVDF tubing available from stock in eleven sizes. HYLAR thermoplastic fluoropolymer is strong and tough as exhibited by its tensile and impact strength. Compared to many thermoplastics, HYLAR has excellent resistance to creep and fatigue. It is non-toxic, tasteless and odorless. It is the engineering grade thermoplastics material of choice for applications requiring high purity and exceptional corrosion resistance properties.
Stock tubing is extruded from the highest quality Hylar 460 Polyvinylidene Fluoride resin that is an extremely versatile engineering fluoropolymer with a unique balance of physical, chemical and electrical properties.
Other stock products available from PET include acrylic profiles in 6 sizes from stock and NYLA-GLIDE GR™ Profiles – MDS-filled Nylon 6 profiles available from stock in 17 standard shapes.
For additional information, contact Robert Petrozziello, Petro Extrusion Technologies, Inc., P. O. Box 99, 490 South Ave., Garwood, NJ 07027, 800-229-3338/908-789-3338, Fax: 908-789-0434, E-mail: rpetro@petroextrusion.com, Web: www.petroextrusion.com.
---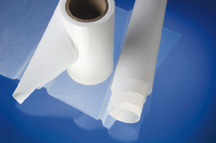 PTFE Materials Plastomer Technologies is a reliable and responsive manufacturer of PTFE materials for use in critical industries. Focused on providing the customer with products that meet exact specifications, Plastomer offers fast delivery, superior communication and no surprises. Plastomer Technologies manufactures Texolon® and Amilon™ brands of PTFE materials and compounds produced to standard or custom sizes of sheet, rod and cylinders. Plastomer also offers precision fabrication or machining of seals and component parts. The Amilon family of PTFE-based materials incorporates a wide range of fillers including, but not limited to: glass, carbon, graphite, moly and bronze, each formulated to fit your specific application.
These high quality materials can reduce maintenance needs by offering excellent abrasion, temperature and corrosion resistance. High Purity Texolon PTFE is also available for those who need material for critically clean applications. This material is molded, packaged and labeled in a strictly controlled environment ensuring the products have the highest purity for demanding applications.
PTFE products are offered in cylinders and rods from 1" to 60" in diameter as well as skived and molded sheet ranging from .001" up to 8" thick.
For additional information, contact Amy Davis, Plastomer Technologies, 10633 W Little York Bldg 3, Suite 300, Houston, TX 77041, 800-345-4901, E-mail: info@plastomertech.com, Web: www.plastomertech.com.
---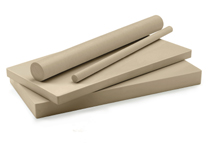 Modified PEEK Quantum Polymers announced the availability of extruded stock shape plastic products made with AvaSpire® resin from Solvay Advanced Polymers. AvaSpire is a modified polyetheretherketone (PEEK) resin that has been formulated to offer improved ductility, mechanical strength and higher operating temperature relative to PEEK while retaining most of the key performance attributes of PEEK at a lower price point.
Quantum Polymers is offering AvaSpire PEEK extruded rods and plates. Rods are available from 3/8" to 4" diameter: plates are available from 3/8" to 3" thickness. The materials work well for applications requiring a balance of chemical resistance and mechanical strength. Quantum is offering this material well suited for price sensitive applications in healthcare, transportation, electronics, chemical processing and other areas of manufacturing.
AvaSpire® PEEK is U.S. FDA compliant for food and healthcare products. It also meets ISO 10993 specifications for medical devices.
Quantum Polymers manufactures and sells high performance plastic stock shape products and features short delivery times, custom sizes and low minimum order quantities. High performance standard material offerings include PEEK, Ultem® (PEI), PVDF, PPS, Polysulfone, Radel®, Noryl® and machine grade PC. These materials are available in unfilled and carbon/glass/teflon fiber reinforced grades.
In addition, Quantum offers custom formulated materials for applications that require physical, mechanical and electrical properties beyond the reach of standard off-the-shelf plastic products. These materials have applications in the aerospace, bio-medical, energy, food processing, pharmaceutical, semiconductor and transportation industries.
For additional information, contact Ellen Witherspoon, Quantum Polymers, 211 Executive Drive, Suite 1, Newark, DE 19702, 866-737-7012/302-737-7012, Fax: 302-737-7035, E-mail: info@quantum-polymers.com, Web: www.quantum-polymers.com.
---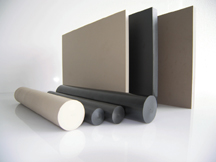 High Performance Shapes
Röchling manufactures a full range of high performance plastics featuring its SustaPEEK line of products including: SustaPEEK (natural and black), SustaPEEK GF 30, SustaPEEK CF 30, SustaPEEK HT (High Temp) and SustaPEEK MOD (Bearing Grade). Röchling's SustaPEEK products are manufactured with the industry's most specified and preferred PEEK resin from Victrex. In addition
Röchling excels with its SustaPEI (Ultem®) line which is comprised of SustaPEI (natural and black) and SustaPEI GF 30. Röchling's line of high performance plastics also includes: Sustatron PPS, Susta PVDF, Susta PPO (Noryl EN 265), Sustason PSU (Polysulfone) and Sustason PPSU (Radel) available in a full range of sheets and rods.
For additional information, contact Birgit K. Moecks, Röchling Engineering Plastics, 903 Gastonia Technology Pkwy., Dallas, NC 28034, 704-922-7814, Fax: 704-922-1835, E-mail: info@roechling-plastics.us, Web: www.roechling-plastics.us.
---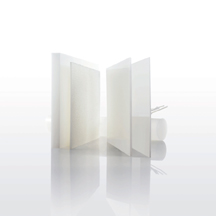 Stocking Program
Simona America Inc. is a subsidiary of SIMONA AG, one of the leading manufacturers and distributors of thermoplastic finished and semi-finished products, e.g. plastic sheets as a composite construction. A composite construction refers to a combination of at least two materials with different task profiles. Thermoplastic liners for dual laminates and steel tank lining make operation far more economical and efficient with regard to service life, maintenance and repair as well as production outages. The products SIMONA® PP-C-PK (block copolymer, polypropylene- backed), SIMONA® E-CTFE-GK (partially fluorinated high-performance material, glass-fiber-backed) and SIMONA® PVDF-SK (polyvinylidene fluoride, polyesterbacked) have gained a particularly prominent position in the liner materials market.
Materials are generally stocked in thickness ranges 3 and 4mm x 1500 wide and 20 meter rolls. Delivering above-average performance in a wide range of applications, the liner materials meet the full range of required specifications including chemical and permeation resistance. Simona America offers an extensive range of products tailored to the requirements of liner and composite engineering, together with considerable expertise in these fields.
For additional information, contact John Ploskonka, Simona America Inc., 64 N. Conahan Drive, Hazleton PA 18201, 866-501-2992, Fax: 800-522-4857, E-mail: mail@simona-america.com, Web: www.simona-america.com.
---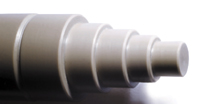 Medical HPPs Westlake Plastics offers two formulations of PEEK in rod and sheet for use in medical applications including spinal cages, fixation rods, orthopedic implants, ophthal - mic tools, surgical instruments, dental and diagnostic devices and other medical devices.
MediPEEK-IM is a high performance semi-crystalline thermoplastic designed for long-term body contact as an implantable material. It is USP ClassVI and compliant to ASTM F2026. It has excellent sterilizability and has been extensively tested to ISO-10993 requirements.
MediPEEK-T is a high performance PEEK semi-crystalline thermoplastic designed for short-term body contact as an implantable material. It is USP Class VI and ASTM F2026 compliant. It has excellent sterilizability and has been extensively tested to ISO 10993 requirement for short-term implants. Westlake Plastics offers a wide range of high performance extruded and compression molded shapes in - cluding polyethersulfone, poly phenylsulfone, polyetherimide and polysulfone.
For additional information, contact Gary King, Westlake Plastics Company, P.O. Box 127, Lenni, PA 19052, 800-999-1700/610-459-1000, Fax: 610-459-1084, E-mail: gary@westlakeplastics.com, Web: www.westlakeplastics.com.
---
High Performance Plastics Website Directory
Advanced Polymer Technologies.
www.aptllc.com
Ensinger, Inc
www.ensinger-online.com
GEHR Plastics
www.gehrplastics.com
Hi-Tech Profiles, Inc .
www.hitechprofiles.com
CS Hyde Company
www.cshyde.com
King Plastic Corporation
www.kingplastic.com
Petro Extrusion Technologies, Inc.
www.petroextrusion.com
Plastomer Technologies
www.plastomertech.com
Quantum Polymers
www.quantum-polymers.com
Röchling Engineering Plastics
www.roechling-plastics.us
Simona America Inc.
www.simona-america.com
Westlake Plastics Company.
www.westlakeplastics.com