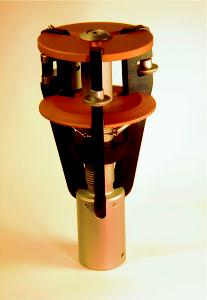 Internal Bead Trimmer for Thermoplastic Pipe

A lot of users of thermoplastic piping systems such as Polyethylene, Polypropylene, and PVDF, are not aware of the ability to remove the internal weld bead which is formed during the fusion welding process. Many will argue against the need to remove the internal bead because the friction factor on these materials is so low that the removal would make no difference in the flow. There are actually four reasons why internal bead removal is an important factor to consider:
Flow Restriction - Even though flow reduction is virtually nonexistent, there is still a restriction at the bead location. This can create a problem when pigging a pipe for blockage or when HDPE is used as a casing for telecommunication conduits.
Stimulated Blockage - It's easy to understand how sediment can build against a bead during a slow flow rate. This is the beginning of blockage as large debris become embedded in the sediment. Think about push joint piping systems and how every 13' or 20' this problem occurs compared to thermoplastic fused pipe where welds at lengths of 40 feet or more in distance is the standard along with complete internal bead removal.
Bacteria Entrapment - Internal bead removal works in several systems in which thermoplastic butt fusion techniques are employed such as HDPE, Polypropylene and PVDF piping materials. In the silicon industry it is common to use these plastics in de-ionized water piping systems where bacteria or other particle entrapment is of great concern. In addition it is not unusual for bacteria to be a problem in other types of chemical industries such as anodizing metals. Most entrapment concerns are strongest where chemical purification can not be used because of other reaction problems it brings.
Turbulence Wear - With increased flow the bead creates a turbulence that generates wear when slurries of abrasive materials flow through the system. Even though the bead will finally wear away and turbulence decreases, the final effect is a thinner wall cross-section in that location. In push joint pipe systems this turbulence can never be removed.
In thermoplastic piping systems engineers recognize the efficiency and advantages of having the internal weld bead removed from a system compared to a system that is not. Whether the issue is flow Restriction, or flow Reduction, or Stimulated Blockage, or Bacteria entrapment or Turbulence Wear. Bead removal is an advancement in the thermoplastic piping industry that needs to be utilized, if for no other reason than higher efficiency.
R & L Manufacturing offers a tool that is designed to remove the internal weld-bead inside thermoplastic pipe. It is easy to use and offers a positive floating cutting head design. It adjusts easily to all the SDRs of a pipe system.
For more information, contact Randle F. Salsberry, R&L Manufacturing Inc., 743 NW 22nd Avenue, Camas, WA 98607, Ph/Fax: 360-833-9194, Web: www.beadtrimmer.com.