For additional information, contact Daniel A. Rustin, Acrilex Inc. , 230 Culver Avenue, Jersey City, NJ 07305, 800-222-4680, Fax: 201-333-1237, E-mail: drustin@ acrilex.com, Web: www.acrilex.com.
---
With over 40 years experience of producing high quality thermoplastic extrusions, Applied Plastics has probably produced tubing similar to yours. If they have not, their sales and engineering team is always looking for a new challenge. Some of their tubing capabilities include: 1/8" OD up to 8" OD; wall thickness from .020" to .750"; lengths from .250" to 20'; clear to custom color match; commodity and engineering materials. Production capabilities include: applications; tubing; profile; solid rod; just-in-time delivery and value-added operations.
For additional information, contact Joe Klein, Applied Plastics , 7320 S. 6th Street, Oak Creek, WI 53154, 414- 764-2900, Fax: 414-764-8606, E-mail: jhklein@applied-plasticsinc. com, Web: www.appliedplasticsinc.com.
---
Looking for hard to find colors or sheet sizes? Calsak Plastics stocks a wide variety of colors and sheet sizes in ACRYCAST, their proprietary line of cell cast acrylic.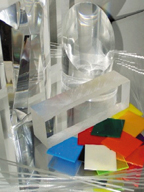 With six distribution centers located throughout the US, they offer many colors and sheet dimensions not readily available at other distributors.
Calsak stocks clear in up to 4" thick (5" also available) and black in up to 3" thick in 48" x 96" sheets. FDA compliant grades are also available. They stock oversized sheets and offer precision saw cutting at all locations. ACRYCAST cell cast acrylic is easy to fabricate and economical to use.
Calsak Plastics also stocks a wide range of acrylic rod and tube as well as profiles, balls and other accessories for all types of fabrication.
For additional information, contact Jonathan Hirakawa, Calsak Plastics , 200 West Artesia Blvd., Compton, CA 90220, 800-743-2595 / 310-637-2000, Fax: 310-637-3696, E-mail: plasticsla@calsak.com, Web Site: www. calsakplastics.com.
---
Acrylic 100M, a lens quality monomer cast UVT rod, is available in 3" to 9" diameter up to 4' long, polished or unpolished from C-Lec Plastics, Inc. Thermal setting enhances its properties such as a high glass transition temperature (approx. 230°F). The rods are stress-free and will not require annealing during or after machining.
For additional information, contact Ed Walsh, C-Lec Plastics, Inc. , Inc., 6800 New State Road, Philadelphia, PA 19135, 215-708-7731, Fax: 215-708-7728, E-mail: rexolite @aol.com, Web: www. rexolite.com.
---
CS Hyde Company manufactures cast acrylic rod and tubing.Cast acrylic is highly regarded for its optical clarity and outstanding light transmission properties.
It is unaffected by sunlight or fluorescent lights, resists aging and maintains stability under a wide range of conditions. Cast acrylic weighs half as much as glass and has up to seventeen times greater impact-resistance. Cast acrylic rod and tubing are easily fabricated, shatter resistant, odorless and tasteless. They are ideal for a wide range of applications from industrial to medical and furniture frames and knobs to sight gauges and signs/displays.
CS Hyde offers clear, polished cast acrylic rod in diameters from 1/4" to 6" in average lengths from 5' to 8'. Unpolished rod is available upon request. Cast acrylic tubing is offered in outside diameters from 1/4" to 12" in wall thicknesses from 1/8" to 3/8" and a standard length of 60.0".
For additional information, contact Sheridan O'Brien, CS Hyde Company , 1351 North Milwaukee, Lake Villa, IL 60046, 847-395-0325, Fax: 847-395-0535, Web: www.cshyde.com.
---
CYRO Industries is offering a new P.O.P. ART acrylic sheet brochure to designers, manufacturers and fabricators of point-of-purchase displays.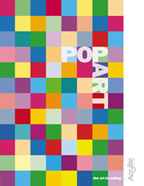 The booklet is an excellent tool for designers to learn more about CYRO's product capabilities and introduce them to new specialty sheet products. The brochure features information on new innovations such as ACRYLITE® Radiant acrylic sheet, a color-changing sheet designed specifically for the P.O.P. industry.
CYRO's comprehensive brochure helps fabricators and designers identify the best-suited material for their displays. The booklet provides a brief description of CYRO's entire line of ACRYLITE sheet products, along with colors and thicknesses.
For additional information, contact Gail Wood, CYRO Industries , 100 Enterprise Drive, Rockaway, NJ 07866, 800-631-5384, Fax: 973-442-6117, Web: www.cyro.com.
---
Ensinger, Inc., a global supplier of engineering plastic shapes, offers a comprehensive product line of Tecacryl™ extruded acrylic standard stock shapes in crystal clear and colors.

Acrylics, known for their outstanding weatherability, transparency, glossy finishes and user-friendly fabrication capabilities, are offered in standard stock shapes such as rod, tube, standard profiles and unique geometric custom profiles.
Tecacryl acrylic rod is available from 1/8" to 2" diameter and tubing from 1/4" OD through 12" OD. Standard Tecacryl acrylic profiles range from triangle, rectangular strips, step strip and an alphabet of profiles used in the fabrication market such as "J","U", "Z", "L", "W" and "T".
Tecacryl acrylic is used extensively in point of purchase displays, lighting, construction (handrails), architectural uses, sight gauges, transportation and bath-ware applications.
For additional information, contact Robert S. Sowka, Ensinger-Plastifab, , 8115 Lafrenaie, Montreal, PQ H1P 2B1 Canada, 514-325-9840, Fax: 514-325-5222, E-mail: infoprod@plastifab.ca, Web: www.plastifab.ca.
---
Who in North America has 12" OD tubing in acrylic or polycarbonate in clear or lighting grade whites in stock? If you needed only one 3" clear extruded rod for a prototype, who in North America would you call?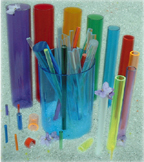 Who has a complete inventory of transpar-ent, fluorescent, opaque and metallic colored acrylic in stock? Who has strategically located distribution warehouses in Montreal, Los Angeles, Chicago, Tampa, El Paso? Futurplast Extrusions, that's who. If you cannot find what you are looking for from your present acrylic supplier, chances are that Futurplast has it in stock.
Futurplast is a distributor committed one stop shopping destination for clear and colored acrylic products, as well as polycarbonate tubes. No one stocks more sizes and colors than Futurplast.
For additional information, contact Joseph Sorella or Lisa Houle, Futurplast Extrusions, , 5695 boulevard des Grandes Prairies, Unit 130, St Leonard, PQ H1R 1B3 Canada, 888-812-9075, Fax: 866-388-2955, E-mail: info@futurplast.ca, Web: www.futurplast.ca.
---
Lucite International announced the availability of Lucite® acrylic sheet featuring Microban® antimicrobial product protection which inhibits the growth of bacteria that cause odor and stains.

Lucite is the only acrylic sheet to offer this benefit to its customers. The product is perfect for use where added protection is needed, such as wall protectors in children's rooms, restaurant sneeze guards and tablecloth covers, sink back splashes to name a few.
Lucite acrylic sheet offers toughness and superb optical characteristics. Now, with Microban infused throughout the entire sheet of acrylic, the product provides sustained antimicrobial protection for the entire life of the product.
For additional information, contact Alan Ledger, Lucite International, Inc., 7275 Goodlett Farms Parkway, Cordova, TN 38018, 800-4LUCITE (58-2483) / 901-381-2000, E-mail: sales@lucitecp.com, Web: www.lucitecp.com.
---
Petro Extrusion Technologies, Inc. (PET, Inc.) is a custom and stock tubing and profile extruder of engineering grade thermoplastics.

They specialize in a wide range of compounds including GP Acrylics, as well as Impact-Modified Grades.
PET, Inc. currently stocks six profiles including Z-Bars (3 different styles), Channels and W-Bar, in GP & DR Grades, all in 6' lengths.
They also have custom acrylic profile extrusions capabilities in crystal clear general purpose grades, or in custom colors and offer a wide range of standard colors for custom items.
Petro extrudes acrylic tubing in sizes ranging from 1/8" up to 8" on a custom basis. They also stock GP acrylic tub-ing in 5", 6", 7" and 8" OD, all in GP clear, with 1/8" wall thickness in 6' lengths. They can also extrude these sizes in translucent white on a custom basis.
Additionly, they offer a full range of sizes in either medium-impact grade or DR-Acrylics, available on a custom basis.
For additional information, contact Robert Petrozziello, Petro Extrusion Technologies, Inc., P. O. Box 99, Garwood, NJ 07027, 800-229-3338 / 908-789-3338, Fax: 908-789-0434, E-mail: robert.petro@verizon.net, Web: www.petroextrusions.com.
---
The light weight, fabrication versatility, increased strength and break resistance are just a few of the advantages Fabback® acrylic mirror from Plaskolite, Inc. offers over glass mirror.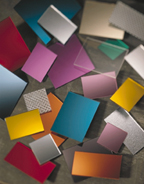 Mirrored acrylic is ten times more break-resistant than glass mirror of equal thickness, allowing it be used in many applications where glass is not acceptable. Fabback acrylic mirror sheet is produced in a thickness range of .060" to .236", in sheet sizes from 36" x 60" to 80" x 120".
See-Thru and First surface, PETG mirror and Polycarbonate mirror are also available. A scratch-resistant coating is available for those more demanding applications requiring abrasion, stain and solvent resistance.
For additional information, contact Jonda Stover at Plaskolite, Inc. , P.O. Box 1497, Columbus, OH 43216, 800-848-9124, Fax: 614-297-7318, E-mail: plaskolite@ plaskolite.com, Web: www.plaskolite.com.
---
Plastiglas de Mexico S.A. de C.V., is the largest manufacturer of cell cast acrylic sheet in America under the CHEMCAST® brand.

Plastiglas also offers specialties in acrylic sheet such as: bullet resistance, high impact, marine grade, sanitary ware (SEN-SACRYL ULTRA®), custom colors and P-95. They provide a wide range of sizes, colors and thicknesses.
For additional information, contact Mauricio Medina or Brenda Arteaga, Plastiglas de Mexico S.A. de C.V., Frente Estación F.F.C.C., Maclovio Herrera s/n, Ocoyoacac, Edo. México C.P. 52740, 877-818-3716, E-mail: brenda.arteaga@desc.com.mx, Web: www.chemcast.com.mx.
---
For over 20 years, Reynolds Polymer Technology, Inc. (RPT) has been known globally as a leading manufacturer, fabricator, designer and installer of thermoplastics.

Their acrylic has been used successfully in the architectural, medical, PVHO, aquarium, transportation and signage industries as well as the commercial products and retail design industries. R-Cast™ are RPT's high performance cast acrylic shapes. R-Cast acrylic is known for its outstanding optical clarity, excellent UV properties, high impact resistance and weatherability. RPT produces crystal clear Distributor Inquiries Welcome Inquire About Our One-Day Plastic Welding Seminar Drader Injectiweld, Inc. acrylic in almost any shape, size and color using the strictest quality standards. RPT offers one of the widest varieties of acrylic sheet, rod and tube in the industry with standard sheet sizes in clear and colors from .060" to 4" sheet thickness. Custom sizes, shapes, colors and surface treatments are also available in almost any configuration.
For additional information, contact Julie Hober, Reynolds Polymer Technology, Inc., 607 Hollingsworth Street, Grand Junction, CO 81505, 970-241-4700, E-mail: mjohnson @reynoldspolymer.com, Web: www.reynoldspolymer.com.
---
Se-Kure Domes and Mirrors manufactures mirrored acrylic sheet stock for distribution. The sheet is currently stocked in clear, gold and bronze, with other colors available on request. Sheet sizes are 49" x 98" and 62" x 98" in thicknesses of .06, .08, .98, .118, .177, .220 and .236 inches. They also offer screen printing and laser cutting to size.
For additional information, contact Art Fox, Se-Kure Domes and Mirrors, 1139 Haines Blvd. Sturgis, MI 49091, 800-253-2064 / 269-651-9351, Fax: 269-651-1467, E-mail: afox@se-kure.com, Web: www.domesandmirrors.com.
---
Spartech Plastics offers Tuf-Glas® CR, a clear, impact-modified acrylic engineered specifically for outdoor signage and other outdoor display applications.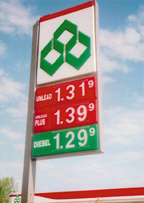 Tuf-Glas CR is manufactured using new acrylic resin technology based on very high molecular weight raw materials, vastly improving craze- and chemical-resistance and enhancing hardness, heat resistance and fabrication.
For years, extruded plastics were considered inferior to cast products in chemical resistance, appearance and fabrication properties; but improvements in extrusion technology, addition of rubber modifiers and increases in molecular weight are reducing the differentiators.
Intended for thermoformed, backlit sign faces, Tuf-Glas CR (in comparison to other extruded acrylics) exhibits superior craze-resistance to the inks and solvents typically used in painting and silk-screening and has been selected for use in major sign programs by both production and custom sign companies.
For additional information, contact John Hirsch, Spartech Plastics, 120 South Central, Clayton, MO 63105, 800-558-7876 / 314-721-4242, Fax: 314-721-1543, E-mail: john.hirsch@ spartech.com, Web: www.spartech.com.
---
Excelon™ Acrylic from Thermoplastic Processes Inc.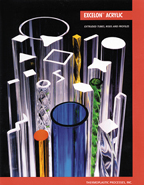 (TPI) has been part of a wide range of applications in the display, design and decor market for over 50 years. Clear, light weight Excelon Acrylic enhances the beauty of any exhibit. It can be heat-formed for a variety of desired effects and is easily imprinted or embossed. Sunlight- and wear-resistance make it an ideal choice for both indoor and outdoor use.
TPI stocks over 75 sizes of tubing, rods and profiles crystal clear, colored extrusions may be custom ordered.
TPI acrylic extrusions are easily sawed, drilled, milled, engraved and finished with sharp, carbide tipped wood-working or metal-working tools. Cut surfaces are quickly wet- or dry-sanded and polished.
TPI also offers clear Excelon™ Heavy Wall Acrylic tubing which is dimensionally accurate and cost-efficient. The standard length is 6' but it is available in virtually any shippable length.
For additional information, contact Ramsey Griffen,Thermoplastic Processes Inc., 1268 Valley Road, Stirling, NJ 07980, 888-554-6400 / 908-561-3000, Fax: 800- 874-3291 / 908-753-6749, E-mail: rgriffen@aol.com, Web: www.excelon.com.
---